Android Slots: The Best Slot Machine Apps for Android of 2018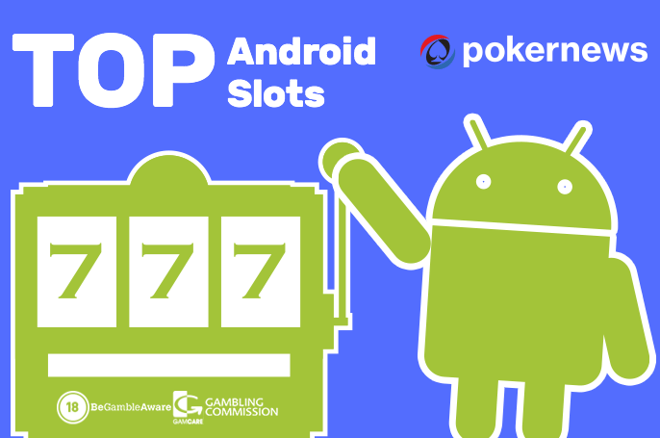 If you're hooked to the free online casino and slot games on your PC, in all probabilities, you'll end up loving them even more when you play them from your tablets or smartphones.
Android-based slot games are simple, easy to operate and incredibly accessible as you get to play them anywhere, anytime.
But while you'll find many popular slot game apps in the Google Play Store, only a few of them make the cut.
Good and well featured Android slot games are indeed difficult to spot as most of them come with the irksome in-app purchases.
This feature automatically makes it difficult for you to win the game.
But fret not! There are many other free slots for android tablet that come with the coolest tweaks and the simplest strategies.
Here's a list of the leading free slots apps for Android that you'll definitely love.
How to Use This Article
There are two kinds of free slots apps for Android: those that let you play for real money and those that run on play money.
To help you choose the best slots apps to download on your Android device, I divided this list in two sections.
The apps for real money are those that give you the chance to play and win big for free - but only if you are lucky enough to strike a big winning spin with the welcome bonus you get on signup.
The others are the best fun-to-play slots games you can get on your Android. While great slots apps like Slotomania and Huuuge Casino might not make you rich, they will give you so many hours of fun that you should definitely download them onto your Android device.
Top Real Money Slots Apps
Top Plat Money Slots Apps / US Players Accepted
| Slots App | Rating | Welcome Bonus | Download |
| --- | --- | --- | --- |
| Slotomania | 9.5/10 | YES | Get the App! |
| Huuuge Casino | 9.00/10 | YES | Get the App! |
| 616 Digital | 8.00/10 | No | Download not available |
| 6Wawes | 7.5/10 | No | Download not available |
| Pharaoh's Way | 7.5/10 | No | Download not available |
| 88 Fortunes | 7.00/10 | No | Download not available |
| Scatter Slots | 7.00/10 | No | Download not available |
| Free Slots Casino | 6.75/10 | No | Download not available |
'nuff said. Let's get started.
Best Real Money Android Slots Apps
Here's the full list of all the best slots apps to play real money games on Android.
While these are the best Android slots games out there, keep in mind that none of these apps accept US players.
If you are in the US, scroll down to the section dedicate to the Android slots apps for US players.
BGO Casino
What do you do when you have the best product in the market and the best casino games in the industry?
In October 2017, BGO Casino launched an all-new casino room that made it become the best online casino available for Android.
Not only the platform give you access to all the best Android slots there are, but their new aggressive promotional policy is crushing it.
Sign up today to play slots for Android with up to 50 FAIR SPINS - free spins that come without wagering requirements!
This crazy promotion is still unmatched in the industry and is a must-have for any serious Android slots player. To activate the fair spins and play at BGO Casino from Android, use the button below.
EnergyCasino
This award-winning online casino became immensely popular between 2017 and 2018, with thousands of players from all over the world making it their home.
EnergyCasino lets you access all the best slots by NetEnt from Android together with an impressive number of other games - all available for real and play money.
What's best, is that you can give this Android casino a test drive for free with their 15 free spins with no deposit welcome bonus. Click on the button below to activate the promotion.
PokerStars Casino
Known for being the world's largest online poker site, PokerStars is also home to a great online casino that features one of the best apps to play slots on Android.
Download the free slots from Google Play to access hundreds of slots games by all the best developers in the world.
Backed by a giant like Amaya, the PokerStars Casino Android app is the safest and probably the best one to discover the fun world of mobile gambling.
While PokerStars Casino does not give away no deposit free spins like EnergyCasino, their deposit bonus is one of the best ones out there.
Open an account through this page and use the bonus code "CASINO" to activate an exclusive promotion that rewards your first deposit with up to $400 in bonuses.
As soon as you make the qualifying deposit, your deposit amount will be debited from your Stars Account balance and be replaced with a 200% Casino bonus - up to a maximum of $400!
SlotsMagic
As the name suggests, SlotsMagic is a casino site that focuses on online slots - on Android as much as on iOS and desktop.
Adding SlotsMagic to your Android device lets you play amazing slots games like Cosmic Fortune, Monopoly: Bring the House Down, Titanic, Zeus: God of Thunder, and many more.
In general, SlotsMagic is considered to be one of the best Android slots rooms for jackpot hunters.
With tens of millions in cash prizes up for grabs, SlotsMagic brings to Android stunning progressive jackpot games like MegaMoolah, MegaFortune, Major Millions, and Super Spinner Bar-X.
Also, you can get free spins for an entire year if you sign up through the button below and use the code "Y520" on your first deposit.
Casumo Casino
While Casumo might be the least known casino on this list of real money slots apps for Android, I decided to include it because this is one of my favourite gaming sites ever.
Not only they have hundreds of slots games, but they also revolutionised the way people use online casinos by including some gamification elements never seen before in the industry.
I love their site, I love their Android slots app, and I love the games they featured on the platform.
With a welcome bonus of 200 free spins and more than $10,000,000 in progressive jackpots to be won, this real money casino is a fantastic alternative to all the big names above.
Have a look at amazing Android slots games like Fruit Warp, 1429: Uncharted Seas, Gold Lab, and don't forget to check out the Reel Races, their unique approach to slots playing that lets you win $1,000 in cash and hundreds of prizes every day!
Best Play Money Android Slots Apps
Here's the full list of all the best slots app for Android to play for virtual money. All the slots games featured in this section accept US players.
Slotomania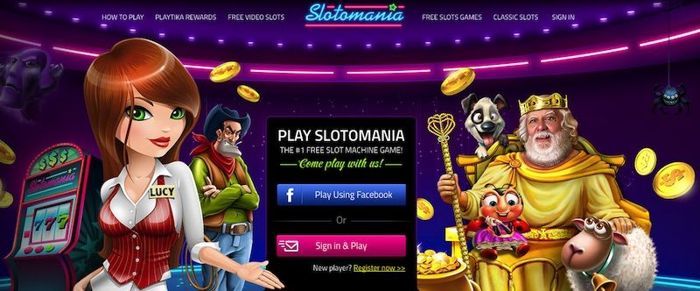 If you're looking to play mobile casinos that'll offer you a truly royal experience - Slotomania slots for Android will definitely make the cut.
The game comes with 160 different slot machines and it opens way for some non-stop action every time you cross through the levels.
The Android version of this uber popular free slots app is backed by some of the most unique features, incredible jackpots and many more bonuses for every individual round.
As you play the game, you get to win a huge gift of free coins and along with an additional casino bonus that can be won in every three sounds.
The Grand Phoenix slots comes to Android with four great jackpots, while the Vegas Coin will let you win unique gifts with the coin grab feature.
Other popular slot games in the app are Super Ruby Gold, Xin Fu, Despicable Wolf, Two Dragons, Magic Trixie, Despicable Wolf 2, and Tinker Bell's Fortune.
These games let you win magical wins at a tap of your phone along with some truly epic jackpots.
This is a great game for everyone who love playing slots and are willing to win bonuses every hour.
As we already mentioned, the game is backed with some of the best features that makes your gaming experience tad more compelling and gripping.
To begin with, the Piggy Bank feature will let you save coins for every spin you make, the Sloto Card feature will let you collect the cards, finish your sets, win cool prizes and complete your bonus album.
The Sloto Quest feature is designed to trigger your bravery and once you complete the most difficult levels, you get to enjoy gold, treasures and all the glory that unfolds.
Again, if you happen to win the special casino bonus for four times, you get to win the wheel for free and win the mega bonus.
The game also lets you play with boosters; that takes your casino gaming to an entirely new level.
As you play the game, also make it a point to fill the stamp cards as it automatically lets you win a free coin package.
Slotomania for Android lets you win and share gifts with friends and show them off your score when you're leading the tournament.
Additionally, while the lucky spin lets you win a lucky gift there is also another feature that lets you collect fifteen different freebies from your favorite slot machines.
Once you download this app, you automatically get the chance of joining a community of more than 14 million players who, just like you are looking to experience the thrill of Vegas style casino.
Huuuge Games
Like 616 Digital, Huuuge games, is also another popular game studio that specializes in a wide range of free slot games.
This studio lets you enjoy the regular interface and runaround even when you're playing the freemium games.
The Huuuge slot games for Android require you to use coins for placing a bet and you will automatically get more coins when you win a round.
The game offers plenty of free spins and also gives you the chance to win unlimited coins.
The most interesting aspect of this slot game, however, is the fact that the mechanics and interface varies from game to game.
So in case you don't prefer a specific mechanic, you can always go for a new one.
Huuuge Casino, is also one of the highest-rated slot games app on Google Play store.
616 Digital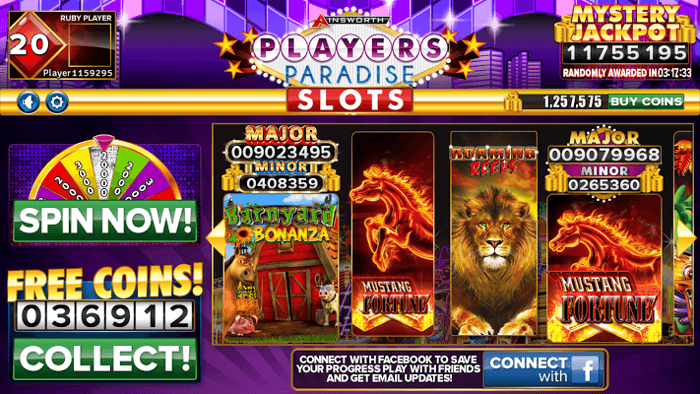 616 Digital is a leading development studio that specializes in Android slot games.
What really makes them stand out is their varied selection of free slots download for Android. They also come with "pay at once" slot games that offer free slot machines and the best progressive jackpot.
This is indeed a rarity in the slot gaming space.
This Android slots app is backed by an easy to operate interface, cool graphics and some incredibly luring bonuses.
The slot game also has many new levels, multiplayer function, and a leader board that lets you check your global rank.
Although the games might suffer from occasional bug glitches, the overall experience has been highly positive.
6waves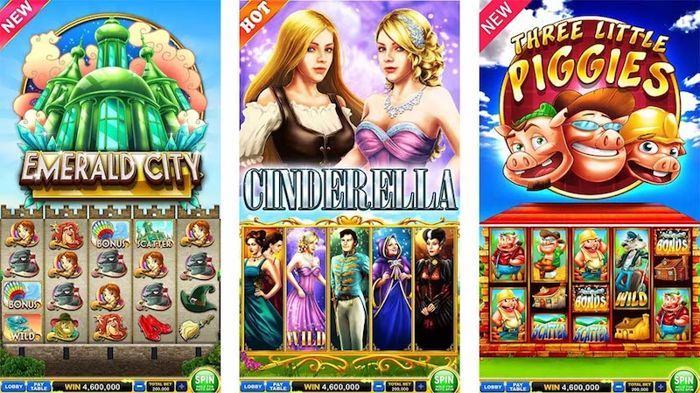 6waves comes with slot games that have their themes based on some specific premises.
They range from epic characters, magical elements and many more elements from the fictional and fantasy world.
The games come with intriguing mechanics that offer you a truly solid Android gaming experience.
Each of the slot games lets you choose from several hundreds of slot machines that are backed by the best-in-class features.
We were specifically fond of the Magic Wonderland slots.
They didn't come with an energy limit, which meant we could play the game as much as we wanted.
6Waves also adds new themes every day and players get to make their pick from more than hundred mobile slots themes.
The slots graphics are incredibly gorgeous and the interface too is pretty simple.
The game offers some of the best payouts, lots of free spins and bonus games which lets you a lot virtual currency.
On top of that, you don't even need internet connections for playing these games because it is also available in an offline mode.
New slot machines are added every month.
At the same time, you also get the chance of winning free coins from the time bonus, the special offers and your daily rewards.
Pharaoh's Way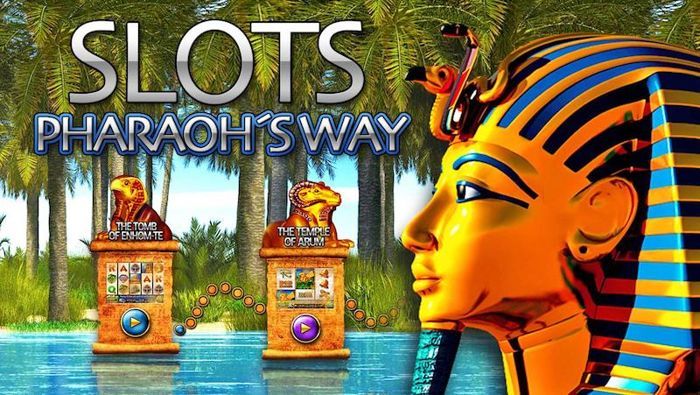 If you're looking to play free slot games on your Android device, Pharaoh's Way definitely makes the cut.
This is one of the leading slot games where the developer boasts of over ten trillion downloads.
The app comes with several slot games including your regular three or five reels. At the same time, you can also play in twenty five, ten and fifty lines.
The game has 243 ways to win and twenty online slots are available right now.
The game is simple to operate, easy to deal with and promises you big wins and bigger bonuses.
It also comes with terrific graphics, super smooth animations and highly ostensible sound that guarantee you a real-time online slots gaming experience.
Although Pharaoh's Ways slots for Android boasts many swoon worthy features, what we truly loved was the fast reel stop, the individual reel stop and the auto play mode.
Furthermore it also lets you double up your bonuses by gambling online.
The game does not involve any real money. But you can always win dice bonuses every round.
Pharaoh's Ways also lets you win a really lucrative gift at level 770.
Although most Android slots players love this app, they do have an issue with the cloud saving. This means the game does not hold your progress once you use a new phone.
88 Fortunes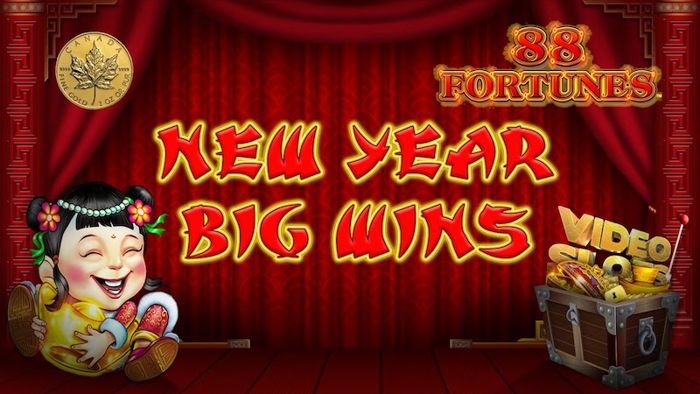 This unique online video slots game offers you a slot gaming experience like none other.
Playing online slots was never this fun before 88 Fortunes. This Vegas styled slot game lets you experience the wonder, excitement beauty of a real-time slot game.
It comes with Asian style free casino slots and lets you win blockbuster bonuses like none other.
As you spin the reels of the free slot machines in this game, you automatically get the chance of hitting big wins and incredibly lucrative jackpots.
The game comes with quests in every level, and once you complete them you will get to unlock some really special online slot machines like Nanjing and Dragons.
The game also comes with fantastical elements and truly interesting characters who unravel intriguing stories at every level.
By playing the game, you will get to win riches with the jackpot and the bonus rounds.
Currently, once you play the game you will get to win the FU bat jackpot in the original game, the good fortune babies in the Fu Dao Le and free spin rounds in the Zeus 1000 slot machine.
Also, once you hit the wild blue, you get to win big wins and wild bonuses up to 7,500 times of your total bet.
Besides the thrilling free slot machines, the game also comes with some other innovative features that'll keep you hooked to it.
To begin with, it comes with collectibles that can be earned on your individual spins as you unravel the most exciting stories.
There are many mystery prizes that can be exchanged with your friends on a daily basis.
Other than that, you can also win bonuses and daily coins including the famous two million free coins that you earn simply for downloading the game.
What we loved the most about this game was its Asian themed lobby that seemed all the more lifelike after every win.
The gold, dragon and the temples definitely made this one of the best online slot games that I played on mobile phones.
The only issue with the game is the fact that it is meant for an adult audience who are above 21 years of age.
Furthermore, it is merely for amusement purposes and it does not let you win real money or prizes.
Scatter slots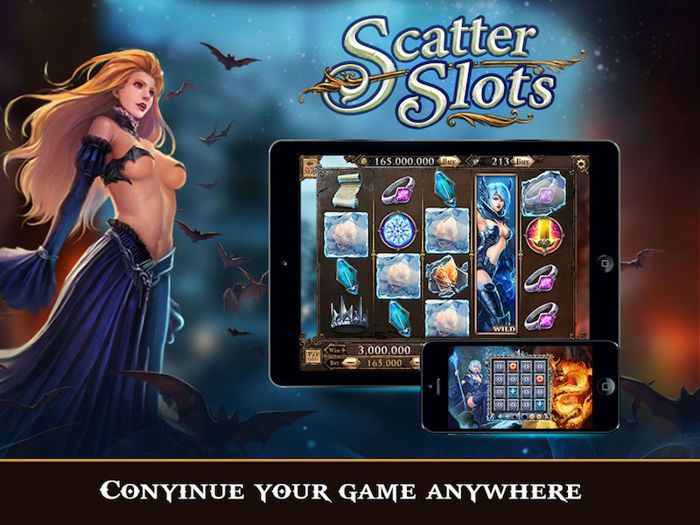 If you enjoyed playing 88 Fortunes and Pharaoh's Way and are looking for something fun and fantastical- there is hardly a better option than Scatter Slots.
This game features some of the best free slot machines that offer bonuses games, lucrative payouts and many free spins.
Despite being unusual it is incredibly exciting and unique.
This game is specifically aimed at an audience who hold an emotional connection with Vegas slots.
Once you start out with the game, you get to win big wins and incredibly lucrative payouts in ambience that truly suits gambling.
You will find free spins, re-spins, bonus rounds, jackpots and almost anything and everything that you can dream of.
Every spin opens way for lucrative wins, the game currently has more than 30 available slots.
These slots are entirely different from each other and they come with new mechanics and daily challenges.
One of the best features of this game, however, is the fact that it does not require internet connection to play the game.
This means, you can enjoy it both online and offline. Your adventure and increasing levels too will sync across any new device you choose.
The Scatter Slot app for Android also lets you win free coins every hour and the stunning graphics makes your experience even more intuitive.
So if you're looking to experience the thrill of Vegas slots, begin your fantasy gaming experience with the awesome characters and gripping levels of Scatter slots.
Free Slots Casino
If you enjoy playing with stacks, wilds, mystery levels, quests, multipliers, symbols and super symbols - then the Free Slots Casino is definitely the best game for you.
The game lets you enjoy your adventure from more than 50 slot machines.
On top of that, it comes with new events, mystery prizes and daily quests regularly.
On winning them you automatically qualify for the bonus and jackpot wins.
As you simply start out, the game offers you 250,000,000 chips to play with. Additionally, you also get free chips in every fifteen minutes.
There are fifty high quality slot machines that you can play absolutely for free. You can even play the games online, if internet connection is an issue.
The app comes with many exciting bonus games that give you the perfect vibe of playing in Vegas.
On top of that, there are daily goals, map events, and expanding wilds that offer some of the best rewards in the market.
You can also avail the 120 free spins that brings you great payouts and enjoy special promos that are specifically designed for you.