Best Zeus-Themed Slots (and What Makes Them So Good)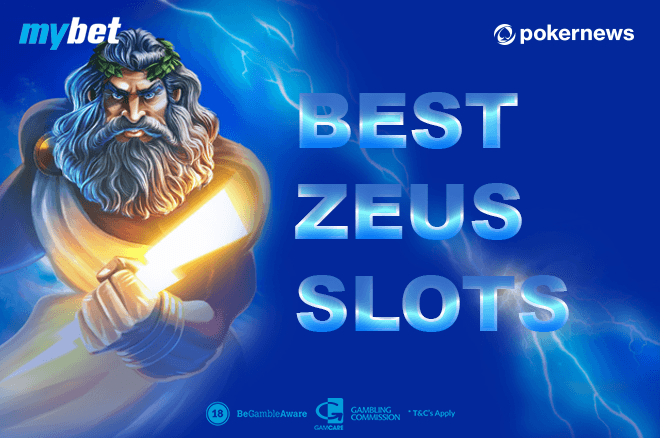 In this article, we continue with our series of pages dedicated to the top slots games you can play to offer you a complete overview of the best Zeus slots games you can play for real money or for free in 2018.
The online slot machine games featured in this article are a free ticket to ancient Greece, where you can immerse yourself in the world of ancient mythology and meet Zeus, the leader of the Pantheon.
Even though the old saying claims that lightning never strikes the same place twice, I believe it's just yet another myth that was proven false over and over again.
I am talking about slots, of course!
Every slot machine on this list can surprise you with a generous winning streak - but only if you don't anger the gods! In other words - no slot machine cheats, please!
Let these electrifying Zeus-themed slot games shock you with frequent winnings, colossal bonuses, and unbelievable combinations that will make you question reality.
If you're already hyped for a big win, just head to MyBet Casino straightaway. Here you'll find all the wonderful Zeus-themed slots featured on this list.
Confused about which slot to choose? Then, read this article and pick one of these beautiful Zeus slots to get started.
Zeus
This is a striking example of a slot that truly lives up to its name. Zeus is a slot machine about Zeus and Greek mythology, and you don't need to look any further for an all-round godly experience.
Firstly, let's start with some technical details. This slots machine was developed by WMS (Williams Interactive) and has already gathered a cult following. Just head to MyBet Casino if you want to know what all this fuss is about - you can create an account here and try it for yourself!
The Zeus slots game is played on five reels and 30 paylines, giving you plenty of opportunities for a huge winning.
On the reels, you'll be spinning Greek symbols that will bring you nothing but good luck. There are Greek coins, the laurel wreath, Greek warships, Spartan helmets, the great white pegasus, and, of course, Zeus himself.
To activate the slots bonus, you have to collect at least three Thunder symbols in one spin. This will activate 10 free spins.
Collecting four Thunder symbols will result in 25 free spins. The biggest number of free spins - 100 - will be given to you if you collect five Thunder Symbols.
Thundering Zeus
Thundering Zeus by Amaya Gaming is a slot machine that a dedicated Greek mythology fan shouldn't miss.
Just as you open the Thundering Zeus slot, the game greets you with an amazing soundtrack that will let you feel as if you've been teleported to an epic movie about ancient Greece.
This slot machine features five reels and 20 paylines. It is a typical slot game that reminds me of classic slots, which are both simple and amusing.
On the reels, you can meet Zeus, Pan, and someone who I assume to be Hera. The background depicts the sky, which sets the mood for a relaxing evening of slot spinning.
Of course, the art is just a secondary thing for some of us. The bonuses come first!
The Zeus symbol serves as an Expanding Wild. Collecting three of them will result in three free spins.
On the other hand, the Bonus symbol (which is depicted as a lightning bolt) will let you win up to 20 free spins and will reward you with a 3x payout of your original bet.
Zeus III
Keeping on track with the popular trend of ancient mythology, WMS (Williams Interactive) has created yet another Zeus-themed slot machine game as part of a series specifically dedicated to ancient Greek mythology.
However, they are offering you something less traditional this time.
Zeus III offers you six reels and… 192 paylines! Not many slots offer so many possibilities to win - and that's why you simply must try Zeus III at least once.
These are the bonuses to look for when you play on Zeus III:
Extending Zeus Wilds
The Coliseum Wild
The Scatter symbol of Zeus' Lightning Bolt
The reels themselves are all about Greece with coins, pegasi, and traditional vases popping up everywhere.
Despite the game's serious premise, the music of the slot is fun and light-hearted. It is triggered every time you click the Spin button.
The maximum bonus you can get is 50 free spins and 50 times your initial bet. This happens only when you collect five scatter symbols.
Zeus: God of Thunder
Here's another good one for you.
Let me introduce you to a wonderful slot game named Zeus: God of Thunder.
This gem was developed by WMS (Williams Interactive) and it's definitely a must-try if you're after a Zeus slot with big wins.
In addition to being one of the rare Zeus-themed slot machines with a progressive jackpot, it is also packed with lots of bonuses that can be triggered anytime.
At first, you might think that Zeus: God of Thunder is just a regular five-reel and 30-payline slot machine. But you only need to lift your eyes up a bit to spot the three bonus wheels that can change everything.
This is the feature that makes the Zeus: God of Thunder slot machine stand out from the crowd.
As the theme of the slot is Greek mythology (how surprising, right?), the symbols include laurels, vases, a lion, an eagle, and Zeus himself.
Collecting three to five matching symbols on the paylines awards you with a spin of the bonus wheel. The more symbols you collect, the more generous the spins will be.
In case you are wondering "how generous," listen to this: you can win up to 100 bonus spins!
Hercules: Son of Zeus
Technically, this slot is not about Zeus - it's about his son, the infamous demigod Hercules.
For many people, reading about the twelve labors of Hercules is an inspiration to do more than is expected from them - exactly as you'll do as you try to hit a big win on the Hercules: Son of Zeus slots.
Created by Pragmatic Play, this Zeus slot machine attempts to recreate the feel of ancient Greece in great detail.
Framed by two columns, the reels include symbols that you would expect from a Hercules-themed game. Here you can see Zeus, the Nemean lion, the Cretan bull, the Stymphalian bird, the Erymanthian boar, Cerberus, and Hercules himself.
Even though the game is played on five reels, it manages to include 50 paylines, resulting in many chances to collect a winning combination.
You'll be really lucky if you get the ancient temple image, as it acts as a Wild symbol.
The Scatter icon depicts Zeus, and it will help you get at least six free spins when it triggers its special feature.
Titan Storm
Titan Storm is a five-reel slot machine by NextGen that gives you 243 ways to win.
Thematically, it is a bit different from the other Zeus slots on this list as it tends to be more liberal with its interpretation of the Greek culture.
However, our favourite god of of lightning appears on the screen as soon as you open the game, and this sets the mood for a great gaming session.
What I like the most about this game is its background. It depicts a beautiful fantasy land with green grass, mysterious mountains, clusters of clouds, and flying islands.
Also, each time you spin the reels, a piece of music starts playing. And it is slightly different every time! To be honest, this slot machine sounds like a typical video game to me.
When it comes to symbols, Titan Storm has some beautiful images aside from the usual letters and numbers. Here you can meet Zeus, a beautiful goddess, a winged lion, and a magic sword.
Being the most important deity of all, Zeus acts as the Wild symbol. In this game, Wild can also act as a substitute for the Scatter icon, giving you plenty of opportunities to win cash as well as some Titan Storm free spins.