"Phil is my Homie" - DJ Steve Aoki Turns WSOP Commentator
Pamela Maldonado
ca.pokernews.com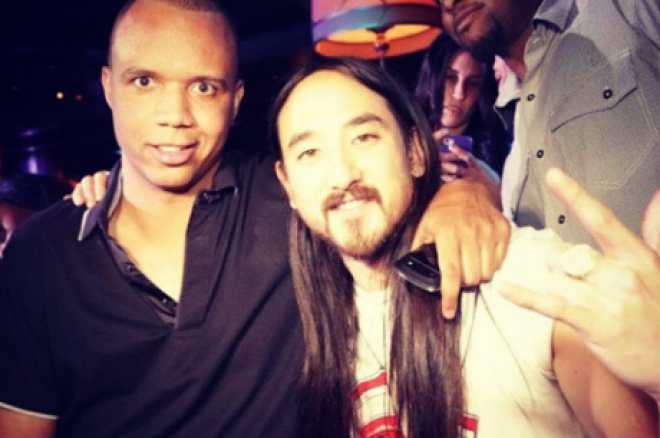 Juicy Deal: Try PKR's 3D game world & TV style presentation with$10 free real-cash plus free real money tournament entries, min deposit just $10 w/ our exclusive MEGAdeal welcome package -->MORE INFO HERE - Offer Ends June 30
The World Series of Poker attracts all kinds of familiar faces, and early Saturday morning, Electro house superstar Steve Aoki joined in to offer some commentary on Event #25: $3,000 Pot-Limit Omaha final table.
Aoki's buddy Jeff Madsen proceeded to win the event, earning his third WSOP bracelet and $384,420. We pulled the global music icon aside to chat about his love of poker...
Do you play poker?
Oh yeah, I am a huge fan of the game. I am a big, big poker guy. I play cash games, though, so you won't really see me at a tournament. Since I am in Vegas often for my DJ gigs, I will end up playing cash games somewhere.
There was a picture posted on Twitter of you and Phil Ivey at dinner, are you two good friends?
Phil is my homie. In the poker world, Antonio Esfandiari is the one who brought me in. Then, I metPhil Laak through him and eventually met Phil Ivey. Ivey would come to XS, we would grab some dinner and hang out and talk about some other business stuff. He's actually really smart and really intelligent, so having conversations with him is great. Ivey is a really great dude and we get along really well.

Michael Phelps is another one I get along with great. We play cash games together and are great friends. In Los Angeles, there is a small community of players who get together.Verne Troyer and Joe Madden are a couple of guys I get together and play poker with often.
What brought you in for commentary at the WSOP?
I'm not performing at Electronic Daisy Festival (EDC) this year, and my friend Dan Fleyshman wanted to get together so we just ended up at the Rio. Then, at spur of the moment, I just jumped into the commentating booth and took it from there.
Will you be back this summer anymore at the WSOP?
If I ever retire from DJ'ing, then maybe you'll find me at a tournament, but for now I don't think so. I might pop in a few times because I know so many guys, but other than that you won't find me playing here. Summer gigs are just so insane because of day clubs and it's also festival season, especially in Europe. I'll be spending most of my time in Europe. I'm looking at spending at least three weeks a time each month for a long while, so playing a tournament just doesn't work for me because they are so long.