"How I got my Start in Poker": Loni Harwood, 23, New York
Carlo Manolo
PokerNews.com
Our "How I got my Start" series asks successful players about how they fell in love with the game and how they began their journey towards poker success.
Loni Harwood's impressive triple final table WSOP run turned into a historic performance when the 23 year old from Staten Island, NY took down her 1st bracelet pushing her to over $870,000 in earnings at this year's series.
How did you get your start in poker?
Loni Harwood: I was about 16 years old when I saw my dad playing on PokerStars. He had a lot of success online. He even won a World Championship of Online Poker (WCOOP) tournament. I really wanted to learn so I would sit next to him and watch him play.

The way I started was playing satellites. I started grinding $11 re-buys, eventually moving up to $215 buy-ins. I started making a couple hundred a week and just kept going.

I played more live poker when I started college and really focused on playing live cash-games more towards the end of my college career. I started at the $1/$2 limits and was earning probably above average so I then jumped to $2/$5.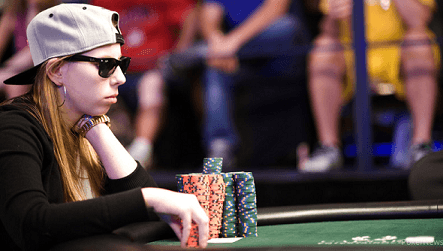 How did you find the focus to finish college?
LH:It was tough. Toward the end, I was doing so well in live cash-games that I didn't want to finish college at all. I knew right away that I just wanted to play poker and nothing else but my parents pretty much told me that they wouldn't support me unless I completed my degree. So I really had to push through mentally to get through school.

Finally, the time came and I graduated in January of 2012 with a business degree in finance from University of Albany-SUNY in New York. I couldn't wait to start my life in poker though. Two weeks later I moved from New York to Florida to pursue my dream. The following month, I played my first series in the circuit and happened to win. It was my first WSOP Circuit ring. It was an incredible feeling. I knew that playing poker was what I wanted.
6k in the main on the last break of the night. Can't win a pot. Who cares though. Best summer of my life!!!!

— Loni Harwood (@Luscious_Lon)
NO RE-POSTS - Follow us for more fresh content throughout the week at our PokerNews Canada Facebook Group