The Best Moments and Biggest Surprises from the 2013 World Series of Poker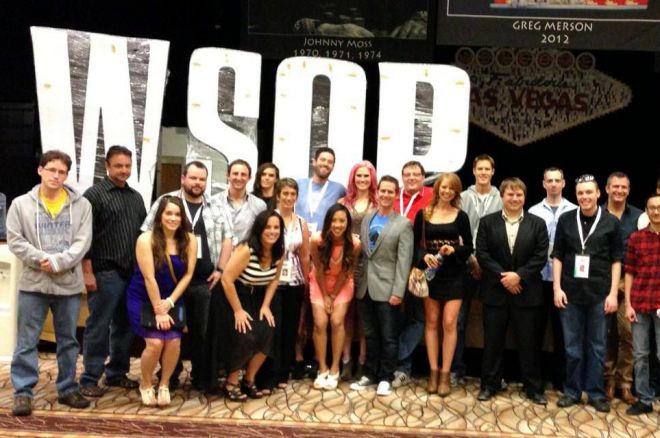 The 2013 World Series of Poker is slowly winding down as the $10,000 Main Event wraps up its latter stages. It's been a long six weeks here in Las Vegas, and it's been the pleasure of the entire PokerNews Live Reporting Team to bring you updates from all 62-bracelet events. The days are long for a PokerNews reporter, but that puts them in the unique position to accurately assess the summer's best moments and biggest surprises.
We've asked our team to reflect back on their favorite moments and the biggest surprises of the summer. We've tallied their responses and have come up with the following list. Enjoy!
The Top Surprises for Team PokerNews
1.) Loni Harwood and Dana Castaneda Capture Bracelets in Open Events
"If you take a look at the numbers, it shouldn't be a surprise, but it still was," PokerNews.nl's Frank de Op Woerd explained. "There are more than enough female competitors and lots of them are really good. Still, it was a year since Vanessa Selbst won a tournament and this year two open events went to female players which is awesome."
Dana Castaneda's bracelet came first when she won Event #54: $1,000 No-Limit Hold'em, but in all honesty it was 23-year-old Loni Harwood, a professional poker player from Staten Island, New York, that had the poker world talking. She defeated 2,541 players to win Event #60: $1,500 No-Limit Hold'em for $609,017, which marked her sixth cash of the summer. While the bracelet was the cherry on top, the icing of her summer was a sixth-place finish in Event #31: $1,500 Pot-Limit Omaha and a fourth-place finish in Event #53: $1,500 NLHE. Harwood, who jumped to the No. 8 spot on the all-time WSOP money list for women, now holds the record for the largest payday awarded to a woman in a Las Vegas WSOP event.
Interestingly, Harwood and Castaneda became the only women since Annette Obrestad to have won an open-field no limit hold'em event.
2.) Erick Lindgren's Career Rebound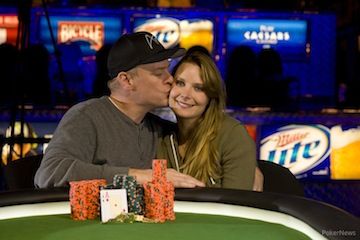 It's no secret that 2008 WSOP Player of the Year Erick Lindgren had made some bad choices in his life. His gambling addictions and money troubles were well known in the poker community. After publicly admitting to the situation he had gotten himself into and spending some time in rehab, Lindgren set about getting his life in order.
"With all the stories out there it wouldn't have surprised me if he hadn't shown his face," Op de Woerd said. Despite the criticism and ill will by some, Lindgren did attend the WSOP, which came shortly after his runner-up finish in the $25,000 World Poker Tour Championship for which he earned $650,275.
"From personal experience I had Erick turn me down for interviews twice," PokerNews hostess Sarah Grant explained. "It happened once in my early years and I was so uncomfortable I never wanted to ask again. This year he even made a point to say hello to me in the halls and since then I have defended him to several people. Changing and growing is what separates humans from lots of other species. I personally send him a ton of encouragement and support for trying to be the best person he can be regardless of any past mistakes."
Indeed, Lindgren appears to be a man headed toward redemption. It'll be a long road, but his WPT score was a step in the right direction, and so was his win in Event #32: $5,000 No-Limit Hold'em (Six Handed) for $606,317 and his second gold bracelet. Lindgren is married to fellow poker pro Erica Schoenberg with whom he had a son in 2012, so he has something very special motivating him. Here's hoping he can continue to improve both personally and professionally.
3.) Phil Ivey, Phil Hellmuth & Jason Mercier Fail to Impress
Phil Hellmuth has been a force at the WSOP for the past few years, and so has Phil Ivey if you don't count 2011 when he decided to skip the WSOP. Likewise, Jason Mercier is usually good for a big score or two, but none of these players made so much as a splash at this year's WSOP. We'll let the following chart on the last three years of the WSOP (not counting WSOP Europe and APAC) emphasize our point.
| Stats | Hellmuth | Ivey | Mercier |
| --- | --- | --- | --- |
| 2011 Cashes | 5 | Skipped | 5 |
| 2011 Earnings | $1,591,004 | Skipped | $696,438 |
| 2011 Bracelets | 0 | Skipped | 1 |
| 2012 Cashes | 6 | 7 | 7 |
| 2012 Earnings | $2,985,840 | $576,052 | $165,869 |
| 2012 Bracelets | 1 | 0 | 0 |
| 2013 Cashes | 3 | 1 | 6 |
| 2013 Earnings | $69,185 | $15,544 | $46,106 |
| 2013 Bracelets | 0 | 0 | 0 |
5.) Tom Schneider Wins Two More Bracelets; Both in H.O.R.S.E.
Featured in our popular Where Are They Now? series just prior to the 2013 WSOP, 2007 WSOP Player of the Year Tom Schneider let the world know exactly where he was by racking up seven cashes and capturing two more bracelets, bringing his career total to four.
Even more amazing, the two new bracelets both came in H.O.R.S.E. tournaments just one week apart. The first was on June 7 in Event #15 $1,500 H.O.R.S.E. for $258,960 and the other on June 15 in Event #29 $5,000 H.O.R.S.E. for $318,955.
For more on Schneider, check out this interview he did with PokerNews after his second win.
Honorable Mentions
Matthew Ashton—As our own Tim Duckworth explained: "Boy did this Brit crush the entire WSOP! Following a 2012 that saw him claim four WSOP cashes including a sixth place in the $10,000 HORSE Championship, Ashton returned this year and registered three final tables; each in Seven Card Stud variations before claiming the big one - the $50,000 Poker Player's Championship. Although predominately a mixed game specialist, Ashton has a strong grasp on the Player of the Year trophy heading into the Main Event and WSOP Europe."

Matthew Ashton

Old School Bracelets—Following the WSOP APAC win by Daniel Negreanu, many people were hoping that it would be the "Year of the Pro." Not only did this happen, but old school players won bracelets like it was the early 2000s again with the likes of David Chiu, Eli Elezra, Cliff Josephy, Mike "The Mouth" Matusow, Erick Lindgren and Daniel Alaei all snagging gold.
Michael Gathy captures a bracelet for second year in a row. "He was kind of a random guy that I figured was good, but probably got lucky to win a $1,000 last year but he won another $1,000 this year," Grant said of the man from Belgium. "It was my off day when he won, but I recognized him when I came in and watched the video and was very impressed. An unknown—two years in a row—in a big field—$1,000 buy-ins both times."
Chad Ellie, who recently did an exclusive four-part interview with PokerNews, walked into the Main Event in a death row jumpsuit guarded by two smoking hot female officers. They escorted him to his chair and "released" him. The entire room was stunned by what happened and all stared at the hot girls.
Barny Boatman finally won a bracelet. "The rail for Barny Boatman was awesome," Op de Woerd explained. "The English crowd can be noisy and some people may not like that, but I love it. I was there covering his final table and enjoyed the entire atmosphere."
Gus Hansen and Tom Dwan don't play a hand on Day 1c of the Main Event. Instead they opted to blind off in order to continue playing high-stakes Open-Face Chinese at a nearby casino. Both busted fairly early on Day 2c.
No males entering the Ladies Event proved that the $10,000 buy-in change with a $9,000 discount for females was a wise move by WSOP officials.
Athanasios Polychronopoulos quietly won another bracelet.
Anthony Gregg won the One Drop $111,111 High Roller.
Marco Johnson finished runner up again, but then won his first bracelet shortly thereafter.
Matt Matros failed to get four bracelets in four years.
Canadians Dominate—We won't go into detail here because we're devoting an entire article to this in the near future.
Top Personal Moments for Team PokerNews
1.) PokerNews Senior Editor Chad Holloway Wins Event #1 $500 Casino Employees
This year PokerNews had five members from the team—Managing Editor Brett Colson, Senior Editor Chad Holloway and live reporters Kevin Taylor, Tim Duckworth and Josh Cahlik—play in Event #1 $500 Casino Employees. They all made a $20 last-longer bet and promptly took their seats in the 898-player field.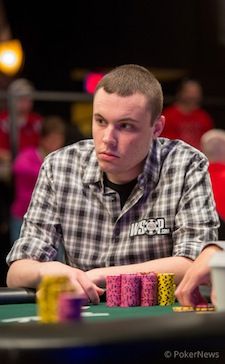 Duckworth and Taylor hit the rail early while the other three went on to make deep runs. Colson ended up falling just short of the money, while both Cahlik and Holloway made it through the money bubble with decent stacks. When Day 1 came to an end, Holloway sat third in chips of the surviving 55 players while Cahlik sat in 22nd place. Needless to say, the PokerNews Team was excited.
Both players continued to roll on Day 2 and soon found themselves down to the final two tables and within striking distance of both making the final table. Unfortunately Cahlik was the victim of a queens-into-kings cooler and soon fell in 12th place for a $5,010, which left Holloway as the winner of the coveted last-longer bet—oh, he went on to win the bracelet and the $84,915 first-place prize too.
"I didn't even know we PokerNews bloggers could play, but Chad knew. Awesome to have someone I know so well, and like so much, win the most coveted thing there is to win in poker," said Op de Woerd, who played one event later in the summer and cashed thanks to members from the PokerNews.nl forum that put up the money so he could play. "I played pretty good I think and made the money so what more can I ask for? Well, I could ask for a bracelet like Chad Holloway but I don't want to sound greedy."
Grant, who conducted the winner interview for that event, echoed his sentiments: "Interviewing one my personal favorite members of the PokerNews was the absolute nuts of my WSOP. It was the first interview for me of the WSOP which always makes you nervous anyways, you get rusty. But this I could never be prepared for. I had tears in my eyes when we finished. As you can tell from the interview I can't even speak proper English. I honestly couldn't have been happier if I had wished it in my mind. Seems strange for the first moment of the WSOP to surpass all others. However, for me, that was the highlight of my 2013 WSOP."
2.) Good Guy Kenneth Lind Wins the Seniors Event
We'll let Grant, who also conducted this interview, why it was so special:
"Seniors Event winner Kenneth Lind was the kind of person I always hope wins an epic amount of money. He worked hard his whole life, and not only was he not annoyed about it, he was grateful. He cried with joy when he won and welcomed me in to share his moment with open arms. He reminded me of everything I love about his country and then totally shocked me when he told me he had 30,000+ Twitter followers. At that moment I realized he is far more than meets the eye and far more than I will ever capture in the seven minutes I shared with him. Yet, those are the moments that make my job amazing. We are Twitter friends now and I am so grateful to know him."
3.) Kevin Boudreau's Tragic Medical Situation
In the middle of June, the poker community was stunned to learn that Kevin "Phwap" Boudreau had been hospitalized due to severe medical conditions. Boudreau, a high-stakes cash game player and part of the Ship It Holla Ballas crew, had sudden bleeding in his brain and was placed in an induced coma. He remains in critical condition but his family has plans to transfer him back to Colorado.
"One of the things that had the most impact on me this WSOP has hearing about Kevin Boudreau. I didn't know him; however, I have had many experiences in my life thus far with premature death and my heart just went crazy," Grant explained. " I watched every video I could find of him and let the random and tragic nature of his situation effect me in and out of work for days. Finally I decided to try to do anything I could proactive to reach out to anyone who was suffering with his situation. I put it out there that i wanted to make a video for him, his family and friends. Not long after tons of people reached out. Although my heart broke seeing every person who was crazy about him, the devotion he was receiving reminded me that being a genuinely good person affects everyone you come into contact with."
What are you favorite moments and biggest surprises from the 2013 WSOP? Let us know in the comments section below.
Get all the latest PokerNews updates on your social media outlets. Follow us on Twitter and find us on both Facebook and Google+!