WSOP on TSN: Negreanu Highlights 2013 APAC Broadcast
Brett Collson
ca.pokernews.com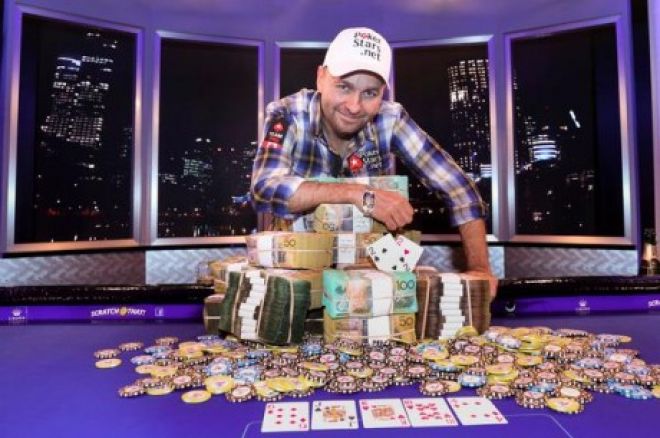 Only a week has passed since the 2013 World Series of Poker Main Event reached the coveted November Nine and went on hiatus for a few months, but beginning this week, TSN began its broadcast of the summer's poker action with the two episodes from the WSOP Asia Pacific Main Event. Here's my recap of what was aired.
New Intro: The first thing that stuck me about this year's broadcast was the new intro, which featured a blend of poker past and present. By that I mean a montage of great poker moments were set to a catchy song with greats of the game inserted into those moments alongside current stars. For instance, a modern-day Phil Hellmuth was photoshopped next to an old-school Doyle Brunson in the latter's win in the late 70s. Likewise, the late Chip Reese was put up against Greg Merson at last year's final table. It may sound cheesy, but something about it worked, especially when set to the lyrics: "It's gonna be the best day of my life."
The Final Table: Here's how the final table looked at the top of the broadcast:
| Seat | Player | Chip Count |
| --- | --- | --- |
| 1 | George Tsatsis | 2,321,000 |
| 2 | Benny Spindler | 2,931,000 |
| 3 | Mikel Habb | 551,000 |
| 4 | Winfred Yu | 367,000 |
| 5 | Russell Thomas | 489,000 |
| 6 | Daniel Marton | 2,160,000 |
| 7 | Kahle Burns | 905,000 |
| [B]8 | Daniel Negreanu | 2,437,000[/B] |
Not-So-Run-Good Russell: Australian George Tsatsis opened for 70,000 holding the


only to have 2012 Octo-Niner Russell Thomas, who finished in fourth place in last year's WSOP Main Event for $2,851,537, move all in for 380,000 with the


in the big blind. Tsatsis made the call, and Thomas discovered the bad news.
According to the Canada PokerNews Odds Calculator, Tsatsis was a 68.39% favorite while Thomas would come from behind 23.55% of the time. The



flop wasn't particularly interesting and Tsatsis increased his odds of winning to 75.05%. The

turn meant Thomas had a 6.82% chance of surviving on the river, but the

was not what he was looking for. Thomas shook hands with the remaining players before taking his leave in eighth place for AU$82,721.
Back in the Game: Upon returning from a commercial break, Macau poker personality Winfred Yu got lucky against Daniel Negreanu. The former got his short stack all in preflop holding the


and was behind Negreanu's


. The



flop left Yu in need of running cards to stay alive, and he'd catch just that with the

turn and

river. In the next broadcast hand, Yu doubled holding the


against the


of Benny Spindler. Just like that Yu went from elimination's doorstep up to 1.26 million.
Two Eliminations: As if Yu couldn't run any better, he went on to eliminate Mikel Habb when his


overcame Habb's


after the board ran out





. Habb, as Australian earning his first WSOP cash, exited in seventh place for AU$107,730.
In the very next hand, Spindler, who began the final table as chip leader but lost a big pot to Negreanu early on, shoved his short stack holding the


and received a call from Kahle Burns, who held the


in the big blind. Spindler got it in good, but the board ran out





, and he was sent to the rail in sixth place for AU$146,205.
"You ran like shit," Negreanu said as he shook the young German's hand.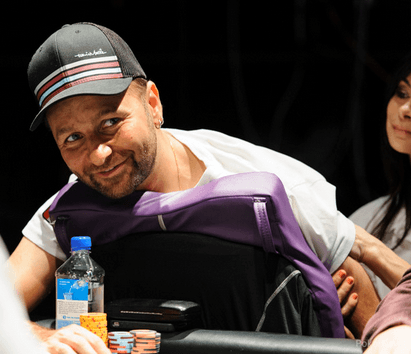 Negreanu's Chance: Lon McEachern asked Norman Chad what he thought Negreanu's chances of winning his fifth bracelet were, and Chad cited some interesting stats:
Bracelets — Negreanu: 1, Rest of the Table: 0
WSOP Cashes — Negreanu: 60, Rest of the Table: 0
Career Earnings — Negreanu: +$16 million, Rest of the Table: <$150,000
"So you ask me what odds do I give Daniel to win bracelet number five," Chad said. "Let me be as precise as I can possibly be. Pretty good."
In the next broadcast hand, Australia's Burns moved all in for 800,00 holding the


and received a call from Negreanu, who picked up the


on the button. The board ran out





and Burns, who was sporting an 888 patch, slid his chips to Negreanu before making his way to the payout desk in fifth place to collect AU$201,994.
Why We Love Kid Poker: Negreanu is one of the most popular poker players in the world. He's likeable, and one reason why is that he's usually selfless. Case in point, picking up the


in the big blind after Yu shoved his last 345,000 from the button with the


. The



flop made things interesting by giving Yu a flush draw, and while many players would be upset, Negreanu was all giggles and encouraged the dealer to give Yu, who he said was a "good kid," another spade. The dealer obliged and Negreanu legitimately seemed happy for Yu. Negreanu appeared as sincere as possible, and that's an endearing quality that resonates with viewers.
Wild Hand: After Tsatsis had his pocket kings cracked by the


of Daniel Marton in an all-in situation, it appeared the Australian painter and father of two was tilting. Unfortunately for Tsatsis, things got worse as a golden opportunity quickly turned into a nightmare.
It began when Negreanu opened for 130,000 under the gun with the


, and Tsatsis three-bet to 290,000 with the


on the button. The blinds folded, and Negreanu opted just to call, which brought about a



flop. Negreanu checked his two pair of queens and jacks, and Tsatsis bet 275,000 with trip jacks. Negreanu called and then checked for a second time on the

turn. Tsatsis bet 510,000, and Negreanu woke up with an all-in check raise to put the pressure on Tsatsis. The Australian thought an unnecessarily long time before calling off and creating a pot worth 4.34 million in chips. "I should have reraised pre," Negreanu lamented.
All Tsatsis needed to do was dodge a queen to double big, and you could almost feel his heart break when the

spiked on the river. Negreanu was shocked as Tsatsis composed himself and returned to the table to shake hands with the remaining players. With that, Negreanu held 74% of the chips in play while Tsatsis, who lost three all-in situations after getting it in good each time, was eliminated in fourth place for AU$284,715.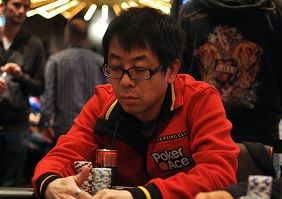 Yu Runs Out of Lives: After going 6-0 in all-in pots, Yu's luck finally ran out. It happened when he opened for 150,000 on the button with the


and Negreanu called from the big blind with the


. The



flop was gin for Negreanu as it gave him a flush. He checked and then snap-called when Yu moved all in for 1.025 million. Yu needed running cards once again, but any hope of that happening diminished when the

peeled off on the turn. The meaningless

was put out on the river for good measure, and Yu took his leave in third place for AU$423,225.
"Daniel, chop the money and you get the bracelet?" Marton joked after the hand. Negreanu, who held a 10-1 chip lead, mockingly accepted.
Negreanu Gets No. 5: After doubling Marton and then chopping another pot where he had his opponent dominated, Negreanu finally finished the job. It happened when Marton opened for 125,000 holding the


and Negreanu moved all in with the


. Marton called off for 1.945 million, and it was off to the races.
Negreanu was on his feet and seemed a bit nervous as the flop came down



. The

turn gave Marton a Broadway draw to go with his overs, but the

river missed it. Negreanu shot up his arms in victory and seemed more relieved than excited. Marton took home AU$637,911 for his runner-up finish as Negreanu captured his fifth bracelet (his first since 2008) and the accompanying AU$1,038,825 first-place prize.

Tune in Next Week: The WSOP on TSN has just begun and will continue through November. Next week's episodes will feature the 2013 WSOP National Championship from New Orleans. If you happen to miss it, check back right here on PokerNews for a full recap of the action.