WSOP Wrapup: Americans Admit, It's the 'Year of Canada'

Carlo Manolo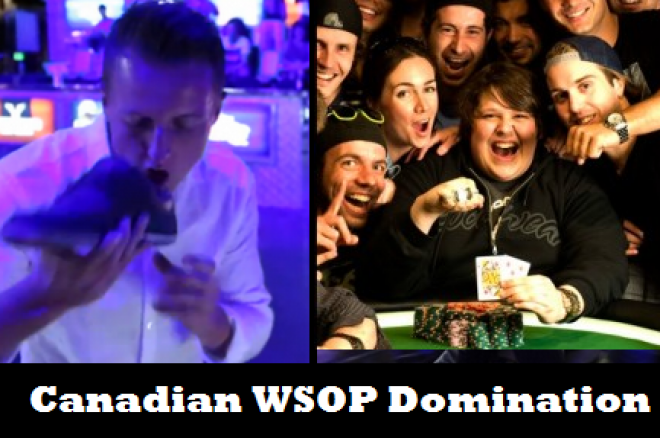 Canada Dominates Foes! Breaks all-time records
It's not rude to gloat, we can be boastful, because this was a headline year for Canada in what proved to be the best performance for any visiting country at any WSOP, ever! Even our Nevada-based American editors down at PokerNews.com recently ran this headline:
"Why the 2013 WSOP Could be Called the "Year of Canada".
Take that England!
Canadian WSOP Statistics
10 WSOP Bracelets | 561 Cashes | $10,579,113 in winnings
2013 Bracelets by Province: Ontario: 5 | Quebec: 2 | BC: 2 | PEI: 1
Canadian Bracelet Winners at the 2013 World Series of Poker
| Player | Hometown | Event | Prize Money |
| --- | --- | --- | --- |
| Charles Sylvestre | St. Bruno, QC | Event #3: $1,000 No-Limit Hold'em Re-Entry | $491,360 |
| Benny Chen | Stratford, PEI | Event #6: $1,500 Millionaire Maker No-Limit Hold'em | $1,198,780 |
| Michael Malm | Mississauga, ON | Event #8: $2,500 Eight-Game Mix | $255,104 |
| Levi Berger | Ottawa, ON | Event #11: $2,500 No-Limit Hold'em Six-Max | $473,019 |
| Mark Radoja | Guelph, ON | Event #16: $10,000 Heads-Up No-Limit Hold'em | $336,190 |
| Calen McNeil | Victoria, BC | Event #20: $1,500 Omaha Hi-Lo Split 8-or-Better | $277,274 |
| Jason Duval | St-Georges Est QC | Event #28: $1,500 No-Limit Hold'em | $521,202 |
| Justin Oliver | Toronto, ON | Event #38: $2,500 No-Limit Hold'em Four-Handed | $309,071 |
| Daniel Idema | Vancouver, BC | Event #39: $1,500 7-Card Stud Split 8-or-Better | $184,590 |
| Kristen Bicknell | Nepean, ON | Event #51: $1,000 Ladies No-Limit Hold'em | $173,922 |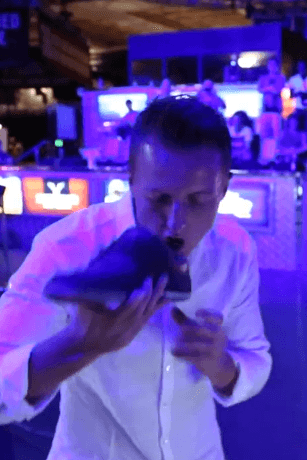 The United Kingdom
3 WSOP Bracelets | 299 Cashes | $9,718,782 in winnings
Her majesty's men had their moments, Barney Boatman finally won one, a young Matt Perrins won $700K then joined his drunken rail in drinking beers from their shoes, and a 'job well done' to Matthew Ashton of Liverpool who earned WSOP Player of the Year honors. He placed 3rd, 2nd and 7th before winning the $50,000 Players championship for another $1.7 million dollars which allowed Ashton to pass longtime POY leader Daniel Negreanu who was hoping to become the first ever 2-time WSOP player of the year.
France
0 WSOP Bracelets | 163 Cashes | $2,945,674 in winnings
They have unhearalded Sylvain Loosli with $16M in chips in the November 9, but other than that it has been a difficult Series for the French. After tying England and Canada with 3 bracelets at WSOP 2012, they got completely shut out from all of this year's events.
Germany & Russia
1 Bracelet each | 338 Cashes combined | $7,900,000 Combined winnings
Berliner Anton Morgenstern lead the Main Event entering day 7, but his fat 21.955 million chip stack would not even last until dinner break, one of the most dramatic collapses in recent history. Sorry Germany.
PokerNews asked Canadian WSOP November Niner Marc Mclaughlin "Why have Canadians done so well at WSOP 2013?
Marc Mclaughlin: I think we are just really good at this game. I can't speak for everyone but I'm from Quebec. We may be a small group of players but we are very good at what we do. It's our profession for a reason, because we are very successful. We put in a high volume of play and talk a lot of hands. We immerse our lives into the game and I think by devoting ourselves to the poker, it has helped us become better players.

Playing a lot may have a lot to do with it as well. You can get through a lot more high more quick than if you were just playing live. The more you play, the more you learn, and the better you get.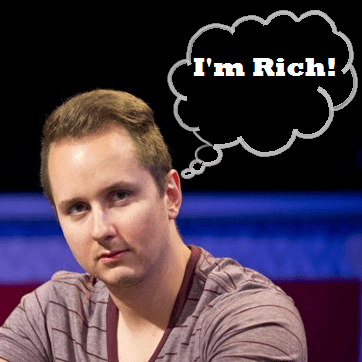 Greg Mueller Headlines Canadian Finalists
Although there were ten Canadian bracelet winners, there were nearly two-dozen that come close by making a final table. Greg "FBT" Mueller from Vancouver BC put his best skills towards crushing the mixed-game events making three final tables including third in the $2,500 Eight-Game Mix, which he finished runner up in the exact event last year, third in the $5,000 H.O.R.S.E. and eighth in the $5,000 Limit Hold'em. Mueller's three final tables, which saw him collect $243,994, may have been his only cashes of the summer, but they made him the only Canadian to have three-final table appearances in 2013.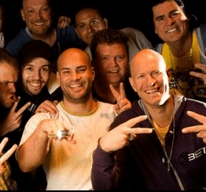 Canadians Who Made a Final Table at the 2013 World Series of Poker
| Player | Place | Event |
| --- | --- | --- |
| Greg Mueller | 3rd | Event #8: $2,500 Eight-Game Mix |
| " | 3rd | Event #29: $5,000 H.O.R.S.E. |
| " | 8th | Event $37: $5,000 Limit Hold'em |
| Mark Mierkains | 2nd | Event #10: $1,500 Limit Hold'em |
| Jaspal Brar | 3rd | Event #12: $1,500 Pot-Limit Hold'em |
| Jean-Nicolas Fortin | 9th | Event #12: $1,500 Pot-Limit Hold'em |
| Mike Leah | 3rd | Event #13: $5,000 Seven-Card Stud Hi-Low Split-8 or Better |
| " | 5th | Event #39: $1,500 Seven-Card Stud Hi-Low Split-8 or Better |
| Gavin Smith | 7th | Event #13: $5,000 Seven-Card Stud Hi-Low Split-8 or Better |
| Mark Klecan | 8th | Event #15: $1,500 H.O.R.S.E. |
| Daniel Idema | 7th | Event #18: $1,000 No-Limit Hold'em |
| John Thompson | 9th | Event #30: $1,000 No-Limit Hold'em |
| Noah Villancourt | 8th | Event #34: $1,000 Turbo No-Limit Hold'em |
| Mike Watson | 6th | Event #36: $1,500 No-Limit Hold'em Shootout |
| Tony Gill | 6th | Event #39: $1,500 Seven-Card Stud Hi-Low Split-8 or Better |
| Joseph Leung | 4th | Event #41: $5,000 Pot-Limit Omaha Six-Handed |
| Taras Kripps | 4th | Event #49: $1,500 No-Limit Hold'em |
| Cindy Kerslake | 9th | Event #51: $10,000 Ladies No-Limit Hold'em |
| Jonathan Cohen | 7th | Event #53: $1,500 No-Limit Hold'em |
| Jason Bigelow | 2nd | Event #54: $1,000 No-Limit Hold'em |
| Jonathan Duhamel | 8th | Event #55: $50,000 The Poker Players Championship |
| Henry Tran | 5th | Event #58: $1,111 The Little One for One Drop No-Limit Hold'em |
| Daniel Negreanu | 2nd | Event #59: $2,500 Limit 2-7 Triple Draw Lowball |