A Look Inside PokerStars' Isle of Man Headquarters By The Numbers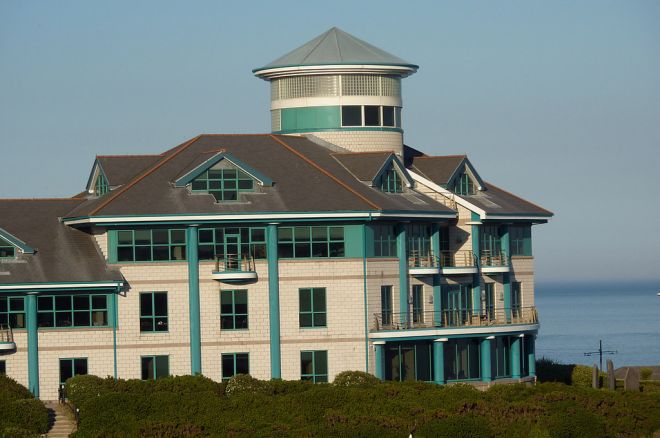 As you may well know, the United Kingdom & Ireland Poker Tour (UKIPT) heads to the home of PokerStars at the end of October for the inaugural UKIPT Isle of Man festival. PokerNews cannot wait to explore the PokerStars headquarters (pictured), something that no media outlet has ever done before.
With the poker community tingling with anticipation at heading to the home of PokerStars, PokerNews thought it would be fun to look at some PokerStars-related data and discovered that some of those figures are mind-blowing.
The Rational Group, the parent company of PokerStars, employs a staff of 1,641 across nine countries. Those staff members seem happy at both work and at home considering there have been 81 babies born to PokerStars staff in the last year alone; reports of them sporting the red spade on their heads are yet to be confirmed!
Everyone knows that PokerStars takes player security seriously and it shows in the number of staff whose job it is to maintain security and the integrity of the games. At last count, 329 total employees work in the security sector — that's a whopping 20.05% of the entire staff!
Check out some of these fantastic facts:
150,000 – The PokerStars HQ office space in square feet
150 – The number of CPUs that contribute to the PokerStars server facility
20,000 – New PokerStars accounts every day
15,000 – Frontline support emails per day
80% – The percentage of those emails answered within one hour
20,000 – Players assisted by live chat in the PokerStars software each month
1,881,288 – Hands dealt per hour
Of course, it's not only the online poker world where PokerStars excels; the company is also one of the major players in the live poker arena, too. PokerStars hosts 70 live events around the world annually across 26 countries, and its flagship tour, the European Poker Tour, has paid out €500,000,000 since its creation, meaning it has paid out three times more prize money than Wimbledon has over the past 10 years. Quite a staggering fact, we are sure you will agree.
By the time the UKIPT Isle of Man Main Event is complete, there will be another statistic: how many players competed in the first-ever UKIPT Isle of Man Main Event? If you want to be part of history then you know what to do: qualify for the UKIPT Isle of Man Main Event at PokerStars or head to the beautiful island on Oct. 31 and buy yourself in for £1,100.
You can check out our previous Isle of Man articles here and here.
Want to get in on the action? Download PokerStars via PokerNews links and when you are creating your free PokerStars account make sure you enter the marketing code "POKERNEWS.COM" to ensure you are tracked to PokerNews. Doing so means you are eligible for all future promotions PokerStars and PokerNews run together.
Get all the latest PokerNews updates on your social media outlets. Follow us on Twitter and find us on both Facebook and Google+!