Charles Sylvestre Wins $122k at Lac-Leamy WSOP Circuit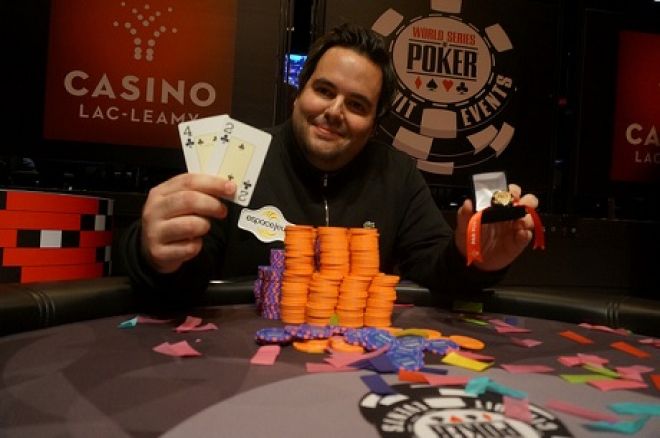 Charles Sylvestre has won the gold ring and $122,435 at the very first World Series of Poker Circuit Main Event for Lac-Leamy Casino in Gatineau, Quebec. Sylvestre was the safe bet all along as he maintained a dominating chip stack for most of the tournament. After a heads-up battle with American John Nelson, this Canadian earned the title and secured a seat in the National Championship.
Sylvestre has had a great year of poker in 2013. In June he won his first gold bracelet at Event 3 of the World Series of Poker and a tidy sum of $491,360 for his effort. Now that he has added another large cash to his earnings as well as a second piece of prestigious jewelry, he is sure to have the attention of the poker community.
The $1,675 Main Event attracted 371 entries across its three start days and included the likes of Erik Cajelais, Mike Leah, Scott Montgomery, Carla Sabini, and Jason Sagle. The tournament was scheduled to finish tomorrow, but as players' seats emptied, it became apparent that a winner was going to be crowned tonight. According to the WSOP Live Update, the final table lasted a little over six hours, and Sylvestre and Nelson's heads-up match took only half an hour to decide the winner.
Lac-Leamy Casino is located on the Quebec-Ontario border, perfectly situated to draw players from both provinces to test their skills against each other. This new stop on the Circuit is Canada's second, the first being in Vancouver a few weeks earlier, and is suggestive that there is a demand for more headlining events north of the border.
A total of 10 WSOP Circuit tournaments will be held at Lac-Leamy during this stop and rings awarded for each. The final two are still to be played in the following two days, and an additional two tournaments are to be played on Espacejeaux.com. The online events also award rings and points. More information can be found on the EspaceJeux website.
Lead photo courtesy of WSOP Live Update