MagicHoldem to be Integrated in Willam Hill and Poker770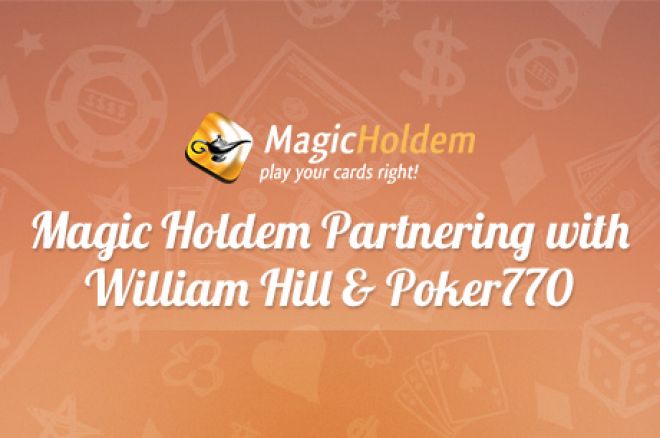 MagicHoldem, a software developer that produces online tools to help players learn and play better poker, entered into agreements with William Hill and Poker770 to provide them with fully-licensed versions of its Heads-Up Display (HUD), Texas Hold'em Calculator, and Video Poker School.
Online poker sites have recognized the challenge of drawing and keeping new members online and have incorporated technology to help players as they join the online poker world. "It's important we educate recreational players on the basics of hand management so they have a positive early experience with online poker," says Everest Europe Regional Director Des Duffy, "MagicHoldem products are definitely a big step in the right direction with that aim in mind."
MagicHoldem's HUD is completely cloud based, so players can access their data from any computer, anywhere, anytime, and no longer have to worry about local storage of hand data and backing up the information as you do with other software. The HUD assists players in making real-time playing decisions by providing data on your opponent based on their playing history against you. The HUD employs a simple red/green interface to identify areas of opportunity and danger against the players at the table. For new and less experienced online players, this software simplifies the process of identifying which opponents are aggressive, which are passive, and makes it easier for a new player to adjust their play accordingly against those opponents.
PokerNews owner and acclaimed poker professional Antanas Guoga, better known in the poker world as Tony G, consulted with MagicHoldem on the HUD's development and believes this is a unique product for recreational poker players: "If you've never used a regular poker Heads-Up Display before, the numbers and stats can make it pretty confusing," Tony G explains. "The MagicHoldem HUD cuts through all that, creating a simple, yet perfect companion poker tool for beginners and casual players."
In addition to the HUD, MagicHoldem's poker calculator determines winning probability in real time and indicates your hand status in relation to your opponents as the hand is dealt from preflop to river. MagicHoldem's poker coach helps players develop winning styles of play by analyzing their poker style, identifying their individual leaks and weaknesses, and providing guidance for correcting those weaknesses and improving their play.
MagicHoldem's robust suite of software tools are all designed to help players improve their playing skills and win at online poker. This software can provide critical analysis and guidance to make playing poker online a positive and profitable experience. MagicHoldem, founded in 2010 by a group of software and business professionals, is also one of PokerNews' strategic partners and is available to download via our links.
Check out our full review of the MagicHoldem software at our dedicated
MagicHoldem page.
Get all the latest PokerNews Canada updates on your social media outlets. Follow us on Twitter and like us on Facebook!