PokerStars' NHL Alumni Charity Tournament Heats Up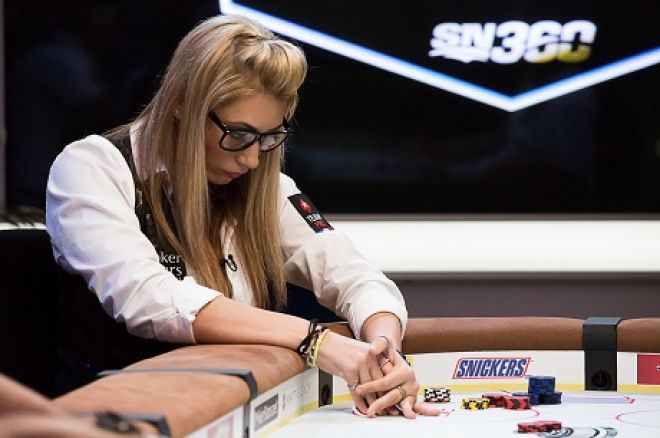 If there were two predictable things about the first episode of the PokerStars 2013 NHL Alumni Charity Poker Tournament on Sportsnet360, the first was that poker pro Vanessa Rousso would dominate play. The second was that it would take host Joe Stapleton less than a single hand of commentary to comment on her "hot librarian" look. Stapleton exceeded expectations by sliding the comment in before discussion of the first hand began.
Sitting down for the six-handed game were a range of poker pros, current and former hockey stars, and online qualifiers from Pokerstars. Airing on Sportsnet360 throughout December and into January, the NHL Charity Alumni Tournament not only provides a chance for Canadians to watch poker pros play against their hockey heroes, but also supports a variety of charities. Each participant wins a donation to give to their charity of choice, with the winner receiving $100K to donate. On top of supporting some important causes, the winner will also receive $25K in cash and a package to attend the PCA worth $20K.
The night started off with a jovial atmosphere as online qualifier Michael Dunbar sat down with Rousso as well as hockey legends Pat Lafontaine and Denis Savard, plus former tough guys Darcy Tucker and Matthew Barnaby. Stapleton along with co-hostJeremy Roenick did a great job mixing in solid poker discussion with hockey talk and jokes. Either guy alone might have struggled with the unique game, but together they make an excellent broadcast team. And in fairness to Stapleton, it was Roenick who first brought up Rousso's glasses.
The event's format has three six-handed tables starting with a $10,000 chip stack. Each table plays down to a final two who go on to the final table at the end of the series. As part of the event, PokerStars Team Pro Daniel Negreanu and Pokerstars are running Daniel's NHL Alumni Freeroll with $10,000 in prizes. Negreanu gave out the password for the freeroll satellite in the first break.
Online qualifier Dunbar had a very difficult night against the hockey and poker pros and ended up as the first person eliminated from the table. He lost chips early on and never managed to recover, going out on a four-handed pot that saw Savard all-in for less than 1BB and quintupling up.
Savard quickly followed Dunbar to the door after getting his short stack all-in again on the next hand with Tucker and Barnaby both calling from the blinds. Barnaby flopped the best hand and won the main pot to knock out Savard as well as the side pot from Darcy Tucker. Both Savard and Dunbar left the table with contributions for their charity: the Canadian Cancer Society.
Play ended for the evening with the table still four-handed and Rousso still dominating the table with a chip lead. Lafontaine showed some excellent moves in his career on the ice, and he had a few on the table as well, but unfortunately ended the evening as the short stack after doubling up Tucker near the end of the episode.
In the next episode, Rousso and Barnaby will continue their on-felt battle which began two years ago when Barnaby knocked Rousso out of the tournament. The rivalry heated up last year when she paid him back by eliminating him early in the tournament.
Later tables will include Jonathan Duhamel and qualifier Derek Doolittle as they take on hockey stars Phil Kessel, Brad May, and Guy Carbonneau, along with Sportsnet personality Greg Sansone. Negreanu will appear alongside qualifier Marv Boychuk as they trade chips with former hockey stars Marty McSorley, Theo Fleury, Gary Leeman, and Mark Napier.
All of the action can be found on Sportsnet360 in the upcoming month and Negreanu will be sharing the password for his $10,000 freeroll at some point in each episode.
To play the freeroll you will need an account at PokerStars. Download here and take advantage of PokerNews Canada's great bonuses.
Get all the latest PokerNews Canada updates on your social media outlets. Follow us on Twitter and like us on Facebook!