Editorial: For the Good of the Game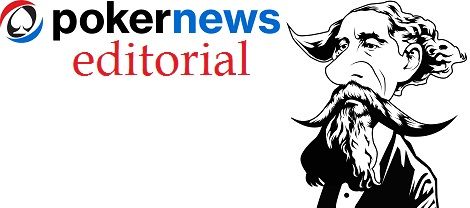 We often hear certain people, rules, results, or events described as "good for the game." I know that I've said it before. But I can't say I can really define what is meant by the phrase.
It could mean that the "good" thing will help give poker a broader appeal, balance something that was perceived as unfair, make poker more socially responsible, keep the game fun, or lend some integrity to the game. I think some or all of these concepts are encapsulated in "good for the game," but we generally just nod along without clarification of what exactly is meant when we hear the phrase.
What we talk about a lot less are the things that are bad for the game. And there are a few that I'd like to see more discussion around so that poker can continue to improve, grow, and shake off some of the negative perceptions current non-poker players have.
A post came across my Twitter feed a few days ago that pertained to chat board use in online poker rooms. I am not the perfect steward for respectful and kind use of chat, but I actively restrain myself from expressing in-game frustrations through table chat with reasonable success. The tweet came from Logan Dunn, a local poker player and self-proclaimed "Poker GOD !!!!"
I haven't played on @PlayNowPoker for weeks now and I just got an email out of the blue saying this ??? Fix this http://t.co/gJ68QGdUh6

— Logan Dunn (@Dunnpoker)
The attached picture is from an email from PlayNow Poker that reads:
Hello Logan,

Please be advised that you have been banned from ePoker Chat for a period of 1 month.

PlayNow would like to bring to your attention that the behaviour that you have exhibited was offensive to other players and we are unable to tolerate or promote such behaviour on PlayNow.com.

Once your ban has been lifted, any future behaviour of this nature, could result in a permanent ban to ePoker Chat.

Thank you,
PlayNow Support
45 minutes later, Dunn followed up with this tweet revealing the reasons he was banned:
@PlayNowPoker dosent like anyone talkin smack about playnow. Even if it was 10days ago ???????? http://t.co/A7qejNJzpY

— Logan Dunn (@Dunnpoker)
I applaud PlayNow for taking this action against abusive chat use. Most sites just use an automated censorship function that players easily bypass with unconventional spellings of every uncreative insult in the English language. This shows me that PlayNow takes respectful interaction between players very seriously, as I think all sites should.
Censorship is a contentious topic at best. I'm not particularly in favour of having a Big Brother-style of surveillance over people, but I do believe our online poker games should be more social. Here's where I say "it'd be good for the game." I hesitate due to concerns of sounding like the parent of every kid in a team sport, but it IS a game after all; have fun!
Even if you have to think of self-serving reasons not to abuse the chat board, think about the fishy recreational player who signed on to play some Sunday afternoon poker for a couple hours of enjoyment, and how turned off they might be by having to receive a stream of insults on their screen, directed at them or otherwise. It's just not good for profits to make the poker table less appealing to those players.
This is not intended to be a name and shame of Dunn. His was just one specific instance that stands for a larger trend. The anonymity of the internet seems to bring out the troll in plenty of people. Just have a look through your favourite poker forum.
Or maybe this type of behaviour isn't limited to the internet. Maybe recklessness and irresponsibility are found among poker players more broadly, and far more often than it should. News broke from PCA in the Bahamas last week that a party in Czech poker player Tomas Junek's hotel room resulted in mayhem. A photo emerged of the TV pulled off the wall and smashed in the bathtub, and there were reports of people hanging from the room's 17th-floor balcony. This is living the high life?
None of this is to say that poker players are a bunch of hoodlums and need to straighten up. There are obviously many, many awesome people playing poker. The vast majority of pros that I have met and spoken with are respectful, compassionate, kind human-beings. But these devil-may-care episodes seem to get a smirk and a comment about how the involved person "sure knows how to party." Why do we accept this behaviour as part of the poker player's lifestyle?
A few days ago, Lee Jones, Head of Poker Communications at PokerStars, wrote a blog about raising the standard in the poker field. He used the example of clothing to explain how poker players seem to conduct themselves with a level of indifference not found among professionals of other sports. Shorts, flip-flops, t-shirt, and a hat are standard at a table with enormous sums of money at stake. Jones' interest seems to be in attracting big-money corporate sponsors, and I think his argument is a good one. How is it that Red Bull hasn't invested their marketing dollars in poker in a significant way?
But beyond attracting the budgets of international corporations, couldn't poker be elevated to something slightly classier just for the sake of the game? If we could conduct ourselves respectfully, control our alcohol-induced tirades, and put on a nice shirt for a day at the table, maybe the rest of the world might ease off on the degenerate gambler assumption and see that the game has a lot of integrity.
Or maybe you don't give a damn what anyone else thinks. In which case, I'm wasting ink.