Making the Jump: Former Poker Pros Find Success in the Business World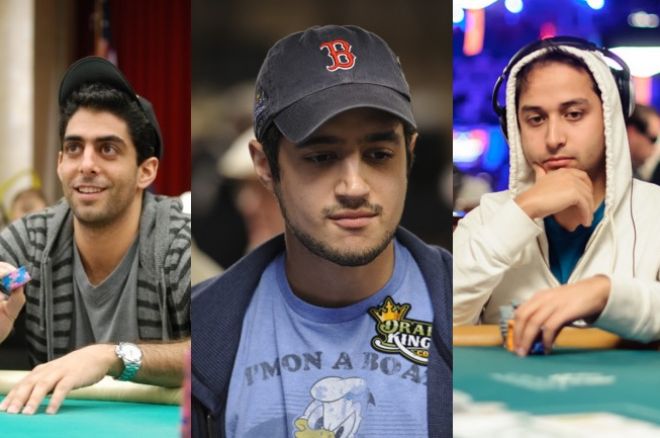 It was September, 2011, and David Daneshgar and his two best friends and partners Farbod Shoraka and Gregg Weisstein, were sitting in the living room of his Los Angeles house trying to figure out how they could keep their fledgling start-up BloomNation afloat. The company's bank account had dwindled to a mere few thousand dollars, and if they couldn't raise any more capital, like, right now, all their hard work and good efforts might go down the drain.
Though Daneshgar, a 32-year-old (CK) former professional poker player with a newly acquired MBA from the University of Chicago, had promised his partners that he would devote all his attention to their business, an online community marketplace aimed at the lucrative floral market, to his surprise, in this moment of crisis, his partner Farbod turned to him and said, "Okay, David, we know we've been telling you to focus on flowers, but if there was ever a fucking time for you to focus on poker, that time is now." And the other partner Gregg, who came from a conservative background and liked to avoid taking unnecessary risks, nodded in agreement. Daneshgar thought to himself, if Gregg is agreeing, it is 'definitely like, Fuck, we need money quickly.'
So Daneshgar, Shoraka and Weisstein, along with the web developer, Ev Budakov, took what was nearly the last of their money, headed to the Commerce Casino, a 40-minute drive away, and bought Daneshgar into a $1,070 NL Hold'em tournament. As Daneshgar played, his two partners and Budakov sat at an empty table near the tournament area. Aside from occasional breaks to rail their man, they continued working on the website.
"Looking back on it," Daneshgar says, "the whole thing was crazy. Them working on our business in a casino, me at the table in what was basically a must-win situation. I mean, every poker player has to know that's probably not the best position to be in."
As the tournament progressed, the partners got up more frequently to check on how their horse was doing. Amazingly, he was doing well. Extremely well. By early that morning, only Daneshgar and one opponent remained. Now the partners were glued to the rail, knowing that the difference between first and second place would buy the company crucial extra weeks of time. In the final hand, Daneshgar flopped top two pair, while his adversary flopped top and bottom pair. Daneshgar got to his feet, knowing he was about to win. The only thing was, his opponent didn't see that Daneshgar had two pair. He thought he was ahead and he was going to win, so he was jumping up and down and celebrating.
He wasn't the only one confused. Daneshgar's partners leaned toward their man, crestfallen, and asked him what happened. Daneshgar turned, smiled, and said simply, "It's flower time!"
Given the extra months of life that his near $30,000 score made possible, Daneshgar and his partners finished creating the Beta version of BloomNation. They were then able to secure nearly 2 million dollars from venture capital powerhouse Andreeson Horowitz along with a few other venture investors. As Daneshgar relates the story now, he says, "Every time I tell this, Gregg's eyes tear up because he realizes that without that win, we likely wouldn't be here right now."
Daneshgar is one of a new breed of successful poker pros who are making the jump to the world of business, using the skill set and tolerance for risk they've developed in poker to scale even greater heights—or at least different types of mountains.
Jonathan Aguiar, who won his first bracelet at the 2012 WSOP Europe $10,000 Mixed-Max event for €258,047 ($336,661), announced last summer via Twitter that he was retiring from full-time poker to take a job with DraftKings, a daily fantasy sports website start-up.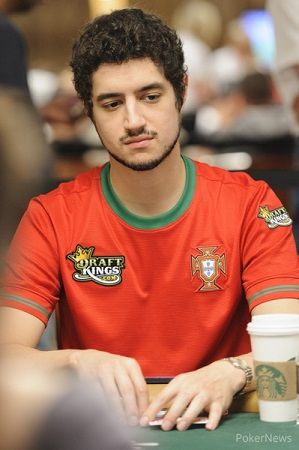 As Aguiar puts it, he had been on "the lookout" for a project or something else to work on since Black Friday had altered the poker landscape. Like many poker players Aguiar began dabbling in the world of fantasy sports. One new website he particularly liked was DraftKings. It probably didn't hurt that he won nearly $30,000 over the last two months of the 2012 baseball season. At any rate, his interest and admiration for DraftKings led to several conversations with the owners of the site—and eventually to a job offer. Naturally, his digital Rolodex of poker-world friends was of interest to his new bosses and led to the creation of a job for Aguiar as VIP Relationship Manager.
One of the trade-offs for both Aguiar and Daneshgar in taking "real" jobs has been the loss of freedom that is a cherished perk of the poker life. As Aguiar says, "the mass amount of freedom of being able to go from place to place on a whim will be what I miss most. That freedom is tough to recreate in any other job."
Daneshgar concurs, although at the moment he is so intent on making BloomNation a success, he seems not to mind. "After I won my bracelet, I realized I was over poker. Well, not over it, but that I wanted to do more with my life. And, too, my parents were like, 'You're not going to raise a Jewish family in a casino. You're a Persian.'"
Aguiar, while committed to DraftKings, freely admits that he doesn't see himself working in the start-up world forever, and envisions an eventual return to the tables. "This is sort of a one-shot deal for me," he says. But DraftKings made him, as he puts it, "an offer he couldn't refuse." And the skills and mindset he brought from poker also seemed to provide a natural path to the world of entrepreneurial business ventures. "It's very difficult to get a start-up off the ground," he says. "Sometimes you have a good idea and it's invalidated by something unforeseen or the market changes around you. There are a lot of things that can go wrong even when you do everything right. It's not like you're failing. It's just bad luck. Poker prepares you for that. I understand that DraftKings is worth a lot right now, and it could be worth a whole lot more, but through no fault of our own, we could also wake up one morning and discover it's worth zero. You try not to think about that, but you understand it's a possibility."
Allen Bari is another poker pro who is trying to make a shift into the world of business start-ups, although in his case the scale, at least for now, is somewhat smaller than Daneshgar's and Aguiar's ventures. Bari, an accomplished cash game player, whose poker credentials include a 2011 WSOP bracelet in $5000 NL Hold'em and a Borgata Summer Open title, as well as career tournament earnings of nearly $3 million, is looking to sign a lease in the next month on a property in Hoboken, N.J., where he plans to open a recreational culinary studio.
"The idea is to create a place where couples can go on a date, take a cooking class together, meet other people, make a great meal and then sit down and enjoy that meal with a good bottle of wine. I discovered a similar place in New York City, which is what gave me the idea. I went there one night with a few friends, we cooked a three-course meal, met a few people, and just had an awesome time."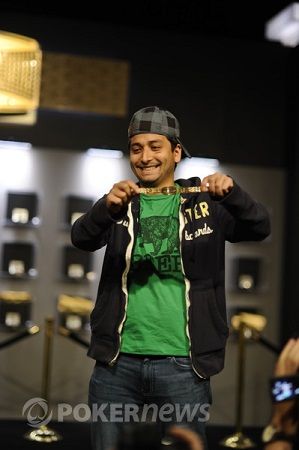 Bari, who attended restaurant management school with a career in the food business in mind, says that the start-up costs for his venture will be around $250,000, which he's raised through friends and family as well as from his poker winnings. He had given thought to opening an actual restaurant before enrolling in management school, but "every time a restauranteur got up in front of the class, they said, 'Don't get into the restaurant business.'"
This somewhat different type of food-related business will suit his personality better, he says, "because if it's successful, I won't have to be there 24-7, which certainly would be the case in the restaurant business." It also gives him an alternative to the poker career for which his enthusiasm has been dwindling. "I still enjoy the game," he says, "but not the world around it. I can't stand most poker players. So playing poker one day a week is probably the perfect amount for me. The way I'm setting up this new business, it'll be closed every Tuesday, which is my poker day, and that way, at least in the beginning, I won't have to take a salary myself. I'll be able to survive on playing poker, and hopefully, once the business is self-sustaining, in two or three years, I'll be able to hire a manager so I can start another place."
Daneshgar's end game is a bit more ambitious. He sees the BloomNation model as a vehicle to world-domination in the competitive billion dollar online flower market. "Frankly, we don't worry about 1-800-Flowers and FTD. We're more worried about someone new coming in and competing with us than with the behemoths. They're [the behemoths] too big and too antiquated to adapt fast enough, and their business model doesn't allow them room to become competitive with us, because if they try they'll actually be hurting themselves, given the way they do business now."
Daneshgar is confident his poker skills are one of his biggest assets. "The venture capital firms we approached actually liked the fact that I had a poker background," he says. "They believed that when the money was on the line, I would come through. They loved the background because a lot of them play poker as well. Having the makeup and temperament of a poker player enables you to weather the storms. We have two million in the bank now and we're going good, but you never know. Right now we're adapting much better than the competition, but the reality is that if we don't continue to adapt and learn the game, we'll be like poker players who don't adapt. The game will pass us by."
Though flowers are his primary focus for now, he, like Aguiar and Bari, is pretty certain he's never going to forsake the game completely. "Everyone needs a hobby," he says. "Mine is poker. It's where I go to relax and unwind now. And the fringe benefit is it keeps me sharp."
Get all the latest PokerNews Canada updates on your social media outlets. Follow us on Twitter and like us on Facebook!