Brazilian OFC Champion Pedro Marte Becomes First Tonybet Poker Pro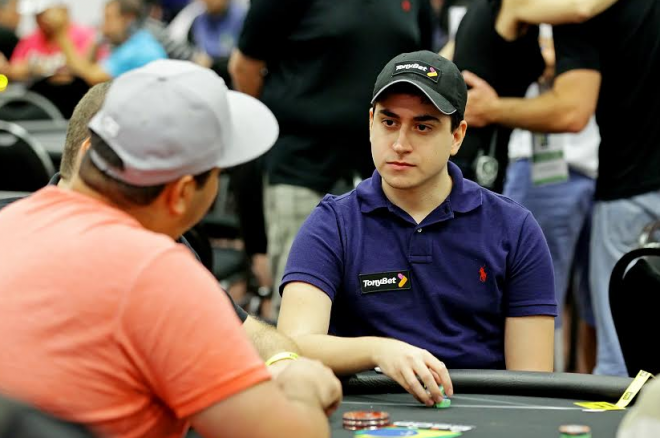 Although Tonybet Poker launched its open-face Chinese (OFC) poker site just over a month ago, it seems that the new player in the OFC market is making its way for the stars in light-speed.
On Friday the site officially announced the signing of 24 year-old Brazilian OFC champion Pedro Marte as its first ever Tonybet Poker Pro.
"We are really excited about the way our poker site became extremely popular in Brazil," world-famous poker player and founder of Tonybet Poker Tony G told PokerNews. "We actually have a few thousand Brazilian players and the community keeps growing every day. Their love for OFC and poker in general is simply amazing."
According to Tonybet Poker, Brazil is seen as one of the key markets for expansion of its operations. To get in more involved in what is perceived as one of the fastest-growing communities in the entire poker industry, the newly-launched poker room recently made available a Portuguese version of its platform and is planning on launching a wide range of local activities during the coming months.
To find out more about the first ever OFC pro to represent Tonybet Poker, PokerNews sat down with Marte to talk about his experience playing Open-Face Chinese poker and discover his thoughts on becoming a Tonybet Poker Pro.
A regular in Brazil's live poker scene, Marte calls himself "more of a cash player" even if he is a well-known face in the tournament world with appearances both at the World Series of Poker and Brazil's biggest events.
How did you get involved in OFC?
I learned how to play OFC during 2013 World Series of Poker in Vegas. I liked the game so much that I have decided to skip some of the WSOP events and became a regular at the Chinese poker tables at the Rio and the Venetian. Last December I won a huge OFC Tournament here in Brazil. It was a R$ 1,000 buy-in ($415) 50-player tournament and I won a R$ 10k ($4,150) first-place prize together with a beautiful trophy.
What does being a Tonybet Poker Pro mean to you?
OFC is by far my favorite poker game - once I learned how to play, it was love at first sight. Since Tonybet is the main mover on this market, I really couldn't have chosen a better site to be a pro. I was actually very excited when the site launched in December, and I haven't missed a single day of online OFC action ever since.
How can people find you on Tonybet Poker, and which OFC variant do you like the most?
My Tonybet Poker screen name is pedromarte. OFC is a game that never stops to evolve, and we will see the new and exciting formats of the game on Tonybet in the upcoming months for sure.
The most popular format today is Pineapple, but I think the game is amazing in all its forms. I play the highest limit games on Tonybet today which is 5 euros a point as well as 2.50 euros a point. I can't wait to move up when higher tables start to run. It's coming pretty soon.
Sit-and-gos and multi-table tournaments are coming this February as well, and I'm really excited about that. Tournaments are always fun since we can win big prizes, so I'm definitely planning to play them. I'm also helping the team on developing new ideas for the tournaments. Actually, all the players are welcome to help the game evolve and get better for all of us.
You said you love playing live poker as well. What are your plans for the near future?
I am playing the Brazilian Series of Poker these days, which is the biggest live poker event in Latin America and the second biggest in the world. I am very happy I can represent the site here.
There will also be another big local poker festival in February, which has an OFC event in its tournament schedule, and I really can't wait for this. I will also have a presentation on OFC there for the players who are not familiar with the game.
I also hope to get some more feedback from the Brazilian players about Tonybet Poker site. For me this is one of the most important things I can do now: helping to implement the players' ideas on the game. OFC is all about having fun, we have a great potential to become a huge thing in the poker world.
To join Pedro Marte and thousands of more players, simply open an account on TonyBet Poker and see for yourself why so many players can't seem to stop loving open-face Chinese poker!
To keep updated on the latest news on TonyBet Poker, we recommend you follow them on Twitter, and on Facebook.
Get all the latest PokerNews Canada updates on your social media outlets. Follow us on Twitter and like us on Facebook!