TonyBet Poker Celebrates Remarkable First Month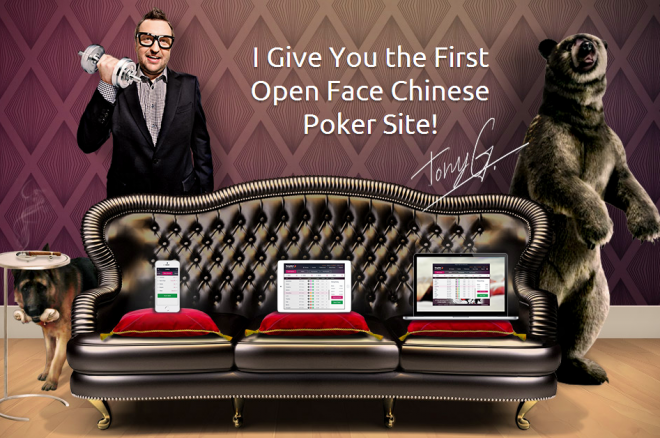 A month after the opening of its very first open-face Chinese (OFC) poker tables, TonyBet Poker is enjoying the taste of success as hundreds of players decided to make the site a regular home for their OFC poker action.
With four different OFC poker variants available, betting limits ranging from a minimum of €0.02 to a maximum of €5 per unit, and a range of native apps for iPhone, iPad and Android expected to be launched within days, the first global OFC poker website seems also to be solid enough to consolidate its position and prove itself as an important actor in online poker's future.
But, although today the launch of an OFC poker room is seen by many as something that could have never gone wrong, there had been times when all this seemed much less obvious. "I am not sure open-face Chinese poker is going to be 'the next big thing' in poker", Italian member of Team PokerStars Pro Luca Pagano told PokerNews at EPT London while expressing some criticism about the real potential of the game.
"If you think of Texas hold'em, then it becomes very easy to see why the game is so popular," he continued. "It is very easy to get started, and it only becomes hard if you really try to get into some advanced strategy. Then, if you take Omaha as the 'second big thing' in poker after Texas hold'em, things are still quite similar: Omaha is a little harder at the beginning, but it is still a relatively simple game."
"Open-face Chinese poker is something different," Pagano explained. "The game develops in a different way and needs a completely new strategic approach. I am not sure this can really become the game everyone will move on to."
Yet, in a matter of weeks from that talk, TonyBet Poker opened its doors, and Tony G explained how he simply "gave the [poker] community what they wanted," and "accidentally" stumbled upon what suddenly started to look like an attractive golden egg.
"In Texas hold'em you have to be disciplined, to wait, to play multiple tables," Tony G said. "With open-face Chinese poker, instead, you can play one table on your mobile and always be in the middle of the action. It is such a fun game!"
And it must be an addictive fun, if the game finally seems to have found its breakthrough to the general public thanks to TonyBet Poker and the jump in the online world after years in the shadow of mainstream games such as Texas hold'em and pot-limit Omaha. Easy to play, highly addictive and packed with an action that once kept players like Daniel Negreanu, Jason Mercier and Scott Seiver busy in a 34-hour session, open-face Chinese poker is the game everyone wants a bit of today.
Hence, in case you are not familiar with the game yet, make sure you get some time to watch PokerNews' own Kristy Arnett in her video about open-face Chinese poker where she receives a walkthrough from Shaun Deeb and also learns how to play the super-fast pineapple variant, as it is the game everyone seems to be about right now.
Then, just join the fun! Open an account on TonyBet Poker today and see for yourself why so many players can't seem to stop loving open-face Chinese poker!
To keep updated on the latest news on TonyBet Poker, we recommend you follow them on Twitter, and on Facebook.
Get all the latest PokerNews Canada updates on your social media outlets. Follow us on Twitter and like us on Facebook!