Toronto Poker League Members Freeroll to Big Money at PCA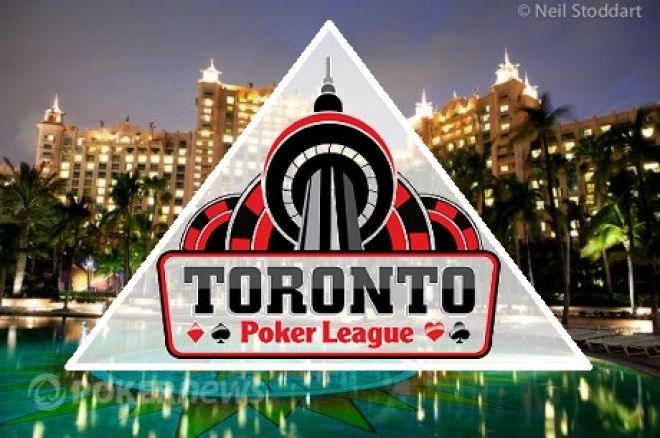 Everyone knows the Moneymaker story: turning a $39 satellite into winning the World Series of Poker Main Event and $2.5 million back in 2003. While it's not the WSOP Main Event, the Toronto Poker League (TPL) recently sent two people from a freeroll to the PokerStars Caribbean Adventure to play in a $1,000 side event earlier this month.
In total, 16 members of the TPL escaped the frigid Toronto weather and headed to the beautiful Atlantis Resort in the Bahamas. The 16 members of the TPL earned a combined total of over $70,000 during their stay at the PCA, including a second-place finish.
The Toronto Poker League is a free to join and play bar poker league that offers poker enthusiasts of all skill levels freeroll tournaments each week in five different venues. Players accumulate points based on where they finish each week. If players earn enough points over a 12 week period they gain entry into the Series Main Event which qualifies the winner for a package to places like the PCA, World Series of Poker, World Poker Tour, or local tournaments.
The TPL's PCA Series saw 1,955 entries over a twelve week period. Raymond Siu won the TPL Main Event package to the PCA, while Joe Mucci took down the TPL Players Championship.
On his road to qualification, Raymond Siu played in a series of events from August to December and after narrowly earning a Main Event seat, he found himself at the final table. After finishing second at the final table of a previous event, he used his experience to earn the coveted trip to the PCA.
When asked what his thoughts were going into PCA, Siu replied, "I was already satisfied with just winning the trip. A free vacation to a tropical destination and a buy-in to a huge poker tournament, what more can you ask for? It was definitely a win-win for me."
Siu wasn't expecting the long grueling days that tournament poker on the circuit brings compared to the shorter TPL events he usually plays. "I had no idea what to expect in terms of level of competition, as it was my first experience in a major live poker tournament," admitted Siu. "The TPL tournaments usually ended within four to six hours. Even the main event tournaments I played in would be ten hours over two or three days. Blinds and antes in the TPL increase every 15 to 20 minutes where at the PCA they increased every hour. I actually liked playing under those conditions a lot more as it gave me room to maneuver and play a more relaxed game."
It wasn't all relaxation for Siu, though. With such a large field and so many good players he had to control his emotions. "This was a completely new experience for me, my body was wired on adrenaline and my heart was pounding almost the entire two days," said Siu.
Siu started Day 1 of the event by accumulating a large stack early on and went to work trying to use it to his advantage. While his big stack gave him a good start, he made a small blunder in the middle of the day which made Siu play catch up with a below average stack until the final table. "While being below average chips at the end of Day 1 and most of the second day was difficult, it also worked to my advantage, as I got to fly under the radar to the final table and it allowed me to pick my spots carefully and choose hands that I could go all the way to the river with," explained Siu.
He used this strategy to take over the chip lead and get down to heads-up play. "I got unlucky at the end, that even with a big chip lead, I didn't have a lot of experience playing heads-up and found out later that my opponent was a 'heads-up specialist'. I was also mentally and physically burnt out and he quickly got the upper hand during our battle and he took home the trophy." However, Siu isn't disappointed in his second-place finish. For his efforts Siu took a free social tournament series win and walked away with $47,000 along with an experience of a lifetime.
While Siu isn't quite sure what he is going to do with his first tournament live winnings, he does have some use for the money: "some debts will be paid off," said Siu. "I also plan to do some travelling, tuition, and use the money to help some charities. I'm still trying to mentally digest what happened, but more poker tournaments in the future is definitely a possibility."
Playing in a major tournament series also has other perks as casual players get to play against well-known pros. "I didn't know at the time, but at the beginning of the tournament I sat next to Barry Shulman," said Siu. "I won a decent pot off him where he check-raised me on the flop. I'm pretty sure I was bluffing at the time but was able to take it down."
Another TPL success story features another member of the league, Oksana Jancevic. She fell short of qualifying for a PCA $1,000 event through the TPL like Siu, but her dream was still alive when she received an $11 satellite ticket through TPL partner Ukash on PokerStars. Jancevic was able to run it up through a couple more satellites and made it to the final $700 Main Event Satellite. After a long fight, she won her package to the PCA Main Event.
Even though Jancevic was unable to cash in the Main Event (busting in the late stages of Day 1) she still had a thirst for more poker on her trip. While she thought about playing the ladies event, it was too long of a wait and she decided to register for Event 22 instead. Jancevic lost half her stack in the first level of the tournament but ended up being able to grind her way to Day 2 and make the final table. She finished sixth and earned $14,000.
"Day 2 was a thrilling day," said Jancevic. "There were a lot of interesting hands, exciting plays, but making the final table was the most exciting of all." While feeling tired through the grueling days, she had some help from the other TPL members joining Jancevic and Siu on the trip. "What was crucial for both of us during the final table was the support of our TPL friends, who were railing us for hours."
Like Jancevic, Siu also was feeling the love from the TPL rail at the final table. "There were at least 10 other members from the TPL cheering us on at the rails of the final table. I was also receiving encouragement from other TPL members back in Toronto posting on the league's Facebook page," Siu explained. "Michael and Kendrick, TPL Founders and Tournament Directors, were also giving me insight on how they thought other players perceived me at the final table and how I could make use of that information. I just wish they could have coached me on heads-up play as well," joked Siu.
While Jancevic enjoyed the tournaments, she said, "another highlight of this incredible trip was being able to enjoy the sunny weather and being with my friends." The TPL, which started in 2007 with a group of friends has expanded to over 700 registered members. Most players are beginners looking for experience and wanting to develop the necessary skills to become competitive, but the TPL motto of "Learn. Play. Improve." applies to all members. Even though players are competing against each other, the atmosphere created by the TPL allows for players to build long-lasting friendships with one another.
Bar leagues like the TPL offer players of all caliber the opportunity to improve their poker skills for free. They operate on a points system where competitors vie for the opportunity to win seats in local tournaments or bigger trips like the PCA or World Series of Poker. Beginners to poker are able to get their feet wet by learning basic tournament strategy and poker concepts while more advanced players get to refine their skills all for a free night out at their local pub.
"Playing in the TPL has helped my poker game quite a lot," stated Siu. "I love how playing with the league is a fun and social thing to do on a weeknight after work, but at the same time things can get pretty competitive." The tournament directors at the TPL also deserve some credit for how these players have performed at the PCA. "The structure and formality of the tournaments are essentially the same as those in the professional circuit," said Siu. "Kendrick and Michael are both members of the TDA [Tournament Directors Association] and they have spent a lot of time learning and applying the guidelines for running a poker tournament. It definitely made things a lot easier for me, since the tournament was run almost exactly the same as the games we played back in Toronto."
The TPL builds relationships with bars in the community and has built partnerships to offer their players the ability to play poker outside their free events. "All of the tournament buy-ins that we awarded into the PCA were from PokerStars, and our host venues and sponsors covered the costs associated with hotel and travel," said TPL Tournament Director and Founder, Michael LeFrank. "Through their partnership with the league, PokerStars provides new players to the game, like Raymond Siu, with a unique opportunity to learn, play, and improve, which also happens to be the league motto. Many of the league members migrate to online tournaments once they become more comfortable with their play. This grassroots support is important to the game!"
Raymond Siu's "Moneymaker-esque" moment –- turning a freeroll into $47,000 — gave him some fantastic memories and he has already started to earn points towards the next TPL Main Event. Two weeks ago the TPL started their next set of free events which will award two packages to play in a $1,000 buy-in bracelet event at the 2014 World Series of Poker.
Get all the latest PokerNews Canada updates on your social media outlets. Follow us on Twitter and like us on Facebook!