Matthew Lapossie Wins WPT Fallsview Main Event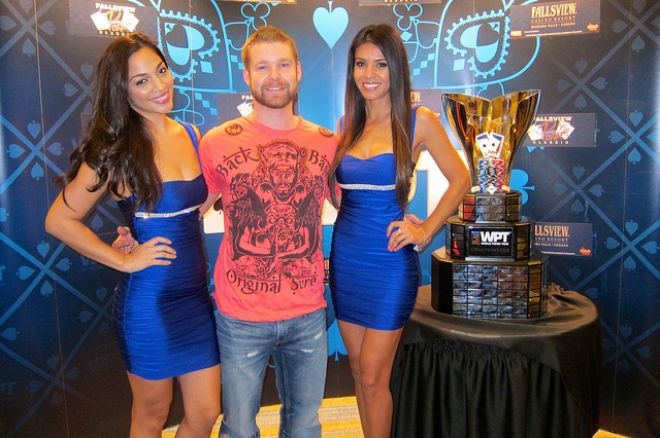 The World Poker Tour (WPT) Fallsview Poker Classic Main Event featured a $5,000 buy-in and ran from February 22nd to 24th. This year there were 383 entries creating a prize pool of over $1.7 million which paid the top 45 spots and gave the champion $363,197.
Day 1 of the event saw only 114 players survive the day. Matthew Lapossie of London, Ontario took the chip lead into Day 2 of the Main Event with 417,400. Sixth-place finisher of the $2,500 Event 2 of WPT Fallsview, Sylvain Siebert of Kirkland Lake, Ontario, finished the day second in chips with 264,800.
Other noteworthy end-of-day chip counts included Soren Turkewitsch of Newtonville, Ontario who won the 2006 WPT North American Poker Championships in Niagara Falls, finishing the day with 230,600 chips, good enough for a top five stack. Mike Leah, who won Event 1 at this year's WPT Fallsview, finished the day with 173,700 in chips. Mike 'SirWatts' Watson (126,000) and Peter Jetten (115,000) were other notables to survive the day.
On the other side of the coin, WPT Raw Deal host Tony Dunst, Shannon Shorr, Jonathan Little, Vanessa Selbst, and Canadian proMike McDonald were all names to watch but were eliminated on Day 1.
Day 2 was a long day lasting over 12 hours as they played down from the starting 114 players to the unofficial final table of 10. Jason James ended the day with the chip lead and 2.6 million chips, while Xiaohu Chen finished the day with 237,000. Notable cashes were Mike Leah in 35th ($11,242), Peter Jetten of Toronto, Ontario in 17th ($18,506), and Mike Watson who finished in 12th ($26,462).
These were the seats and chip counts at the start of the final table:
| Seat | Name | Chips |
| --- | --- | --- |
| Seat 1 | Spiro Mikrogianakis | 1,455,000 |
| Seat 2 | Jason James | 2,606,000 |
| Seat 3 | Howie Leung | 657,000 |
| Seat 4 | Josue Sauvageau | 1,234,000 |
| Seat 5 | Xiaohu Chen | 237,000 |
| Seat 6 | Peter Labib | 1,238,000 |
| Seat 7 | Ben Graham | 1,556,000 |
| Seat 8 | Dylan Wilkerson | 982,000 |
| Seat 9 | Matthew Lapossie | 1,171,000 |
| Seat 10 | John Boulougouris | 255,000 |
Day 3 began with an elimination in the second hand when Xiaohu Chen lost a coin flip with


against the


of Spiro Mikrogianakis.
Three hands later Mikrogianakis was at it again when his


cracked John Boulougouris'


on a board of





, and John Boulougouris' tournament ended in a 9th-place finish for $36,320.
The hand of the tournament happened in hand 29 of the final table at 15,000/30,000 blinds and 5,000 ante. Peter Labib was the preflop raiser when he raised in the hijack to 70,000 and Matthew Lapossie called in the small blind followed by a fold from Mikrogianakis in the big blind. The flop hit the board



. Lapossie check raised Labib's 120,000 bet to 285,000 and Labib tank called. The turn brought the

. Lapossie now bet out 285,000, which was followed by Labib tank shoving his stack for another 700,000 more and an instant call from Lapossie. Labib showed the


for an ace-high flush while Lapoisse showed


for the straight flush sending Labib home in 8th place and $48,426.
Jason James then eliminated Dave Graham in 7th place for $54,478 when the


of James held against the


of Graham and the tournament reached the TV final table after 110 hands.
It only took 17 more hands until the next elimination, as Howie Leung's


was unable to hold against the


of Dylan Wilkerson when Wilkerson spiked

on the flop and Leung wasn't able to catch one of his two remaining outs. Leung took home $72,639 for his 6th-place finish.
Dylan Wilkerson saw his stack grow some more when his


won in a race against the


of Josue Sauvageau when the under-the-gun min-raise of Wilkerson was met by an all-in shove from Sauvageau and Wilkerson again spiked an

on the flop and Sauvageau could not improve his hand to survive. Sauvageau earned $90,799 for his 5th-place finish.
Hand 102 of the TV final table created some fireworks as Wilkerson moved all in with the chip lead, only to have Lapossie and Mikrogianakis both call from the small and big blinds respectively. Wilkerson tabled


, Lapossie showed


, and Mikrogianakis had a slight lead preflop with


. The flop brought



and Mikrogianakis still had the lead. The turn delivered

and Mikrogianakis was one card away from a triple up, leaving Lapossie as the short stack and denting the chip lead of Wilkerson. The river had other ideas for Mikrogianakis though, as it brought the

giving Lapossie a pair of kings and catapulting him into the chip lead at 4.2 million chips and eliminating Mikrogianakis in 4th for $121,066. Jason James started three-handed play with 3.9 million and Wilkerson took a hit leaving him with 3 million of the 11.1 million in play.
Jason James was then eliminated in 3rd place for $163,439 when his four-bet shove with


went up against the insta-call of Lapossie's


and he was unable to pair his

.
Lapossie took more than a 2:1 chip advantage into heads-up play with 8.1 million chips to the 3 million of Dylan Wilkerson. The heads-up battle lasted only 23 hands as Lapossie grinded down Wilkerson's stack to just over 2 million, forcing an under-the-gun shove from Wilkerson who was called by Lapossie. Wilkerson showed


while Lapossie tabled


. The flop came



and Lapossie jumped into the lead with a pair of aces. Wilkerson would not improve as the turn brought the

and the river was the

ending Wilkerson's hope of bringing the WPT Fallsview Main Event trophy across the border to the US. Wilkerson took home $254,238 for second place, giving Matthew Lapossie of London, Ontario the honour of being crowned the WPT Fallsview Poker Classic Main Event champion and taking home $363,197.
*Data and photo courtesy of WPT.com.
Get all the latest PokerNews Canada updates on your social media outlets. Follow us on Twitter and like us on Facebook!