Poker Room Review: Grand Villa Casino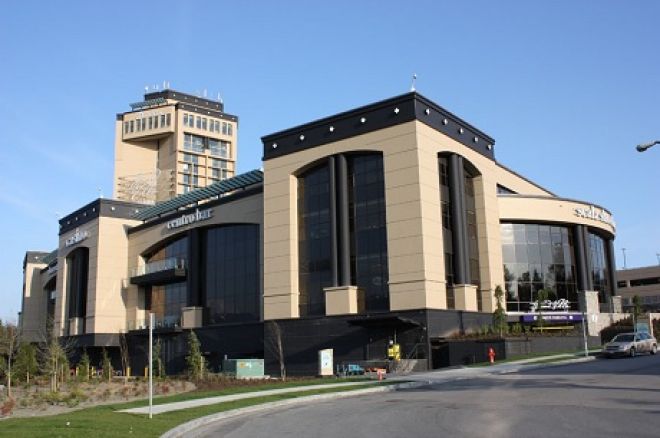 Location: Grand Villa Casino – Burnaby, BC
Tables: 12
Hours: 24 hours
WiFi: Yes, for existing Shaw customers
Driving through Burnaby, BC on Canada's coast-to-coast highway, it's hard to miss the sand-coloured tower with the backlit "Grand Villa Casino" sign beckoning to passing traffic. The glass-fronted casino gives a glimpse of the flashing lights and colours inside as Vancouver commuters inch their way into or out of the city.
Behind the casino stands a multi-level parkade to keep cars warm and dry, and a covered footbridge crossing Dominion Street allows visitors to make their way to the casino with needing an umbrella for the perpetual West Coast rain.
Grand Villa Casino is a modern facility with intriguing architecture. The floor-to-ceiling windows on the North wall provide views of Mount Seymour just outside the city.
The poker room has its 12 tables spaciously configured in the round room, and features two 10' projection screens so players don't miss their favourite sports action while playing poker. Grand Villa provides full food and drink service to the tables, and the poker room is clean, bright, and feels luxurious. Just outside of the poker room entrance is a cashier cage and the restrooms.
Unfortunately, this poker room does not run any tournaments whatsoever – not an Early Bird, not a weekly Deep Stack, not an annual Championship … nothing. There are rumours that they are working on putting together a tournament schedule, but currently there are only cash games available. Since most players at other casinos will begin by playing a morning tournament before moving to cash tables, there is nothing to draw players to the room and fill the cash tables, so the day gets off to a slow start as players trickle in. Weekdays are fairly slow at Grand Villa.
The usual selection of cash games includes $4/$8 Kill, $1/$2 No-limit Hold'em, and $2/$4 Pot-limit Omaha. A large majority of the players are regulars well-known by the poker room staff, but more recreational players fill the room on weekends.
Grand Villa is a Gateway Casinos property, and the poker room shares its Bad Beat Jackpot with the other Gateway Casinos in the area: Cascades and Starlight. This creates a quickly-climbing jackpot that can turn your worst bad beat into your best day.
If tournaments are not your game and you want to play in a quieter but classy poker room, drop by Grand Villa. If you want to see tournaments here, keep pestering the poker room staff and we'll see if they can put together a schedule soon.