Rush Out and Try Full Tilt Poker's New Mobile App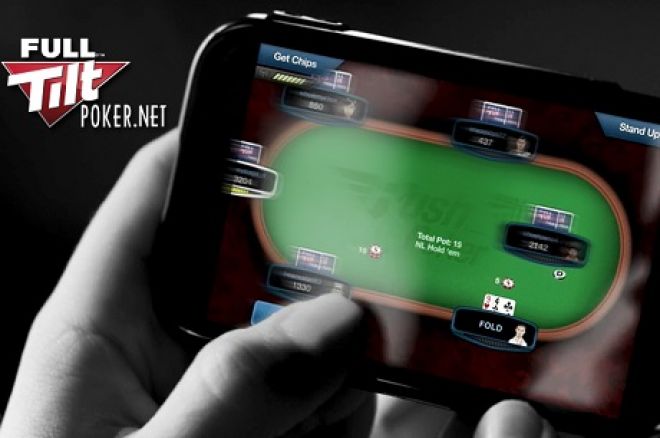 Full Tilt Poker is bringing their exciting Rush Poker to your iOS or Android device. This app puts fast-flying poker action at your fingertips no matter where you are. You can pull up the Full Tilt Rush Poker app anytime, anywhere, and be sitting at a table in two taps!
Rush Poker is Full Tilt's fast-fold game format that allows you to be swept off to a new table with all new opponents the moment you press "fold." You have the option to play Rush No-limit Hold'em and Rush Pot-limit Omaha. This fast-paced game lets you see more hands per hour, taking the waiting out of poker and injecting a lot more excitement in.
The Rush Poker app also allows you to play Adrenaline Rush, Full Tilt's newest game format that pushes the adrenaline-pumping action even further. In Adrenaline Rush, every table is four-handed, betting is capped at 10 big blinds, buy-ins are capped at 10 big blinds, and all betting occurs pre-flop. Sarne Lightman, Full Tilt Poker's head of marketing, says "Full Tilt Poker players love the thrill and excitement of fast-paced, quick-fold action, and Adrenaline Rush pushes the envelope on speed and excitement."
The app has a slick design that is immediately appealing as soon as it loads. The beauty lies in its simplicity: grey, black, and red with the Full Tilt logo and stripped to the essentials.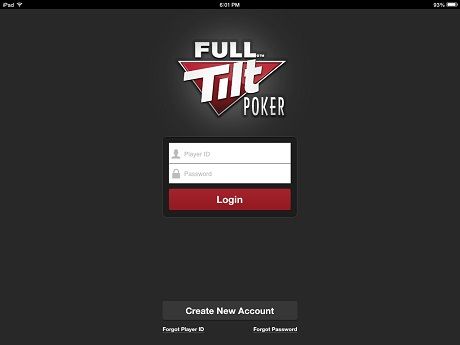 Existing players login quickly and new players can create an account within moments. You enter the lobby and a box pops up listing your account balance, Full Tilt Points, tickets, and play money. Press "continue" and you see the pleasingly simple lobby. You can toggle from real money to play money, and swipe through Rush No-limit Hold'em, Rush Pot-limit Omaha, and Adrenaline Hold'em. Choose your stakes from $0.01/$0.02 to $2/$4 and touch "play now" to be placed in a seat.
Once at a table, the design is just as polished as the rest of the app. The bet-sizing buttons and slider are well placed and easy to use. A connection strength indicator in the top-left is a welcome feature, and a counter in the top-right tracks your session time. For what it's worth, a small glowing rectangle above their name denotes players who are playing from a mobile device. Players slide on and off the tables smoothly with each hand and the colours and graphics make for a great playing experience.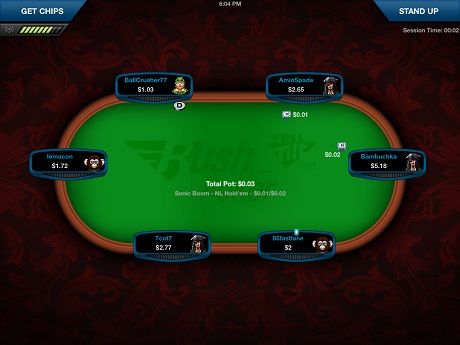 Back in the lobby, five icons on the bottom of the screen – stylish grey on black – allow you to navigate through "lobby," "cashier," "account," "options," and "logout." The cashier will help you top up your account securely through Visa, MasterCard, Ukash, or paysafecard. You can also withdraw your winnings just as simply.
Tapping "account" shows the usual player information like username, e-mail, name, address, etc. There, you can edit your details and change your password. You can set deposit and session limits for yourself as well as view your hand history. One feature that is missing is the ability to e-mail your hand history to yourself. This is a nice option for people who use a stat tracker on their computer because it allows them to upload hands played on a mobile device to their database on their computer afterward. Hopefully this is something Full Tilt Poker will add in a future update.
The "options" menu helps you set your buy-in options like your default buy-in, one click buy-in, and auto-rebuy. You can also toggle on four colour cards, sound, and whether or not avatars are displayed. The bet slider can also be set up to function in "classic," linear, or exponential according to your preference.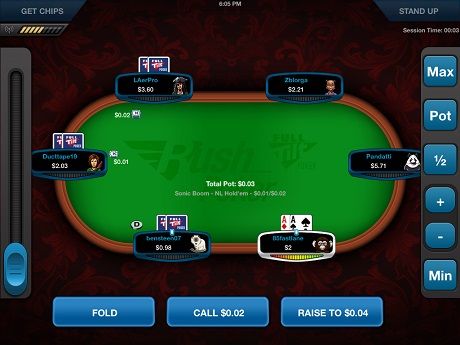 All of these options allow for a full-featured Rush Poker game. The design is brilliant because it is decluttered and minimalistic while still including all of the functionality you want in a poker app. This makes for an easy-to-navigate mobile poker option that has few rivals in the industry. If fast-fold is your game, the Full Tilt Rush Poker app is a must-download to keep adrenaline-pumping excitement at your fingertips no matter where you are!
Visit the app store on your mobile device today and start playing! You can also download Full Tilt Poker for Windows or Mac through the PokerNews Canada links and benefit from our great 100% deposit bonus up to $600!