Would Poker Tournaments Benefit from a Flatter Payout Structure?
Currently, tournament poker is heavily weighted towards winning. Prize pools are organized in a very top-heavy way.
In the recent PokerStars Caribbean Adventure (PCA) Main Event, for example, the winner (before deals) was slated to get a full 18% of the total $10,000,700 prize pool for an ROI of 182 times the buy-in. In contrast, a min-cash in the same event was $17,600, not even twice the $10,000 buy-in. Poker strategy is crafted based on this reality and we've evolved a high-variance game where it makes sense to "go big or go home" early because there's very limited value in min-cashing an event. All the real money is locked into the top few places.
We wanted to consider whether a flatter payout structure might be an improvement in tournament poker. Rather than paying 18% to first in 2014 PCA, only 1.12% for someone who finishes 10th, and 0.18% for a min-cash, what if first place earned 10%, 10th got 1.55% and a min-cash was worth 0.25%? How would that affect the game?

I think making tournament payouts flatter will end up with more parity in incomes among pros and also increase the value of tournaments to recreational players who aren't really "expecting" to get to a final table. The differences in the graphs below don't look like much in increases for the lower prizes, but in reality, they mean that all but the top few places will make more money, and in some cases significantly so. 10th, for instance, goes from $112,400 in the original payouts to$155,011 in the flatter structure model. That extra $40K would be worthwhile to a lot of players. Equally, first place still takes home almost 100 times the buy-in or more, surely a good days work.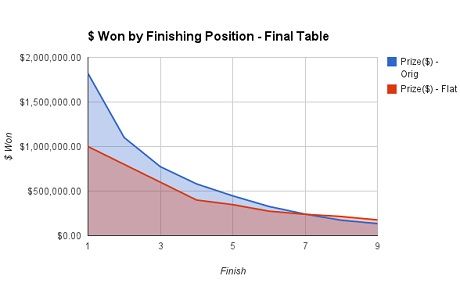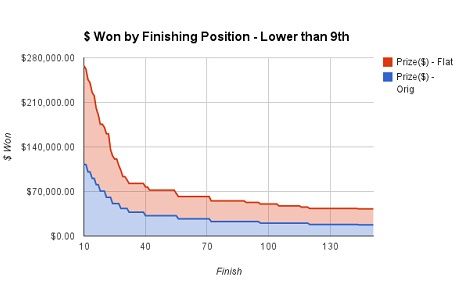 In a recent blog post by PokerStars Team Online Pro Adrienne "talonchick" Rowsome, she makes a similar point regarding the recent announcement to guarantee $10 million for the winner of the 2014 World Series of Poker (WSOP) Main Event. She's calling out the fact that the pools should be shared more evenly, not less. Now, I'm not saying she's taking it as far as me, or that she'd necessarily agree with me, but it seems clear to me from comments like this, and from deals at final tables, that the prizes are skewed in way that players want to smooth out.


The guarantee WSOP is putting on first instead of the whole prize pool is definitely a mistake, in my mind. As Rowsome says, the only person that benefits is the winner, and everyone else loses. Poker already has enough variance determining results, there's no need to magnify it by making first place such a huge pay jump.
Variance determines the outcome so much that the final players of a tournament almost always make a deal to split the prize pool when they are able to (get on board WSOP!) because, as each position represents such a huge pay jump, there is just too much money at stake to put to the fate of the cards.
However, if taken to further extremes where the payouts get too flat, I think a lot of recreational players will be turned off. The appeal of poker from a gamblers perspective is the chance to turn a small buy-in ($100) into a huge payout ($5,000). If first earns less, the gambler isn't as excited, regardless of the fact that these players are not likely to ever make it to first (shh, don't tell them). The pros and players who understand variance may be pleased by a flatter structure because their income will be less affected by variance and more by skill, but it's the hordes of recreationals who fuel the poker machine. Without the recreationals, all the pros will just be swapping buy-ins around in a circle.


I think a flatter pay structure would benefit every type of player. Whether you are a pro, semi-pro, or recreational player, a well-balanced prize pool gives added value to every stack. Circuit grinders would find a more stabilized niche and recreational players would be rewarded for making it through a minefield of elite players. The time between approaching bubbles would be cut down with players not in fear of missing out on a huge pay jump, and final tablists would worry less about making deals and more about the prestige of winning titles.
Cashing in major events has become a very difficult task. It is a great accomplishment to make the money in a tournament. In most cases, players busting within the first couple pay levels have outlasted 90% of the field and do not even make double their buy-in. This makes it hard to be a consistent and profitable grinder.
As an amateur player, I would tend to lean toward the big payout structure. When only playing a few events a year you want to have a shot at the biggest payout possible. As a professional grinder, I would be more interested in having flatter structures to maintain a more balanced bankroll. Earning a couple extra buy-ins per event makes a big difference towards the season.
With the current pay structures, a bubble can last several hours. Play slows down drastically as each new pay jump approaches. Busting a single position higher can mean losing tens of thousands of dollars in some cases. On most occasions during a final table, play can be halted for an hour or more as players discuss a deal and how to split up the remaining prize pool. Usually, once a deal is struck, the quality of play diminishes and becoming a champion is not quite the same accomplishment.


As an amateur who plays for fun, a flatter pay scale is beneficial. It rewards more players and increased the value of a min-cash, which is the first thing that you are looking for. Most recreational players just want to go out and play; they aren't worried about steep pay jumps or what the correct play is based on ICM.
After looking at the current payout structure for this year's WSOP Main Event, I think it will do the opposite of what the organisers think it will do. Even though they want to attract more amateur players by sowing the idea that if you win the Main Event you will have this enormous payday, that only becomes true for one player out of the other 6000+ entrants. You are taking away about $1.5 million from the rest of the people that cash. That's not good value for an amateur player who has an extremely low chance to win to begin with.
The professional tournament grinder that travels the circuit also wants a flatter payout structure. It decreases their variance and allows them to make the most money for their min- to mid-cashes while still allowing them to have big pay days for top three finishes. Tournament grinders and professionals also realize the variance in poker tournaments and want the best possible structure to make the most amount of money; a flatter payout structure would be favoured.
With that said, the WSOP Main Event will still create a buzz because it is a $10 million pay day. More amateurs will come out attracted to the big pay day for first, professionals and tournament grinders will come out because more amateurs will most likely come out, and everyone will come out because, well, it's the WSOP Main Event. The WSOP Main Event is the exception to the rule, and for one tournament a year, maybe we can all get over a bad pay structure and enjoy the spectacle.
Now we want to hear what you think! Leave a comment and participate in the debate. Should tournaments be modelled after a flatter payout structure? Is that something you'd like to see?