WPT Fallsview Event 1 Sells Out but Attracts Criticism
PokerNews Canada Contributor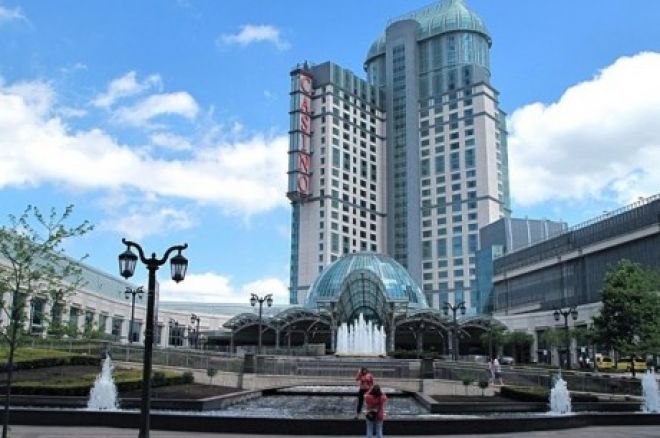 The WPT Fallsview Poker Classic made its return after a five-year break today with the first of three events, a $1,100 No-limit Hold'em tournament which cost a few players more than the $1,100 for their seat. So began the poker community's beef with the WPT at Fallsview Casino. Social media took the spotlight today as issues started flying regarding capped seating, marked up buy-ins, cash game availability, and tournament rules.
Event 1 sold out all 600 seats well in advance. This is usually a sign of success for an event; in this case, however, there are not actually 600 individual entries. Multiple vouchers were awarded to certain individuals who may have purchased several seats or may have won satellite entries, then resold the vouchers. Fallsview Casino allowed players to purchase multiple entries before the event began, sparking outrage among players who were left either without a seat or having to purchase seats from scalpers at huge mark-ups.
This first came to our attention when Canadian professional poker player and IveyPoker team pro Mike Leah sent out these tweets.
Any media want to do a story about the Scalping madness @WPT Niagara Falls contact me; 1100 tickets going for 1800 because of awful system

— Mike Leah (@GoLeafsGoEh)
They let people buy more than 1 voucher which forces players 2 pay more than face value to play event

— Mike Leah (@GoLeafsGoEh)
Twitter exploded with responses. Selling multiple entries or allowing multiple satellite winners is common for events that have more than one Day 1 as players have the option of re-entering each day in hopes of building a better stack then the day before and taking their biggest stack into Day 2. All three events in the Fallsview Classic only have one Day 1 flight, though. Fallsview also capped the seating at 600 entries with 50 alternate tickets, making for a market where supply fell short of demand and scalpers found an opportunity to make a profit, selling seats at escalated prices.
A very large TwoPlusTwo thread from this past December had laid out all of these concerns. At the time, Fallsview was selling a maximum of four tickets per person. Soon after, Fallsview tried to address and correct this issue by allowing only two seats per player, something the poker community still could not understand.
Another concern brought up in early December was the lack of cash game seating. After players bust out from tournaments, cash tables are usually their next stop. Hundreds of poker players will crowd the Fallsview Casino this week and the poker room has no plans of opening more tables to accommodate. The casino runs 17 cash game tables which generally seat up to 10 players each. In past years, the waiting lists for cash game tables have reached up to eight hours during the Classic!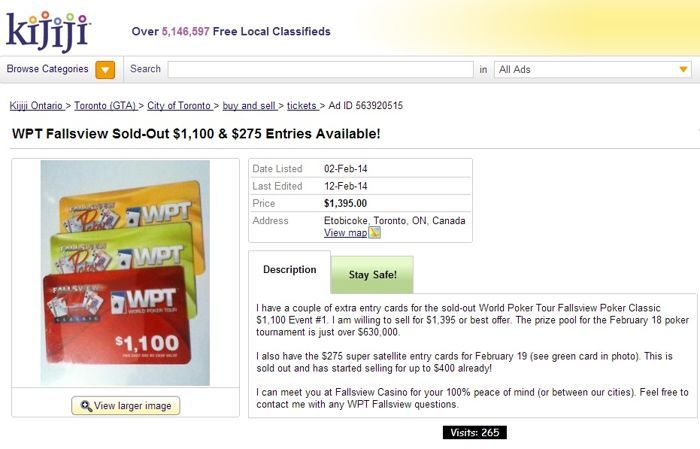 A shortage of satellites has also been a problem during these WPT Fallsview events. Due to the lack of tables and dealers, satellites, which would ultimately lead to more players in the events and thus bigger prize pools, can also not be run. If you do happen to grab a seat in an event, cash game, or satellite, you better have read the rules. There are strict table rules in effect, and they aren't necessarily the same as the rules you are used to.
Most Canadian government-run casinos have strict rules at the table. Fallsview is no exception. Tablets, smartphones, cell phones, and even pencils and paper are as common as a bottle of water at poker tables around the world. Headphones drown out the sounds of chips and players shuffling around the room. Listening to music, playing games, online poker, updating social media, and even watching videos are common fare. But not at Fallsview Casino. Electronic devices of any kind are banned from the poker room. Just recently a change was pushed through to allow pencil and paper to be used inside Fallsview Casino.
Another anomaly was revealed when 2013 WSOP Main Event "November Niner" Marc McLaughlin tweeted:
Playing a 1k event. I arrive at the table and I have to wait to play on my BB...it's been 30 min wth is that rule?#wptniagarafalls

— Marc.E McLaughlin (@Go_Irish_Go)
Rule 17 of the WPT Fallsview Poker Classic states:
"Every player must be dealt a hand even if the chips in their possession are insufficient to place a minimum bet. The only exception being if a player moving from one table to another enters between the puck and the blinds, where the player will receive a hand immediately following the dealer button passing their position."
This sounds like standard tournament ruling, but McLaughlin's dealer obviously wasn't familiar with it and made him wait until he was the big blind.
All of this erupted during the first event of the Fallsview Classic. The second, a $2,500 event followed by a $5,000 WPT Main Event, will take place later on this week. They have yet to be of any concern, as the larger buy-in events have a harder time selling out, but the $2,500 is expected to fill to capacity soon.
The WPT is back in Niagara Falls after a five-year hiatus from the Fallsview location. Fallsview Casino first played host to WPT for the 2006 North American Poker Championship and subsequently in 2007 and 2008. Speculations have gathered as to why the reasons for the hiatus. Today, it seems, with all the issues and concerns, they may be coming to light again.
Get all the latest PokerNews Canada updates on your social media outlets. Follow us on Twitter and like us on Facebook!