2014 Station Poker Classic Delivers Four Great Events in Regina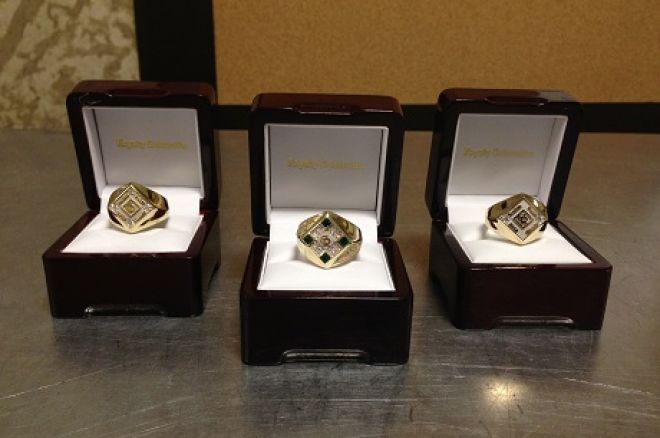 The 18th Annual Station Poker Classic wrapped up in Regina, Saskatchewan earlier today. This well-established series has long been the highlight of the year for players in Saskatchewan, and this year was no different.
Running from March 18th through the 23rd, the series offered four events with buy-ins between $350 and $1,100, with each event climbing in value. Players from all across the province and several from Alberta and Manitoba came to Regina to play the great series. $500,000 was estimated to be awarded throughout the Station Poker Classic, an estimate that proved to be almost perfectly accurate. Along with the prize money, Event 1 awarded a Bulova watch to the winner, and Events 2, 3, and 4 had gold Station Poker Classic rings to play for.
2014 Station Poker Classic
$350 No-limit Hold'em Knock-out
Action got underway with a $350 bounty tournament to get players warmed up on Wednesday, March 19th. Bounties were valued at $50 a piece, and players were given 8,000 chips to battle against one another through the 30-minute levels. 237 entries created a total prize pool of $59,250 and Francis Fan from Edmonton, Alberta defeated Mike Smith from Saskatoon, Saskatchewan to earn $16,667 and the Bulova watch.
Both of these players demonstrate the kind of talent that comes to these local events in Canada's prairies. Fan has a consistent record of cashing in many tournaments across the three western provinces with a total lifetime earnings of almost $200K. Smith has a similar record in the many great tournaments offered on this side of Canada, as well as a deep run in last year's World Poker Tour Canadian Spring Championship, an event that will be getting underway again in a few days. Smith has earned over $230K playing live poker tournaments exclusively in Canada.
2014 Station Poker Classic
$600 No-limit Hold'em
The next day, players reconvened for a $600 tournament with larger starting stacks of 10,000 chips and the same 30-minute blinds of Event 1. This time, a gold ring was added to the prize and prestige of 1st place, which Brodie Seaman eventually claimed. The hometown player defeated Curtis Krushelniski and earned a healthy $29,676 for being the last player standing out of 207 entrants.
Seaman has a history of success at Station Poker Classic. He has been playing the series for a few years now and has a 6th-place finish in Event 1 last year, and three other deep runs in 2011 and 2010.
2014 Station Poker Classic
$800 No-limit Hold'em Knock-out
Another bounty tournament was next on the schedule, this time with an $800 price tag on each seat including a $100 bounty on every head. After a long day of play, Adrian Baran was the only player out of a field of 208 who kept his own bounty. He earned $34,237 and Bob Mullen came runner-up for $21,720. It should also be noted that Mike Smith, runner-up of Event 1, finished a deep run of 13th-place in this event as well, and added a little over $2,000 to his Station Poker Classic earnings.
2014 Station Poker Classic
$1,100 No-limit Hold'em Main Event
Finally, the one everyone was waiting for. The Main Event got started at noon on Saturday. This time, players got to sit down with 15,000 chips and 178 players forked over the $1,100 for a seat. Troy Nisbet outplayed the field and won the huge $47,614 prize for his 1st-place finish, as well as the gold ring. He defeated Justin Skamanis heads-up.
Nisbet from Rosetown, Saskatchewan has an impressive record of final table finishes at Casino Regina over the past few years. This is his first victory, but his consistency has earned him a lifetime total of over $130,000 in live tournaments. He also travelled to Atlantis Resort earlier this year to play the PokerStars Caribbean Adventure $10,300 Main Event, which he cashed.
Also, Francis Fan, who won Event 1, made an impressive 4th-place finish in the Main Event to add $14,485 to this year's Station Poker Classic winnings for a total of over $30K. These two great finishes make Fan almost inarguably the best player of this series. Well done!
Casino Regina also hosts the Harvest Poker Classic later in the year. Keep watching PokerNews Canada for more details about that event in the coming months.
* Results and images courtesy of Casino Regina's Station Poker Classic blog.
Get all the latest PokerNews Canada updates on your social media outlets. Follow us on Twitter and like us on Facebook!