James Carroll Wins WPT Bay 101 for $1,256,550
PokerNews Canada Contributor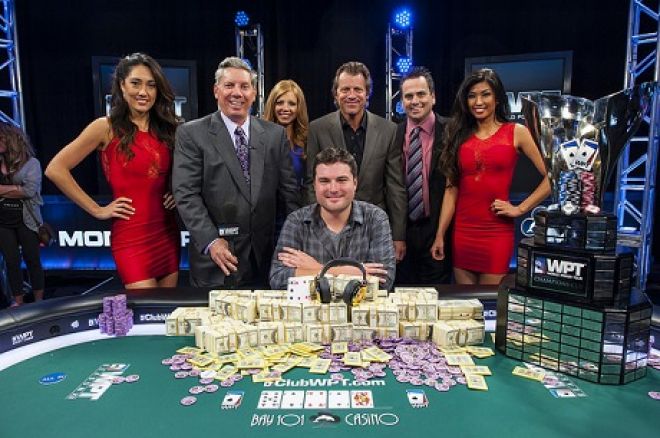 After the rush of Chris Moorman's LAPC title win, the spotlight has shifted to San Jose's Bay 101 Casino for the $7,500 WPT Shooting Stars Main Event.
Final Update
James Carroll is the 2014 Season XII WPT Bay 101 Shooting Stars Main Event Champion. Carroll took home $1,256,550 for the win including a seat at the $15,000 WPT Championship.
Carroll was fourth in chips when play began Friday afternoon. He found himself heads-up in the end with Dylan Wilkerson. After a short back and forth battle between the final two players, one hand would seal the deal for Carroll.
Wilkerson opened to 500,000 and Carroll made the call. The flop came



. Carroll checked, and Wilkerson bet out another 500,000. Carroll check-raised to 1.3 million and Wilkerson called. The turn card

paired the board, Carroll checked and Wilkerson shoved for 4.5 Million. Carroll asked for a count and after thirty seconds made the call with a pair of fours, holding


. Wilkerson flipped over


needing some help on the river. The

was not what Wilkerson wanted to see as he was eliminated in 2nd place for $728,650, his second runner-up finish in the last three WPT events.
| Position | Player | Prize |
| --- | --- | --- |
| 1 | James Carroll | $1,256,500 |
| 2 | Dylan Wilkerson | $728,650 |
| 3 | Shaun Suller | $477,470 |
| 4 | Mukul Pahuja | $320,800 |
| 5 | Nam Le | $223,810 |
| 6 | Garrett Greer | $174,080 |
Garret Greer was the first casualty of the final table. Greer raised in the cutoff to 120,000, Wilkerson reraised in the small blind to 305,000, and Greer tanked for a minute before raising all in for 1,480,000. Wilkerson made the call putting Greer at risk. Wilkerson turned over


dominating Greer's


. The



flop was no help to Greer and the turn

would ice Greer's hopes, walking away with 6th place and $174,080
A second Shooting Star title was not to be for Nam Le. In the cut-off, Le shoved his last 565,000 chips and Carroll called from the big blind with


. Le was looking for an Ace holding


. The board ran out





and Le was out in 5th place for $223,810.
Dylan Wilkerson button raised to 400,000 and Mukul Pahuja moved all-in from the BB for 1.65 Million and Wilkerson made the call. Wilkerson was holding


and Pahuja had him dominated with


. Pahuja was a 67% favourite for the double up, but the flop was not a kind one.



gave Wilkerson a flopped straight and Pahuja needed help. The

on the turn gave Pahuja only chop outs and the

sealed the deal as Pahuja finished 4th.
Suller fell victim to Carroll after a bad beat on the river. Carroll raised from the button to 400,000, and Suller made the call in the small blind. The flop came



to which both players checked. The

on the turn saw a check from Suller. Carroll bet 375,000 and Suller made the call. Suller again checked the

on the river and Carroll bet 1,375,000. Suller check-raised to a large amount and Carroll snap shoved all in. Suller quickly called and showed


for two pair. Carroll turned over


for a broadway straight and Suller hit the rail in 3rd place.
The WPT California swing will now move to the Thunder Valley Casino in Sacramento. Day 1a starts today and will feature two starting flights. Stay tuned to PokerNews Canada for end of day recaps.
Day 3 Update
The stars have aligned. A final table of six remain at the WPT Bay 101 Shooting Stars Main Event. Mukul Pahuja will take the chip lead into play when the final table begins.
Pahuja will have his hands full at the final table as he is joined by a crew of elite players including Dylan Wilkerson, Shaun Suller, James Carroll, Nam Le, and Garrett Greer.
| Seat | Player | Chips |
| --- | --- | --- |
| Seat 1 | Nam Le | 1,715,000 |
| Seat 2 | Garrett Greer | 1,235,000 |
| Seat 3 | Shaun Suller | 4,200,000 |
| Seat 4 | Dylan Wilkerson | 5,850,000 |
| Seat 5 | James Carroll | 2,075,000 |
| Seat 6 | Mukul Pahuja | 6,470,000 |
There will be no lack of experience when play resumes. WPT Champion's Club member Nam Le won this very event in season IV. Dylan Wilkerson was the runner-up two events ago at WPT Fallsview. Greer will be making his first WPT Main Event final table as last year he bubbled two different events. Pahuja will be making his second appearance at a final table this season, he finished runner-up at WPT Montreal in late 2013.
Play began on Day 3 with 36 players left in the field. It took six levels to narrow it down to a final six.
Notables busting on the day were Halifax, Nova Scotia's Owen Crowe who exited 20th for $29,340, Champion's Club members Eric Hershler, 12th for $49,740, Jonathan Little, 13th for $39,800, and Ben Hamnett, 22nd for $29,340. Other casualties include final table bubble boy Herbie Montalbano, 7th for $134,300, Candace Collins, 14th for $39,800, Isaac Baron, 17th for $33,820, David Parades, 30th for $24,870, and Keven Stammen, 35th for $24,870.
The final table was set when Montalbano ran into Shaun Suller's flopped set. Suller raised under the gun to 125,000, Montalbano made the call in the small blind, and Garret Greer called from the big blind. The flop came



, Montalbano shoved for 1.1 million, Greer got out of the way, and Suller called flipping over


. Montalbano was in trouble with


and only a 14% chance of catching a ten or a nine. The turn

and the river

were of no aid; Montalbano was eliminated on the bubble.
Canadian Owen Crowe busted at the hands of Steve Sung's runner-runner flush. Dom Fernandes raised from the cutoff to 50,000, Crowe shoved over top from the small blind for 136,000, Steve Sung flatted from the big blind, and Fernandes made the call. Fernandes and Sung checked down a board of





. Sung flipped over


for a backdoor flush and Fernandes and Crowe mucked their hands.
Play will resume at 4 p.m. and play down to a champion. Check out our running update after the final cards have been dealt and a winner has been crowned
Day 2 Update
The final six tables are set. Play ended on Day 2 with 36 players remaining. Canada's Owen Crowe is among the Day 2 survivors. No Shooting Stars made it through the day.
Just after play began on Day 2, registration was closed and the final numbers were set. A record breaking 718 players created a prize pool of $5,133,700, with first place walking away with $1,256,550 including a $15,000 seat in the WPT Championship.
Steve Sung built the biggest stack of the day, ending play with 1,812,000. Bryce Yockey, Dylan Wilkerson, David Parades, James Carroll, and Isaac Baron were among some notables to survive. Three WPT Champion's Club members are still on the hunt to join the two-time Champion's Club: Nam Le, Eric Hershler, and Ben Hamnett. Jonathan Little will be seeking a rare third title. Only Carlos Mortensen and Gus Hansen have accomplished such a feat.
Here are the top ten stacks at the end of Day 2:
| Position | Player | Chips |
| --- | --- | --- |
| 1 | Steve Sung | 1812,000 |
| 2 | Bryce Yockey | 1,191,000 |
| 3 | Larry Odegard | 1,051,000 |
| 4 | Mukul Pahuja | 908,000 |
| 5 | Brian Park | 884,000 |
| 6 | Nicky Nikham | 861,000 |
| 7 | Lucas Ke | 858,000 |
| 8 | Justin Young | 854,000 |
| 9 | David Randall | 851,000 |
| 10 | Candace Collins | 842,000 |
23 Shooting Stars began play on Wednesday. Not one survived. Jeff Madsen was the top Shooting Star busting in 45th for $20,890. Jonathan Duhamel was the only Canadian Shooting Star in the field on Day 2. Other stars falling were Antonio Esfandiari, Jeff Gross, Blair Hinkle, Eugene Katchalov, Jason Koon, Phil Laak, Jason Mercier, and Scott Seiver to name a few.
Madsen was painfully eliminated late in the day. Brandon Crawford opened under the gun to 23,000 and Madsen shoved in mid-position for 141,000. Crawford though for a while before making the call with


. Madsen flipped over


and it seemed they would be chopping the pot. The board ran out



givig more chop outs to a straight but also giving Crawford a freeroll to a backdoor flush. The

on the turn wasn't a pretty sight for Madsen and his dreams were swept away when the

hit the river.
Duhamel busted when his mid-position open shove with


was met on the button by Matt Brady's


. Duhamel was able to pair up on the



but got no help from the turn or river


and his bounty was passed to Brady.
Canadian Matt Marafioti also ran a light shove into a bigger hand as he open shoved


into the big blind's


. A

would hit the flop sending Marafioti to the rail.
Halifax, Nova Scotia's Owen Crowe will start Day 3 with a below average stack of 225,000. He is Canada's last hope to bring a title back to the better side of the 49th parallel.
Play will be paused for the day when the official final table of six is reached. Check back at the end of Day 3 for a full recap.
Day 1b Update
As expected, Day 1b drew a huge crowd into Bay 101 Casino. A record-breaking 713 total entries has smashed last year's record of 643. Day 1b saw 401 players buy in, some for the second time. With registration still open until the start of Day 2, that number could soar even higher.
Leading the pack on Day 1b and winning the $10,000 top-stack bonus was Lucas Ke. Ke bagged 252,000 which has him in 3rd place going into Day 2. Other top stacks in the room were Ron Minnis, Shankar Pillai, Shooting Star Jeff Madsen and Canadian Shawn Buchanan.
| Position | Player | Chips |
| --- | --- | --- |
| 1 | Lucas Ke | 252,000 |
| 2 | Ron Minnis | 232,300 |
| 3 | Shankar Pillai | 201,000 |
| 4 | James Carrol | 191,000 |
| 5 | Carlos Villamarin | 182,000 |
| 6 | Jeff Madsen | 173,200 |
| 7 | Shawn Buchanan | 164,700 |
| 8 | Nam Le | 160,800 |
| 9 | Phil Laak | 147,300 |
| 10 | Scott Seiver | 141,800 |
180 players survived Day 1b. 11 of the 27 starting Shooting Stars made it through. Jeff Madsen, Phil Laak, Scott Seiver, Aaron Massey, Ravi Raghavan, Jason Mercier, Jeff Gross, Scotty Nguyen, Mario Ho, Andy Frankenberger, and Ludovic Lacay all bagged chips at the end of play. Some less fortunate Shooting Stars were Bruce Buffer, Will Failla, Barry Greenstein, Galen Hall, Kyle Julius, Allen Kessler, Christina Lindley, Pat Lyons, Ana Marquez, Chris Moorman, Ryan Riess, Vanessa Selbst, Joe Serock, Dan Shak, Dan Smith and Jennifer Tilly.
Canadian notables Shawn Buchanan, Sorel Mizzi, Jonathan Duhamel, and Owen Crowe will all take a seat in Day 2. Daniel Negreanu unfortunately busted his second bullet on Day 1b.
Got to 80k then busto! Off to the game had A7 spades vs T7 came T75J three spades river 7. Oh well

— Daniel Negreanu (@RealKidPoker)
Having the day off, Duhamel headed to the SAP Center to catch the San Jose Sharks play the Toronto Maple Leafs. With the help of WPT Tournament Director Matt Savage, Duhamel was able to throw a needle at Negreanu, who happens to be a Leafs fan.
From the SAP Center it's #Sharks vs #Leafs tonight!! Thanks to @SavagePoker for the shirt!! #GoSharkGo @RealKidPoker http://t.co/dNcTfT22HZ

— Jonathan Duhamel (@JonathanDuhamel)
Day 2 will be played down to the final 36 players or until 2:00 a.m. local time, whichever comes first. We will have an update when registration closes and the final numbers are released. Check back at day's end for a full Day 2 recap.
Day 1a Update
A total of 312 players registered for Day 1a, beating last year's total of 270. 117 of them will carry their stacks into Day 2. Leading the way on Day 1a was Giorgio Medici with 254,600 chips. Medici won a $10,000 chip leader bonus for the top stack of the day. Hai Tran was not very far behind with 253,500. David Forster, Bryan Campanello, Mukul Pahuja, and Shooting Star David Chiu round out the top stacks.
Here's a look at the top ten chip counts from Day 1a:
| Place | Player | Chips |
| --- | --- | --- |
| 1 | Giorgio Medici | 254,600 |
| 2 | Hai Tran | 253,500 |
| 3 | David Forster | 225,200 |
| 4 | Bryan Campanello | 210,000 |
| 5 | Mukul Pahuja | 189,100 |
| 6 | David Chiu | 174,000 |
| 7 | Isaac Baron | 160,600 |
| 8 | Jason Koon | 149,600 |
| 9 | Chad Eveslage | 137,400 |
| 10 | Allan Le | 130,000 |
In 2013, 643 runners created a $4,597,450 prize pool.Kai Chang took home the title and $1,138,350 for the win. With players able to re-enter on Day 1b, this year looks to be one of the biggest Shooting Star events on record.
A unique event, the WPT selects players as a "Shooting Star." Busting one of these Shooting Stars earns the player a $2,500 bonus, an autographed t-shirt, and a golden star medallion. Each starting flight will have around 25 Shooting Stars. Monday's Day 1a saw 29 Shooting Stars take their seats. Only 12 of them would survive.
There were a couple Canadian Shooting Stars to start Day 1a. Jonathan Duhamel and Daniel Negreanu both wore the coveted bounty medallion. Other Shooting Stars included Phil Hellmuth, Faraz Jaka, Jason Koon, JC Tran, John Juanda, Phil Laak, Erik Seidel, David Chiu, Matt Slasberg, Loni Harwood, Jennifer Tilly, Todd Brunson, Tony Dunst, Antonio Esfandiari, Jay Farber, Joe Hachem, Blair Hinkle, Kyle Julius, Eugene Katchalov, Nam Le, Mike Matusow, Dominik Nitsche, Brian Rast, Marvin Rettenmaier, Noah Shwartz, Paul Volpe, and Mike Sexton.
Duhamel avoided relinquishing his bounty when he was all-in preflop holding


to Michael Borovetz's


. The board ran out





awarding Duhamel the double up to 42,000.
A level later Duhamel was all in again on a



flop with


to his opponent's


. Duhamel would get the double up after fading the

and

on the turn and river. With the pot, Duhamel boosted his stack to 80,000. He would finish the day with 106,700 chips.
Phil Hellmuth was also able to keep his bounty early with a huge cooler. Hellmuth called 150 in a four-way pot to see a flop of



, Matt Brady, another player, and Hellmuth checked to Jonathan Little who fired 700 into the pot. All three called to see the

on the turn. Brady checked again and the player to Hellmuth's left bet 1700. Hellmuth called and Little and Brady folded. The river brought the

and a bet of 4,500 was re-raised as Hellmuth shoved his remaining 16,925. Hellmuth was snap called as the player turned over


for a full-house only to see Hellmuth reveal


a bigger full-house.
The Great White North was well represented again as our two Shooting Stars were not alone in the field. Shawn Buchanan, Sorel Mizzi, and Matt Marafioti, who was seated at the live-streaming feature table along with Negreanu, to name a few. WPT Tournament Director Matt Savage stopped by the feature table to interview Marafioti, which you can watch here.
The Shooting Stars fell fast on Day 1a. Only 12 remained by the end of level 10.
Shooting Stars eliminated at #WPTBay101 @TheScottyNguyen @noahjschwartz @Erik_Seidel @Jtillathekilla2 @phil_hellmuth @jctran23 @paulgees81

— WPT Live Updates (@WPTlive)
Shooting Stars eliminated at #WPTBay101 on Day 1A: @Bond_18 @JosephHachem @LuckBoxJuanda @PhilLaak @Jay_Farber_LV @themouthmatusow Nam Le

— WPT Live Updates (@WPTlive)
Recent Shooting Stars eliminated at #WPTBay101 include @MikeSexton_WPT @ToddBrunson @RealKidPoker

— WPT Live Updates (@WPTlive)
Negreanu was the victim of an unfortunate cooler late in the day. "KidPoker" shoved the turn after hitting a set with


on a




board, but was behind, as David Forster called with a flopped set holding


. Negreanu needed a spade, but could not improve on the river

and Forster eliminated the Shooting Star collecting Negreanu's bounty.
@dnchips sick bust out hand. JJ vs QQ board is Q75J with 3 spades I have the Jack of spades. Missed and I'm out and re-entering tomorrow

— Daniel Negreanu (@RealKidPoker)
Day 1b will begin at 11:00 local time in San Jose. Check back here for an end-of-day recap.
*Photos and data courtesy of the WPT Live Blog.
Get all the latest PokerNews Canada updates on your social media outlets. Follow us on Twitter and like us on Facebook!