Day 1b of partypoker WPT Canadian Spring Championship
PokerNews Canada Contributor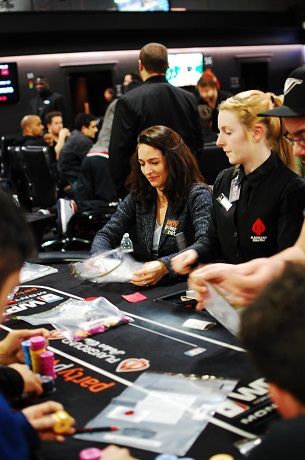 Mike Sexton and the Royal Flush girls kicked off Day 1b of the partypoker World Poker Tour (WPT) National Canadian Spring Championship this morning. 186 entries were registered when the infamous "shuffle up and deal" call from the WPT commentator was echoed through the Playground Poker Room. 308 entries were eventually added throughout the day, making the new total 527.
When Day 1b came to an end, 90 players bagged up chips. There are 151 players now qualified for Day 2 with one more Day 1 starting flight on Saturday.
Leading the way on Day 1b is Simon Quintal with 303,900 chips. His next closest competitor is Francois Binette sitting on 258,700. Team partypoker pro Kara Scott, Team IveyPoker pro Mike Leah, Nicky Evans, and Nova Scotia's Charles MacDonald will also advance to Day 2 with playable stacks.
Notables busting on the day were Antonio Esfandiari, Gavin Smith, Marc-Etienne McLaughlin, Jeff Gross, Ratham Sivagnanam, Mike Sexton, Kyle Hartree, and Norman Overhijk.
Play will resume tomorrow at 11:00 a.m. ET for Day 1c, the last starting flight for the event. Anyone busting today may re-enter and late registration will be open until the end of Level 6.
Here's some of the action as we reported it throughout the day:
Another Pot for Evans - 8:45 p.m.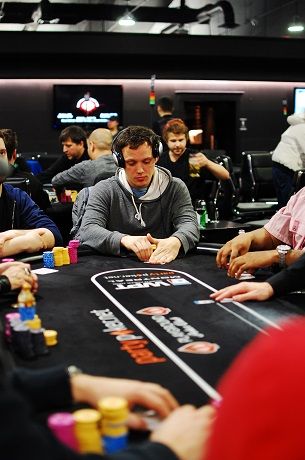 Nicky Evans opened to 4,000 and was called by Kevin MacDonald on the button. The flop came



and Evans c-bet 4,500. MacDonald raised to 11,000 and Evans 3-bet to 22,000. MacDonald tanked for minute before folding and Evans raked in the pot adding another 20,000~ to his stack.
Nicky Evans: 170,000
Verdugo's Huge Stack - 8:30 p.m.
Players have returned from their last break of the day. They will now play two more 45-minute levels to end the day. There are 127 players left in the field and average stack is sitting around 71,000. Blinds are now 800/1600 with a 200 ante.
Here are some chip counts from around the room:
| Player | Chips |
| --- | --- |
| Joseph Verdugo | 310,000 |
| Hartley Stoffmaker | 190,000 |
| Nicky Evans | 145,000 |
| Mike Leah | 100,000 |
| Kara Scott | 65,000 |
| Jeff Gross | 50,000 |
3rd Break - 6:15 p.m.
Level 9 is complete and players are now on a 15-minute break. Blinds will be 500/1000 with a 100 ante. Average stack is now 55,000 as 168 runners remain.
Gavin Smith recently busted from Day 1b:
And Antonio Esfandiari followed close behind and will have to return tomorrow, Day 1c, for a final shot at Day 2.
Chip Update - 6:00 p.m.
Some of the stacks in the room worth noting:
| Player | Chips |
| --- | --- |
| David Szymanowicz | 170,000 |
| Mario Lepine | 140,000 |
| Nicky Evans | 105,000 |
| Antonio Esfandiari | 57,000 |
| Kara Scott | 55,000 |
| Mike Leah | 40,000 |
| Jeff Gross | 30,000 |
Level 9 Begins - 5:30 p.m.
As Level 9 begins, there are 199 players remaining of the 308 total entries today. Blinds will be 400/800 with a 100 ante. Average stack is now 46,000.
Esfandiari Shoves the River with A-high - 5:15 p.m.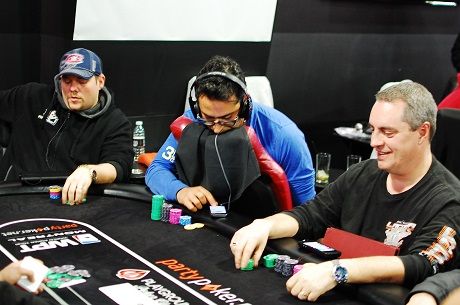 We reached Antonio Esfandiari's table with a river decision in a 30,000~ pot with a board showing





. Action was checked to Esfandiari and after a short time in the tank, Esfandiari moved all in for his last 15,000. His opponent eventually folded and Antonio showed


for an effective river bluff shove.
Seven-bet Bluff - 4:45 p.m.
We caught up to another hand preflop involving Mike Leah and Justin Leeson. Leah had opened to 1,000 and Leeson had just made a three-bet raise to 2,600. Leah four-bet to 5,600. Leeson put in a five-bet to 9,500, Leah again raises, making a six-bet to 14,500. Leeson made a final play, putting in a seven-bet to 26,500. All Leah could do was smile and slide his cards into the muck. Leeson flipped over


with a huge grin for getting through a successful seven-bet bluff!
Kimmel Chips Up - 4:15 p.m.
Josh Kimmel flagged us down as he had just been involved in a monster pot. Mid-position raised to 1,400, Kimmel three-bet on the button to 3,600, the small blind flatted, and the original raiser in mid-position flatted.
The flop came



, the small blind checked, mid-position led out 11,000, Kimmel called on the button, and the small blind called as well. The

came on the turn and all three checked to see the

on the river. The small blind checked once again and mid-position shoved all in for 17,000~. Kimmel made the call from the button and the small blind flatted behind. Kimmel turned over


for a rivered set and his two opponents mucked.
Kimmel raked in the 122,000 chip pot.
2nd Break Stacks - 4:00 p.m.
Updated chip counts of notables at the break:
| Player | Chips |
| --- | --- |
| Harley Stoffmaker | 197,000 |
| Josh Kimmel | 122,000 |
| Ami Alibay | 110,000 |
| Pascal Bibeau | 85,000 |
| Gavin Smith | 80,000 |
| Marc-Etienne McLaughlin | 40,000 |
| Kara Scott | 40,000 |
| Mike Leah | 32,000 |
| Mike Sexton | 13,000 |
Leah Drops Below Start Stack - 3:45 p.m.
We caught up with a hand on the river involving Mike Leah and Justin Leeson. On a board of





, Leah lead out with a bet of 2,800 into a 5,000~ pot. Leeson raised to 10,000 and Leah made the call. Leeson turned over


for two pair and Leah smiled as he mucked


for a lower two pair.
Leah dropped to just over 20,000.
Players are now on break.
The Magician Arrives - 3:15 p.m.
The start of Level 6 has brought the entrance of the "Magician" Antonio Esfandiari. Esfandiari is a Playground Poker Club member and sits atop the all-time money leaderboard. He is most famous for winning the "Big One for One Drop," a $1,000,000 buy-in and the poker tournament with the biggest prize pool in history. Esfandiari is on his second bullet as he busted from Day 1a yesterday. Blinds are now 200/400 with a 50 ante.
Overlay in Sight - 3 p.m.
With a little over 300 entries today for Day 1b added to yesterday's 219 and the players pre-registered for tomorrow's Day 1c, the total field is just over 700 entries. Needing 1,000 entries to hit the $1 million guarantee, there is a current predicted overlay of $290,000!
The last chance to get in through a $110 Satellite is tonight at 8 p.m. at Playground Poker Club. Over a dozen players earned Day 1b seats last night through the satellite. Come down and get a piece of the great value!
Joining the action is Team partypoker pro Kara Scott who has just registered at the beginning of Level 5. We have also lost a couple notables as Sylvain Siebert and Christopher McClung were eliminated in Level 5.
Freerolling off a Bad Beat - 2:30 p.m.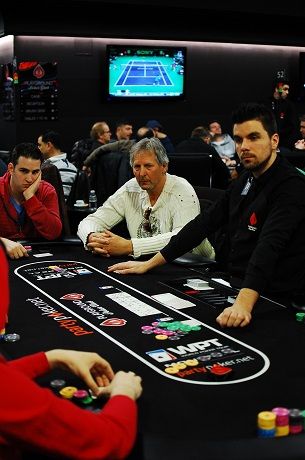 Richard Figiel had the best bad beat of his life when his quad 7's lost to quad 10's yesterday in a $1/$2 No-limit Hold'em cash game that he was playing after busting from Day 1a. He won $157,865 for the beat and is back to play Day 1b to see if he can turn it into even more cash.
9-high Pot - 2:15 p.m.
With blinds 100/200 Benoit Jean opened to 400. Jean was met by five callers. The flop came



and all five players checked to see the

on the turn. Setrak Suloukji bet out 800 under-the-gun, to which Jean reraised to 2600. Suloukji made the call and the

fell on the river. Both players checked. Suloukji announced "board," turning over


, and Jean revealed a busted flush draw with


. The

would play and Jean scooped the pot saying "I thought 9 high was good!"
Level 4 Stacks - 2 p.m.
Some notable chip stacks from around the room:
| Player | Chips |
| --- | --- |
| Michael Neuber | 83,000 |
| Jonathan Cohen | 78,000 |
| Chaayanath Mysore | 77,000 |
| Charles MacDonald | 65,000 |
| Marc-Ettiene McLaughlin | 35,000 |
| Mike Leah | 30,000 |
| Chris McClung | 29,000 |
| Gavin Smith | 27,000 |
| Mike Sexton | 20,000 |
First Break - 1:15 p.m.
Players are on a 15-minute break as the first three levels are in the books. 266 players remain from the total 285 on Day 1b. Registration is still open for three more levels for players to buy-in or re-enter. When play resumes blinds will be 100/200 with a 25 ante.
Level 3 Update - 12:45 p.m.
There are now over 270 entries for the $1,100 Main Event today, and 10 of them have made an early exit. The first break will begin at the end of Level 3.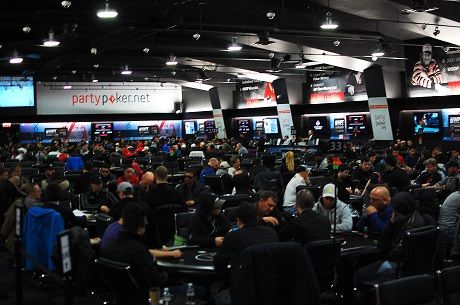 Early Stages - 11:45 a.m.
Some early familiar faces taking their seats are Marc-Etienne McLaughlin, Sylvain Siebert, Mike Sexton, Chris McClung, and Mike Leah.
There are now 230 players registered for play today. Registration is open until the end of Level 6, which should be around 4 p.m. local time.
The total number of entries now sits at 405 and the total chips in play are 5.6 million.
Get all the latest PokerNews Canada updates on your social media outlets. Follow us on Twitter and like us on Facebook!