Kara Scott: Canadian Roots, Prop Betting, and Combat Sports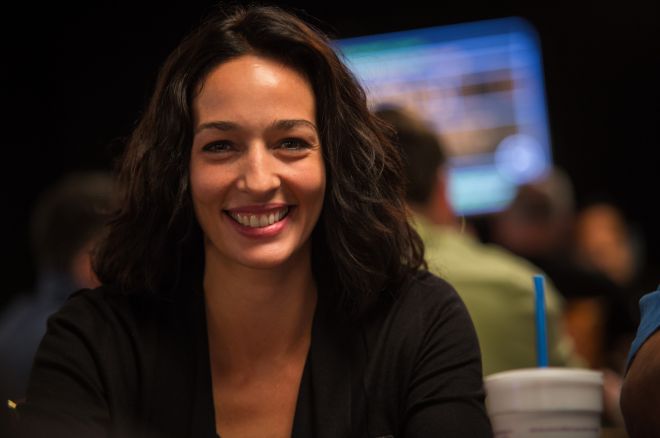 "I'm really bad at prop betting; I always lose," said Kara Scott as I sat down with her before she unbagged her chips for Day 2 of the World Poker Tour Canadian Spring Championship. The Team partypoker Pro plays and hosts some of the world's premier poker events, and can also be found online playing under the name "KaraOTR."
Many people will remember Scott at European Poker Tour San Remo wearing a bunny suit while doing live updates of the event. This was the result of a prop bet with Chris Tessaro when she failed to cash in a tournament she was playing. If she had managed to cash, Tessaro would have been the one in the bunny suit. But, as Scott said, she always loses prop bets.
Here in Montreal, Scott made another prop bet with Tessaro a few years ago that would be determined by who would have the most chips at the end of Day 1 in a charity event they were both playing. She describes how Tessaro shoved his stack on the last possible hand and doubled up to surpass her end-of-day count. The result: "I had to speak in the third-person for 24 hours, like 'Kara would like a cup of coffee please' and 'Kara thinks this is a really good idea,'" even while attending a PR meeting the next day.
Scott was born near Calgary, Alberta and grew up in northern Alberta. Trained as a teacher, she moved to England in her early 20's after finishing her degree from the University of Calgary. She says she made the move in search of adventure – to see a new place. She had never left Canada before, "except for once I drove across the border to get pizza so I could say I had been in America."
She has dual Canadian-British citizenship and also lives in Italy, the land of her family heritage. She's one of those people that every country wants to claim as their own, but we're staking our claim for Canada. She explains her complex relationship with her national identity:
"I definitely still identify as Canadian, 100% ... but then I spent so long in England and that's where I learned to play poker – where my poker career started – so as a poker player I do identify as British. It's a weird thing. I feel very without country sometimes."
She says it feels a bit like being on home turf playing in Montreal.
"I'd love to win something in Canada because ... I think Canadian poker is really important, especially here in Montreal. The scene is so vibrant and there are so many players that come out of here and I love seeing Canadians doing well when I'm travelling in Europe playing poker ... that's a real thrill for me."
You may be surprise to learn that beautiful, petite Scott has a background in Muay Thai, a combat sport from Thailand. She was heavily involved in the fight scene, which is another male-dominated arena similar to poker. Her "competitive instinct and controlled aggression" tie into poker nicely and helped her transition to poker.
Her Muay Thai background also helped her land a position in London producing a martial arts TV show. She was looking for more work in the TV industry, a difficult thing to do, and was thinking of going back to teaching after getting a bit discouraged. She was going to do one last audition before returning to the classroom, but it was not to be as the audition landed her a role on a backgammon show. Scott's knowledge of backgammon was limited, but she studied hard and learned fast as she worked with the pros on the show and played often.
This resulted in a British poker show seeing her work and asking her to be their host. Besides playing some Five-card Draw as a kid, Scott knew little about poker and even less about Hold'em.
"I came in as the novice and that was my job, to ask the questions that novice players would want to ask."
The show, Poker Night Live, focused on online tournaments. As the host, Scott teamed with a commentator who would comment on every hand of the tournament. As she worked on the show she learned more and more about poker. By seeing so many hands, all the different spots, and all the "boring bits," she began to pick up the game.
She credits the fact that they covered every hand, including those "boring bits," for giving her a more realistic view of the game. She distinguishes this from most TV poker where the audience only sees the most exciting hands and may start to get the idea that everyone bluffs all the time and every hand has to be played.
It proved to be a strong foundation for her poker career, as she has joined partypoker on Team Pro and continues to be a strong force on the poker table. We enjoyed watching her here in Montreal at the partypoker.net WPT Canadian Spring Championship, even if she couldn't quite carry her chips to the final table and claim a win on her home soil. But a Canadian victory can't be far away for this talented player.
Get all the latest PokerNews Canada updates on your social media outlets. Follow us on Twitter and like us on Facebook!