Last Chance to Win a New iPhone 5S in partypoker's iPhone Giveaway

Jason Glatzer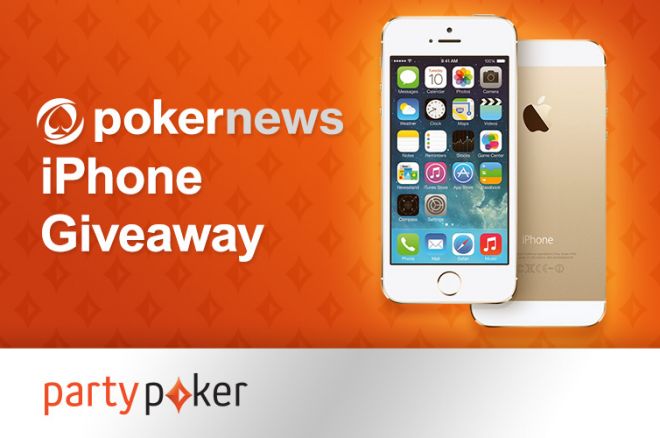 For over 2 months partypoker has been giving away a brand new iPhone 5S each week to one lucky PokerNews reader. There is still one more chance left to get your hands on Apple's latest smartphone and here's how.
Your Path to a Free iPhone 5S
Sign up to partypoker via PokerNews Canada and make a deposit. If you already have a partypoker account through us and have made a deposit you are already eligible for this promotion.
Earn 5 party points. If you already have 5 party points you are ahead of the game, if not just go ahead and play your favourite games and see how quick it is to get them. You only need to rake $2.50 to have enough points for this promotion.
Enter the PokerNews iPhone Giveaway tournament on March 26 at 19:30 GMT.
Can I Really Win a New iPhone 5S?
The prior giveaway tournaments have not had a ton of entrants since this promotion is only available to partypoker players that signed up through us and have 5 party points. With less entrants, you have a really good chance at getting your hands on a new iPhone.
Also, many players that already have an iPhone have been staying away from this tournament since they aren't aware of a little known fact that if you win you can choose between a new iPhone or T$300.
So even if you already have an iPhone there is still great value to enter this tournament considering it only costs 5 party points and is easier to win compared to most promotional tournaments.
This is the LAST week to get your hands on a new iPhone 5S. Can you be that lucky winner? Find out by downloading partypoker today through PokerNews Canada and play in this weeks tournament.
This is your last chance to be that lucky winner that can brag to your friends about winning a free state-of-the-art iPhone compliments to our friends at partypoker.
Click here for full terms and conditions of the PokerNews Phone Giveaway.
Get all the latest PokerNews Canada updates on your social media outlets. Follow us on Twitter and like us on Facebook!