Chris Moorman Wins the WPT L.A. Poker Classic for $1 Million
PokerNews Canada Contributor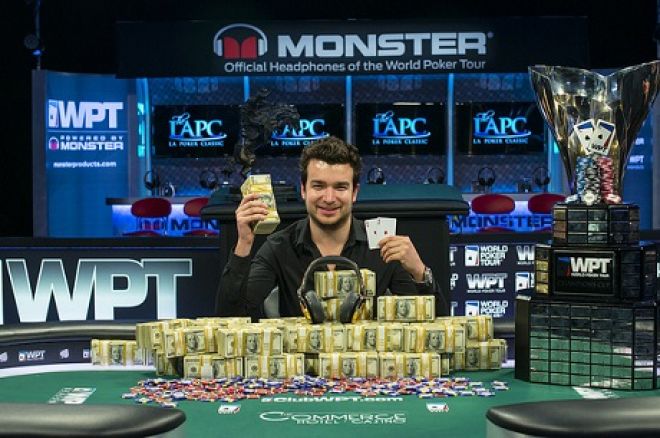 The $10,000 World Poker Tour (WPT) Los Angeles Poker Classic (LAPC) Main Event kicked off on Saturday, March 1st, at the Commerce Casino in Commerce, California. One of the most popular stops in the WPT season, the LAPC brings out local Hollywood celebrities and businessmen, along with an elite field of professional poker players.
Unique to most main events, the LAPC has only one Day 1 with no re-entries. Players do have the option of late registering until the end of Level 7. In 2013, 517 players entered creating a prize pool of $4,963,200. This year 534 runners walked into the largest poker room in world battling for $5,126,400 in prize money and $1,015,460 for the title.
Last year's champ, Canadian Paul Klann of Richmond, BC took home $1,004,090. Klann's victory was a first at the LAPC for Canada and with the title entered a very prestigious group including Antonio Esfandiari, Phil Ivey, and Michael Mizrachi.
Final Update
The final table played out as awesome as its lineup projected. It took seven hours playing 164 hands to crown the 2014 WPT LA Poker Classic champion. At just after 1:00 a.m. local time, Chris Moorman defeated Glenn Lafaye heads-up to claim the $1,015,460 first prize and his first-ever live major tournament win. With the win, Moorman received a seat to next month's season-ending WPT Championship at Borgata Casino in Atlantic City and a special edition pair of Monster 24K Gold headphones.
Play began just after 4:00 p.m. Moorman didn't waste any time backing up his reputation as he took down six of the first nine hands. On the reverse, Adam Friedman was not able to pull in a pot for the first 18 hands. Soon after, the shortest stack to enter the final table was the the first casualty of the night.
After a raise from Lafaye to 105,000, Friedman moved all in for 555,000. Action folded back around to Glenn, and he made the call.
Adam:


53%
Glenn:


47%
Odds according to thePokerNews Poker Odds Calculator.
Glenn flops the best hand when it falls



and his pair of aces hold up when the turn and river come


. Adam's pocket fours had been outrun, and he exited in 6th
A very disappointing end to my @LAPC ME going out in 6th place. Tx to all my family and friends for ur support. I'll be happy in a few days.

— Adam Friedman (@AdamFriedman119)
This hand may have been the turning point and a huge swing of momentum for Moorman.
Michael Rocco limped under the gun for 40,000, Chris Moorman raised from the cutoff to 130,000, and Glenn Lafaye called from the big blind. Rocco reraised to 460,000 and Moorman tanked a while before he four-bet to 930,000. Lafaye quickly folded and Rocco tanked for nearly a minute before he called, building a pot of over 2 million. Both players checked the flop reading



to see the

on the turn. Rocco bet 450,000 and Moorman thought for a bit before he called making the pot over 2.9 million. The river card was the

and Rocco bet 930,000. Moorman went into the tank and 30 seconds later Rocco called for a clock. Tournament Director Matt Savage ignored the request, saying that there had not been nearly enough time. After two minutes, Moorman moved all in for 1,635,000, and Rocco asked for a count. Someone on Moorman's rail jokingly shouted, "clock!" Rocco went into the tank for nearly three minutes before he folded and Chris Moorman's rail exploded into cheers and applause as he took down the pot and the chip lead.
Josh Neufeld was the second member of the final table to be eliminated.
Neufeld raised from the cutoff to 110,000. Moorman re-popped from the big blind to 280,000 and Neufeld shoved all in for 1,630,000. Moorman snap called with


and Neufeld flipped over


. Neufeld needed to improve to stay alive as he was 34% to 64% underdog. The board came





and Moorman won the pot to eliminate Neufeld in 5th place earning him $264,520.
Next it was Patrick Bruel to fall short of the title.
Moorman raised on the button to 215,000. Bruel called in the small blind and Lafaye called in the big blind. The flop was dealt



and both Bruel and Lafaye checked. Moorman bet 265,000 and Bruel check-shoved for 1,705,000. Lafaye folded and Moorman called. Bruel held


for a pair of eights but only had a 20% chance as he was behind Moorman's


. The turn and river fell


and Bruel was out in fourth place, good for $332,190.
A short time later the largest hand of the tournament took place.
Lafaye raised to 325,000 on the button and Rocco reraised all in for 2,020,000 in the small blind. Moorman moved all in over the top for 2,835,000 from the big blind and Lafaye called to cover them both.
Moorman:


37%
Lafaye:


36%
Rocco:


25%
Moorman was in a great spot to nearly triple his stack and eliminate Rocco. The flop ran out



giving Lafaye a 65% chance to knock out both players. The

on the turn changed nothing, leaving Rocco needing one of the two 10's remaining and Moorman required one of the three aces left in the deck. The rail erupted as the

hit the river. Moorman's stack soared to 7,750,000 and Rocco busted in 3rd place for $423,440. Lafaye still had a slight chip lead after losing the hand with 8,275,000
On the final hand, Lafaye limped preflop and Moorman raised to 600,000. Lafaye called and the flop was dealt



. Moorman bet 525,000 and Lafaye moved all in for 3.9 million. Moorman quickly called with


and Lafaye flipped over


. Lafaye had an up and down straight draw with a 34% chance of catching up. The turn and river fell


and Moorman won the pot and the WPT title. Lafaye took home $662,840 as the runner up.
Here is a look at the final table payouts.
| Position | Player | Prize |
| --- | --- | --- |
| 1 | Chris Moorman | $1,015,460 |
| 2 | Glenn Lafaye | $662,840 |
| 3 | Michael Rocco | $423,440 |
| 4 | Patrick Bruel | $332,190 |
| 5 | Josh Neufeld | $264,520 |
| 6 | Adam Friedman | $200,440 |
Day 5 Update

The final table has been set. 6 players will return on Thursday to battle for the WPT LA Poker Classic Main Event Championship, a 1st-place prize of $1 million, and a seat in the $15,000 WPT Championship.
Day 5 started with 18 players left in the field, all with high hopes of making it to the official final table. Of the remaining 18, Chris Moorman had to be the favourite. Moorman, or "moorman1" as he is most famously known, is the all time winningest online tournament player with over $11,000,000. He will be looking to secure his first live major title and add to the nearly $3,000,000 in live earnings he has accumulated as well.
Other notables taking their seats on Day 5 were Joe Serock, Adam Friedman, and French actor and professional poker player Patrick Bruel. Serock, who is a previous WPT player of the year, has almost $3,000,000 in live tournament earnings. Friedman has just under $2,000,000 in live cashes and is also a WSOP bracelet winner. Patrick Bruel has a WSOP bracelet as well and over $1,000,000 to go along with it.
Moorman did not take long to find opportunities to build his stack. In the first of back-to-back pots, Moorman was heads up with Josh Neufeld on the turn with a board reading




. Neufeld check called a bet of 155,000, and the

came on the river. Neufeld checked again to Moorman, who thought it over for about 30 seconds before assembling a big bet of 400,000 and sliding it into the middle. Neufeld snap-called and Moorman flipped over


for a full house. Neufeld simply chuckled and showed


to confirm the cooler, and Moorman took down the pot.
On the next hand, Moorman bet out 140,000 after a flop of



and his lone opponent, Adam Friedman, made the call. The

came on the turn and Moorman fired out 295,000 this time. Again Friedman called, and the river was the

. Here's where things got ... lengthy. Moorman took his time to put together a huge bet of 600,000 and slid it in. Friedman immediately rolled his eyes and it was clear he would be thinking for quite some time. Friedman ended up tanking for nearly 10 minutes, all the while trying to draw a reaction from Moorman.
"That's a great bet Chris."
"What's it like to be the best player in the world Chris?"
"No matter what I do I'm going to be wrong here."
These were just a few of the things that Friedman said as he was tanking. After permitting his opponents to call the clock, Patrick Bruel did, and with five seconds left on the clock, Friedman tossed his hand in. Moorman's stack climbed to 3.2 million.
It did not take long for players to start hitting the rail. Here's a look at the bust outs from 18th to the final-table bubble-boy in 7th place, Dan O'Brien. O'Brien lost a massive pot with end of day chip leader Michael Rocco. Glenn Lafaye raised it up to 65,000 in the hijack, and Michael Rocco called on the button. Dan O'Brien three bet it to 250,000 from the big blind, and only Rocco made the call. The flop came down



and O'Brien checked to Rocco, who fired out 175,000. O'Brien called and the turn brought the

. O'Brien checked again and Rocco fired out 400,000. This bet sent O'Brien into the tank for about three minutes before Rocco called the clock on O'Brien. With tournament director Matt Savage counting down the clock, Dan moved all in for 1.6 million with five seconds left and Rocco snap-called.
O'Brien:


61%
Rocco:


39%
O'Brien would need to dodge 18 outs to survive. Any diamond, king, queen, or jack would ship the pot to Rocco. The

on the river was not what he wanted to see, as Rocco made a flush to eliminate O'Brien and conclude Day 5.
O'Brien tweeted this after the hand.
Busted 7th. AA<KQdd all in on T98Kdd for 4.3M. Legitimately might throw up. Very fortunate day overall tho. Gonna be a long drive home.

— Dan O'Brien (@DanOBrienPoker)
Here's a full list of the players busting and collecting their cash on Day 5.
| Position | Player | Prize |
| --- | --- | --- |
| 7 | Dan O'Brien | $137,900 |
| 8 | Allen Pock | |
| 9 | Kazu Oshima | $100,480 |
| 10 | Joe Serock | $100,480 |
| 11 | Tab Thiptinnakon | $73,310 |
| 12 | Ludovic Assouline | $73,310 |
| 13 | Alexandru Masek | $54,850 |
| 14 | Michael Pickett | $54,850 |
| 15 | Huy Lam | $54,850 |
| 16 | Hasan Habib | $54,850 |
| 17 | Erkut Yilmaz | $54,850 |
| 18 | Heath Mendelsohn | $54,850 |
Rocco will take the chiplead into final table. He will not have the greatest seat possible, though, as Moorman will be to his immediate left. Rocco, also a WSOP bracelet winner, will look to double his lifetime live earnings as the $1 million 1st prize will trump his current $800,000 in tournament winnings.
| Seat | Player | Chips |
| --- | --- | --- |
| Seat 1 | Chris Moorman | 3,190,000 |
| Seat 2 | Patrick Bruel | 2,280,000 |
| Seat 3 | Josh Neufeld | 1,930,000 |
| Seat 4 | Glenn Lafaye | 1,855,000 |
| Seat 5 | Adam Friedman | 1,150,000 |
| Seat 6 | Michael Rocco | 5,615,000 |
Play will resume at 4:00pm PST Thursday afternoon.
Day 4 Update
In the money! 63 players returned to Commerce Casino on Tuesday looking to make their way down to the final 18. Canada had one more hope for a back-to-back title, while six Champion's Club members were looking for their second titles.
The last Canadian in the field, PokerStars Team Pro Jonathan Duhamel started the day with a very short stack. It didn't take him long to find a spot to get his chips in the middle and try a double-up.
Duhamel was all in with a classic race holding


against Ludovic Assouline's


. According to the PokerNews poker odds calculator, Duhamel was behind 43% to Assouline's 56%. The door card was the

and Jonathan said to Ludovic, "that's good for you." But the full flop was



, so Jonathan now had a 15% chance he could still double up if he hit a queen or running cards for a full house. Unfortunately, he did not improve as the board ran out


, and Duhamel exited the LAPC Main Event in 61st place, good for $18,970.
Some other big names fell on Day 4. Champion's Club members Ravi Raghavan (19th for $42,550), Matthew Waxman (26th for $36,400), Eric Hershler (29th for $36,400), Eugene Katchalov (40th for $26,660), Joe Tehan (44th for $26,660), and Andy Frankenberger (60th for $18,970). The WPT also lost its own Mike Sexton, as the legend and WPT commentator busted in 51st for $22,560. Others falling were periodic Day 4 chipleader Jennifer Tilly (22nd for $42,550), 2012 WSOP champion Greg Merson (31st for $31,270), PokerStars Team Pro Jason Mercier (43rd for $26,660), and Bryn Kenny (49th for $22,560)
End-of-day chipleader Josh Neufeld was the beneficiary of a monster pot later in the day that vaulted him to the top of the leaderboard. Chris Moorman raised in the cutoff and Neufeld flatted on the button. Yaginuma called as well, and Kumar three-bet from the big blind. Moorman folded, but the other two called to make it a three-way flop of



. Yaginuma checked to Kumar, who fired out 125,000. Neufeld again flat-called, and Yaginuma shoved all in for 437,000 total. It was back on Kumar, and he tanked for about a minute before shoving all in for more. It hardly took Neufeld anytime to call, and just like that, we had a 1.5 million chip pot on our hands.
Yaginuma:


1%
Kumar:


27%
Neufeld:


70%
Neufeld's set was in good shape, but he would need to dodge flush outs and runner runner outs. The

on the turn left Yaginuma drawing dead, and Kumar only had a 20% chance of catching one of eight remaining spades for the win. However, the

on the river gave Neufeld unnecessary quads, and he scooped the gigantic pot to take the chip lead with 30 players left.
Here's a look at the top 10 for Wednesday's Day 5. The players will play down to an official final table of 6.
| Position | Player | Chips |
| --- | --- | --- |
| 1 | Josh Neufeld | 2,326,000 |
| 2 | Glenn Lafaye | 1,743,000 |
| 3 | Chris Moorman | 1,731,000 |
| 4 | Joe Serock | 1,596,000 |
| 5 | Michael Rocco | 1,410,000 |
| 6 | Adam Friedman | 1,244,000 |
| 7 | Patrick Bruel | 1,039,000 |
| 8 | Mickey Pickett | 847,000 |
| 9 | Ekrut Yilmaz | 689,000 |
| 10 | Ludovic Assouline | 672,000 |
Visit the LAPC blog to see a full list of chipstacks and seats draws of the final table.
Day 3 Update
Day 3 saw 174 players back at the Commerce ready to battle their way down to the money bubble. 63 of them would cash in the event. There were still some Canadian hopefuls left in the tournament, all with their eyes on the $1 million first prize.
The day did not start out very well for Canada, defending LAPC champion Paul Klann was short-stacked and all in preflop with


, but was dominated by Matthew Waxman's


. The flop came



, leaving Klann almost drawing dead and with no help from the turn and river, Klann busted.
Day 3 did not get much better for Canadians. Jason Mann, Matt Marafioti, and Terrance Chan were sent packing along with Daniel Negreanu who was also a casualty of the day. The Team PokerStars' pro busted in 100th and tweeted this after his exit:
@DNChips busted with KJ spades vs AJ hit flop Q83 then K then 10. Oh well it was a good run. Next stop Bay 101

— Daniel Negreanu (@RealKidPoker)
2010 WSOP Main Event Champion Jonathan Duhamel is the last hope for a back-to-back Canadian LAPC title. Duhamel had started the day with an above-average stack but was beat down throughout the day, bagging one of the shortest stacks in the room. Sitting in 56th with a 66,000 chips, Duhamel will have his work cut out for him on Day 4. Here are the top 10 at the end of day 3:
| Position | Player | Chips |
| --- | --- | --- |
| 1 | Jesse Yaginuma | 804,000 |
| 2 | Glenn Lafaye | 760,000 |
| 3 | Jennifer Tilly | 639,500 |
| 4 | Bryn Kenney | 602,000 |
| 5 | Michael Rocco | 588,000 |
| 6 | D. Allen Pock | 574,500 |
| 7 | Adam Friedman | 520,500 |
| 8 | Huy Lam | 499,000 |
| 9 | Dan O'Brien | 450,000 |
| 10 | Mukul Pahuja | 429,500 |
The complete list of chipstacks and Day 4 seat draws are available here.
Day 2 Update
The WPT LAPC saw just over 400 players return for the start of Day 2. Late registration was still open for one more 90-minute level. The extra time allowed a number of players to join the action bringing the final total to 534 runners, 17 more than 2013.
174 players survived Day 2. Canadians are still running strong as Jonathan Duhamel, Daniel Negreanu, Matt Marafioti, Paul Klann, Terrance Chan, and Jason Mann all bagged up their stacks for Day 3. Not-so-lucky Canadians busting on Day 2 were Sorel Mizzi, Mike Leah, Owen Crowe, Matthew Jarvis, and Shawn Buchanan who tweeted this:
Busto 70k pot very last hand LAPC main day 2, my AK to the old Jack 7 off

— Shawn Buchanan (@shawnbuchanan1)
Duhamel ended the day with Canada's biggest stack for the second day in a row. Here's a hand he played in earlier on Day 2.
Naoya Kihara raises to 1,500 from under the gun, the player on the button calls, and Jonathan Duhamel calls from the big blind. The flop is checked around, the turns, and Duhamel bets 2,700. Only Kihara calls to see the river where Duhamel bets 5,600. Kihara calls, but mucks when Duhamel tables for a set of eights.
Negreanu had the second largest Canadian stack and was able to chip up a bit on Day 2, most of it coming in this hand during the last level of the day.
Action folds to Daniel Negreanu in the small blind and he raises to 3,400. His opponent in the big blind three-bets to effectively 33,400, Negreanu calls all in with , and is leading his opponent's . The board runs out , safe for Negreanu to double up in the late stages of Day 2.
*Hands courtesy of the WPT live update blog.
A look at how some of the remaining Canadians stack up:
| Position | Player | Chips |
| --- | --- | --- |
| 41 | Jonathan Duhamel | 129,800 |
| 103 | Daniel Negreanu | 71,000 |
| 134 | Terrence Chan | 50,100 |
| 141 | Matt Marafioti | 42,200 |
| 153 | Paul Klann | 31,600 |
| 156 | Jason Mann | 29,700 |
Day 1 chipleader Scott Blackman was able to maintain the title throughout Day 2, building a stack of 380,000. Daniel Steinberg and David Paredes were also able to keep top 10 stacks by day's end. Here are the top 10 stacks entering Day 3.
| Position | Player | Chips |
| --- | --- | --- |
| 1 | Scott Blackman | 380,000 |
| 2 | Daniel Steinberg | 280,000 |
| 3 | David Paredes | 251,000 |
| 4 | Kazu Oshima | 237,800 |
| 5 | Pete de Best | 229,900 |
| 6 | Erkut Yilmaz | 226,700 |
| 7 | Bastion Fischer | 222,000 |
| 8 | Chris O'Rourke | 205,500 |
| 9 | Alexandru Masek | 199,900 |
| 10 | Bryn Kenney | 195,000 |
You can find the full chip stacks and the Day 3 seat draw here.
It is expected the money bubble will burst during Day 3. 63 players will cash at this year's Main Event. Good luck to all the Canadians on Day 3!
Day 1 Update
The LAPC is a great stop for Canadian poker players as it is one of the largest non-WSOP tournaments available in North America. Day 1 saw many of Canada's elite professionals register for the event. WPT Champion's Club members Daniel Negreanu, Shawn Buchanan, and defending champ Paul Klann took their seats. Joining them were Jonathan Duhamel, Mike Leah, Owen Crowe, and Jason Mann.
Here is a look at some of the top Canadian chip stacks for the end of Day 1:
| Player | Chips |
| --- | --- |
| Jonathan Duhamel | 70,725 |
| Daniel Negreanu | 50,125 |
| Mike Leah | 33,500 |
| Shaun Buchanan | 30,125 |
| Owen Crowe | 26,000 |
| Paul Klann | 11,250 |
| Jason Mann | 10,825 |
At the end of Day 1, Scott Blackman led the field building a stack of 190,300. Others topping the field include Ali Eslami, Joe Tehan and JC Tran.
| Player | Chips |
| --- | --- |
| Scott Blackman | 190,300 |
| Ali Eslami | 129,200 |
| Joe Tehan | 112,850 |
| Daniel Steinberg | 111,000 |
| JC Tran | 108,800 |
| Corey Hochman | 106,575 |
| Ryan D'Angelo | 106,000 |
| Anthony Gregg | 103,775 |
| Luis Velador | 100,225 |
| David Paredes | 97,575 |
Check out the LAPC blog for complete stacks and Day 2 seat draw. Good luck to all the players and may the great north bring you a nation of run good.
All information courtesy oflapcnews.com.

Lead photo courtesy of World Poker Tour live-update blog.
Get all the latest PokerNews Canada updates on your social media outlets. Follow us on Twitter and like us on Facebook!