Poker Jobs: Poker Photographer Alin Ivanov "Pursue Your Passion and Start with Your iPhone"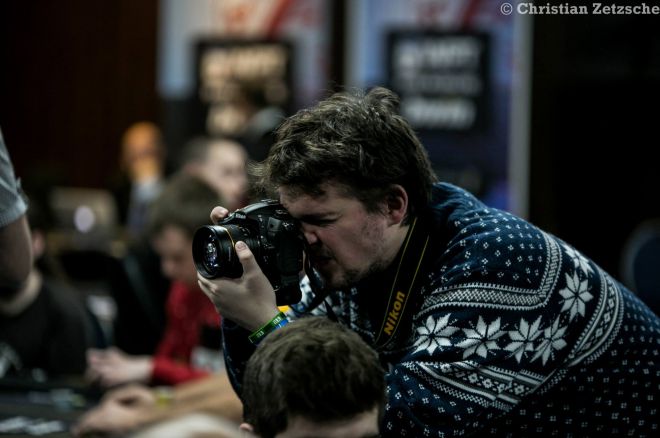 It never ceases to amaze how closely the world of the entrepreneur and the world of the poker player are intertwined. And, really, why should it come as a surprise? The qualities to succeed in one — determination, resourcefulness, creativity, a grasp of numbers — mirror the needs of the other.
Qualities which can all be found in World Poker Tour Season XI and XII photographer Alin Ivanov.
Ivanov, a Romania-born student of mathematics in Greece who learned poker from a friend, taught himself photography on the side and quickly learned how to combine both passions in order to make a living.
"One thing simply led to another," Ivanov tells PokerNews. "Someone asked me to do some photography for a tournament which had Daniel Negreanu as a special guest, and after that I landed more gigs."
"I was living in Denmark and a friend asked me to do photography for him at WPT Copenhagen," he goes on. "There, one of the writers asked me to photograph his girlfriend. He showed it to his boss at WPT Europe and she immediately asked me to work for them. That was my first step to becoming a real poker photographer."
So, how does one make the step from aspirational to amateur, and from amateur to professional? For Ivanov, it was simply discovering a passion and pursuing it.
"I was largely schooled on my own. I read a lot of books and articles. I have a bachelor's degree in computer science, although to be honest that didn't really help very much. Most of the training was on my own, practicing and reading a lot."
A practice which seems to have paid off quite well for him. "Personally, I'm not so into photographing people," Ivanov explains. "I prefer to capture landscapes and things like that, but what I really don't like is 'fake'. I hate seeing people pull postures and poses in front of the camera. I really hate it.
"So for me, coming into poker photography is great. Here, you get people who aren't actually paying any attention to you because they are simply focusing on their game. And you barely ever get a smile or a frown from a poker player!"
Ivanov continues: "I like that here people are 'true'. You can really photograph their expressions and capture their feelings at a specific time at the table."
A photographer who dislikes seeing people posing seems ironic in hindsight, but somehow while talking to Ivanov it all seems to make perfect sense. As with so many careers within the poker industry, that adorable travelling circus of misfits and mavericks, the phrase "it's not an ordinary job" applies to Ivanov's one as well.
A typical event on the WPT circuit will see him arriving a few days before everyone else. He takes time to walk around, drinking in (figuratively) the atmosphere of the city and the casino venue. He picks out spots which have ideal light, setting and room to maneuver. "Place counts," he informs me. "If you can set up near to the tournament area you stand a much better chance of getting some great shots."
"When you are at a tournament, initially you need to focus on the big names," he says. "Just in case they face an early bust, you need to snap them quickly."
These form the "money shots," after which Ivanov can take time to hone his art.
"I look for expressions," he says. "I try to capture the moment and the vibe of the tournament. Each place has its own vibe. In the casino in Venice it feels very classical; a lot of big rooms with lots of light. Then you go to the Aviation Club [in Paris] which is small and crowded. You have to adapt, and use what you have at that particular gig."
After taking the photos, he makes edits, chooses the best snaps and uploads them onto the WPT Flickr account. He rename's them and then adds them to the blog. He also lends a hand with the editorial side, assisting with chip counts, player names and other event info.
"Most of the time I don't Photoshop," he insists about his work. "I use a program which helps you batch process RAW files. People so often use JPEGs, even other photographers on the tour. For the best quality pictures you need to be using RAW."
"Other people spend a long time to adjust lighting, saturation etc., but I prefer to keep that minimal and, when I can, upload the photos more as they actually are. I prefer to spend a few minutes more when shooting and take better photos."
As self-taught through and through, he is quick to point out that, in his mind, anybody could become a photographer nowadays — with a little grit and ingenuity. "Anyone can exercise and practice on his own," he points out.
"You don't need teachers or expensive equipment. Technology now allows doing things that 10 years ago would have been inconceivable. You can get great pictures even with your iPhone. Start from there. Just don't expect for the money to come right away. That takes time."
Get all the latest PokerNews Canada updates on your social media outlets. Follow us on Twitter and like us on Facebook!