PokerNews Op-Ed: The Time Is Now for Poker Tours To Schedule Events Better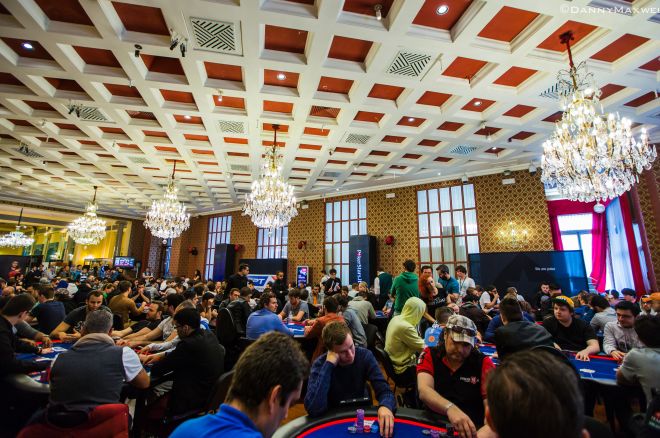 On Saturday, one of the most prestigious events on the tournament circuit concluded with the completion of the 2014 World Poker Tour World Championship. Every year, this event draws poker's elite, and this year numbers grew immensely, taking a turn for the positive after some very lack-luster years. But, is there a bigger story behind the numbers that we should be focusing on?
The answer is yes.
The culminating event of the WPT's Season XII saw an increase of 125 percent after much decline in the past few years. This massive turnaround can be accredited to two main things: the new location of the event at Borgata in Atlantic City, and the adjustment that lowered the buy-in from $25,500 to $15,400. Still, numbers weren't as high as they could have been pending a little better planning on behalf of the tournament organizers.
It seems it would've made a bit more sense to hold the event in May, a couple weeks later than it was held and as originally planned. First of all, this would keep the event clear of clashing with the two PokerStars European Poker Tour events taking place in April, EPT Sanremo and the EPT Grand Final in Monaco. You can't deny that if you take a look at the €100,000 Super High Roller field from Monaco that at least half of those names would've played in the WPT Championship, easily pushing the event over the guarantee.
Second, with the World Series of Poker Circuit National Championship taking place May 22-24, the poker buzz in "America's Favourite Playground" would have been much greater, allowing for both events to do well. With the WSOP Circuit National Championship running on a Thursday through Saturday, why not hold the WPT Championship leading right up to it? Not only does this allow for the Jersey Shore to be bustling with poker action, but it would also allow the WPT Championship to begin on a much better day of the week than a Monday.
For example, what if the WPT Championship began with Day 1a on Friday, May 16? It's very hard for casual players with real-world jobs to start an event that begins on a Monday. With the first starting day on a Friday and the second on a Saturday, players can dive in, see if they advance through the weekend, and then adjust their schedules from there. Players who would advance to Monday's Day 3 would more than likely be happy to take a day or two off from work when going deep and nearing a big poker score. This would then take the bulk of the event right up until the two-day $1,125 No-Limit Hold'em event that is on the WSOP Circuit National Championship schedule beginning on May 20.
Next, with so many players being over in Europe for the festivals in Sanremo and Monte Carlo, a bigger, "joint" stop of the WPT Championship followed immediately by the WSOP Circuit National Championship would serve as a nice stop-off point to bridge the gap for those traveling from Europe to Las Vegas for the summer's WSOP after the EPT events.
The aforementioned €100,000 Super High Roller in Monaco could have easily had at least five more unique entries had players not opted to stick in the States for the WPT Championship. The Sanremo field probably wouldn't have been slashed as bad as it was, either.
The lack of an attempt for large events to coexist a little bit better extends beyond the WPT Championship, too. The Seminole Hard Rock Poker Open to take place in August will clash with EPT Barcelona, for one, and both events are guaranteed to suffer. The WSOP Asia-Pacific had been planned for the beginning of October for quite a while now, and with the recent release of the preliminary EPT dates for Season 11, EPT London directly clashes.
The clash between the Seminole Hard Rock Poker Open and EPT Barcelona sticks out the most. Miami and Barcelona are connected by the Spanish communities, and there are many cheap and direct flights from Miami to Barcelona. Knowing this, why not schedule the EPT event so players from Miami could shoot right up to Spain for the kickoff of Season 11? In the case of EPT London and WSOP Asia-Pacific, both events are so prestigious that top players will be forced to decide which to play.
Even PokerStars' top ambassador, Daniel Negreanu, voiced his distaste for the maneuvers on Twitter:
More bad news on poker scheduling- EPT London just announced they will overlap WSOP APAC in October. What a shame. I'll be down under.

— Daniel Negreanu (@RealKidPoker)
Saddens me to see the players have to choose between 2 great events WPT/EPT Champ and now EPT London or WSOP APAC.

— Daniel Negreanu (@RealKidPoker)
Both events attendance is guaranteed to suffer. I wish there was a way to avoid these kinds of things but not much can be done I guess.

— Daniel Negreanu (@RealKidPoker)
Just makes bad business sense since you are fighting over the exact same pool of players for the most part. Can't see how this makes sense.

— Daniel Negreanu (@RealKidPoker)
WSOP APAC released their schedule a while ago. It's possibly a venue issue for EPT London, but either way this seems like a bad move.

— Daniel Negreanu (@RealKidPoker)
All of Negreanu's points have merit, and it's great to see such a large figure in the game voice his opinion about the way things have been taking a turn for the worse in poker tournament scheduling lately. Hopefully organizers take Negreanu's word — and that of many, many other poker players — and start making some adjustments. At the end of the day, it will be better off for the game we love when the player pool isn't being forced to pick and choose because of schedules overlapping.
A couple years ago in 2011, one of the best times poker has seen came as a result of great scheduling of the EPT London, WSOP Europe, and EPT Sanremo events. The EPT London Main Event ran September 30 through October 6, then the WSOP Europe festival began on October 7 and ran until October 20 in Cannes, and then EPT Sanremo kicked off right next door on October 21 and ran until October 27. This created four solid weeks of poker in Europe and players jumped from one stop to another seamlessly.
While competition is good and it certainly drives the game and each business to improve, a simple unwritten agreement to work a little more around one another when planning these events could go a long, long way for the growth of poker, especially in a time when the game isn't really making leaps and bounds. Instead of making it a competition to see which event draws more players, focus on the race to have your event's schedule released first. Then, your competitors have no choice but to work around it.
At the end of the day, the question everyone needs to be asking themselves when planning these events is: What's the best decision for poker?
Get all the latest PokerNews Canada updates on your social media outlets. Follow us on Twitter and like us on Facebook!