Editorial: Conflict in Alberta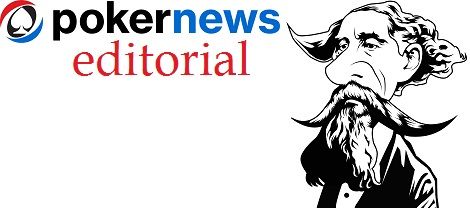 A week ago, we posted Donnie Peters' article criticizing the way organizers have scheduled poker events with a focus on the bad timing of running the World Poker Tour (WPT) World Championship around the same time as PokerStars European Poker Tour (EPT) Sanremo and Grand Final. The two tours — WPT and EPT — share the same pool of players to some degree, and putting two premier events within the same few weeks but thousands of miles apart only hinders each tour from reaching their fullest potential in terms of event success and attendance.
At the same time Peters' article came to my attention, I was already thinking about a similar conflict locally. In Canada, we have just one tour we can call our own: the Canadian Poker Tour (CPT). We also see some WPT events come to this country, there is DeepStacks (now WPTDeepStacks) scheduled for the first time in Canada later this year, and we have had the World Series of Poker Circuit in the past as well as one-off festivals from PokerStars and Full Tilt Poker. But CPT is the only Canadian tour, and all other Canadian poker events are organized by individual poker rooms.
A little over a month ago, there was a large, heated debate that was sparked in Alberta regarding the conflict between casino-organized events and CPT events, and the arguments it brought forward are something I have been thinking about.
It began when Robert Bowers, Poker Room Manager at Deerfoot Inn & Casino in Calgary, Alberta, posted an argument on Facebook implicating CPT and Kelly Kellner (CPT's President and CEO) for scheduling events that conflict with other events organized by Albertan poker rooms.
I will note that this argument was not private and I am not revealing anything that isn't publicly visible. If you have a spare hour or two, you can go read the whole conversation yourself.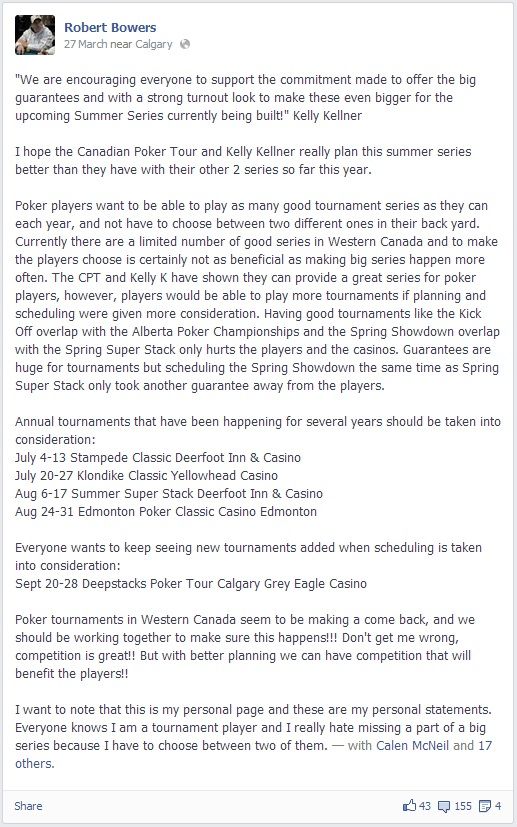 Bowers' post generated over 150 responses, some very lengthy and in-depth, and it included comments from Kellner, Joanne Jost (Poker Room Manager for PURE Canadian Gaming casinos in Alberta), Canadian poker pro Gavin Smith, and several others.
The condensed version of the argument is that several Alberta casinos have run annual poker series during the same dates year after year, and two of this year's CPT events have conflicted with those dates, forcing poker players to choose which event they want to play and support. The argument is essentially that long-standing series should be able to claim a right to the dates they have run their event on year after year, and other organizers should steer clear of those dates.
How this is different from the conflict Peters' discusses between WPT and EPT is that, in this case, CPT events and casino-organized events are apples and oranges; they are barely comparable. Competition is useful for creating a better product, and it was proven in both instances by the choice players made that CPT is the better product.
Let's consider a few things that are valuable features for a successful series:
• large player field
• wide range of buy-ins
• wide range of game types
• attendance by recognizable pros
• attention from media
• prize pool guarantees
• added-value prizes
• reasonable tournament fees
• deep structure
• good scheduling
If we look at the most recent pair of events that ran at the same time which were the catalyst for this argument — CPT Spring Showdown at Grey Eagle Casino in Calgary on April 8th to 14th and Spring Super Stack at Deerfoot Inn & Casino in Calgary on April 9th to 13th — the CPT event had all of these features except for the last one, and this single point has been the cause for contention in the Alberta poker community.
I do not know the reason for Kellner choosing these dates. I know that the event was organized fairly quickly, and that Kellner spoke with Bowers about the possibility of avoiding the conflict, but an agreement was not made. If the overlap could have been avoided, it probably would have been best for the poker community if it had been.
However, CPT excelled in all other points. They received 270 entries to their Main Event compared to 107 at Deerfoot. There was a wide range of buy-ins from $200 to $3,300. They included a Pot-limit Omaha event as well as a turbo and a bounty for some variety. Kellner ensured the event was attractive to recognizable names like Gillian Epp, Dan Idema, Jason Mann, and Sean Giesbrecht who all came out to play. CPT brought in us, PokerNews Canada, to promote the event and to be on site to live-report all of the action, which the players loved to see and gave CPT and Grey Eagle a lot of exposure, and also hired Gillian Epp to be the hostess for the series to conduct interviews and host video updates. CPT also placed prize pool guarantees on all but one of their events. There was the added value of a Player of the Series points race which Giesbrecht stole early after final-tabling three events in a row, and players earned points for the CPT Player of the Year race as well, powered by the Glober Poker Index player-ranking system. The tournament fees were industry standard. And, lastly, the structure was "Allen-Kessler-approved," which is a bit tongue-in-cheek but also speaks to the great structure that players raved about throughout the series.
In comparison, Deerfoot's Spring Super Stack had just two events, a $550 Super Stack and a $330 Bounty. It may have had the dates picked first, but there were no prize pool guarantees, the fields were small, there was no effort to gain attention through the media, and there were no added-value incentives for players.
So does it make sense to single out CPT as the villain because of one area that could have been improved on? In all other aspects, CPT runs better events.
The fact that there has been conflicting dates this year has brought this issue to light and put the community's focus on the competing series and which one is the better product. For that reason, the scheduling conflict has done the Albertan poker community a great service by incentivizing organizers to produce better events.
As a long term plan, I can't imagine that Kellner intends to schedule events to compete with other series in the area at the same time, or that it was even his intention to begin with. It does him no good to have to share the player pool with another casino.
There is some bad blood and a lot of history between some people in the industry, and most of it is hearsay and accusations that are not grounded in enough facts for me to report on or base my opinions on. I'm just looking at the state of poker events in Alberta at the present, ignoring the riffs in the past, and seeing that organizers should avoid scheduling conflicts, and casino-organized events need to step up their game to provide series as appealing as those offered by CPT.
Competition will bring out the best for Albertan poker players. There's no reason all of these events can't coexist and provide a rich poker scene for players. So ... battle on. I'm looking forward to seeing what exciting new things we'll see coming out of Alberta next.