Happy Birthday to Us: PokerNews Canada is 1 Year Old!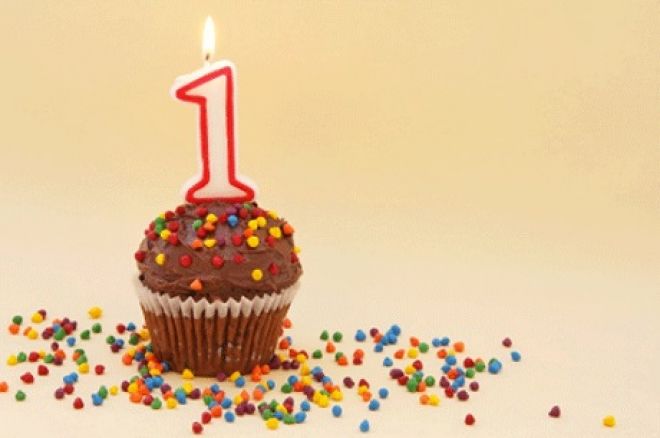 Last year on May 7, our first post was published on the new PokerNews Canada site. It was a simple link to an existing video about heads-up strategy from the PokerNews archives featuring Gus Hansen and Tom Dwan. It was a start. Since then, we've kept building and improving until we created the site you see in front of you today — something we are pretty proud of.
Canada was sorely lacking in coverage of the strong poker community we have all across this country. Never before had anyone attempted to encompass all of Canada's poker happenings into one site; it's a big country! But Canadians love poker, and we happen to be pretty damn good at it too. So we came in to fill a void. Nobody was doing the poker community justice with a site dedicated to covering the news, players, events, and stories that happen north of the 49 and between the Pacific and the Atlantic.
We have seen continual growth since we launched, and 2014 has been especially exciting as our readership has been explosive. We are still improving and extending our reach every month in order to keep you informed as best we can. In the past few months, we attended our first live events to provide the best Canadian coverage that has ever been available in this country. We headed to Montreal for WPT Canadian Spring Championship, to Vancouver for the Hard Rock Casino Vancouver Poker Championships, and then to Calgary for the CPT Spring Showdown — our first live-reported event that was met with fantastic response. We are also excited to be attending our first World Series of Poker in Las Vegas in just a few weeks in order to closely follow the success of Canadians at this highlight-of-the-season event. There are plenty more exciting things in the works that will solidify our position as the authority on Canadian poker.
There are currently four of us on the PokerNews Canada team: three contributors (Lyle Bateman, Matt Perrault, and Anthony Charter), and myself as Manager and Chief Editor. We have all learned that it can be a bit unpredictable which articles take off and become the most popular. Stories we thought would generate plenty of interest can fall flat while seemingly ordinary news updates can become wildly popular. But your clicks have chosen what you want to read, so for better or for worse, here are the top 10 most-read articles from our first year:
We announced earlier this year that Canadian Poker Tour (CPT) partnered with us in order to create great poker events across the country. The combination of Canada's premier poker tour and Canada's top poker media provider first took shape at CPT Spring Showdown in Calgary where we were on site to live report the Main Event and High Roller. The series absolutely smashed all of its guarantees and players raved about the event and about the level of coverage we provided. We're excited to continue to be a part of future CPT events that will set new standards in Canadian poker series.
When Mike McDonald finished 2nd in the PCA Main Event, our public broadcaster, CBC, posted an article on their website about his success. CBC generally has a reputation for being a bit high-brow and would normally never stoop to the low levels of poker for news. This one instance of attention from the mainstream media caused me to write an editorial that questions why our industry usually gets the cold shoulder, while comparable games make headlines.
This editorial flirts with crossing the line into existential musings. Okay, maybe it's not that close to navel gazing, but it approaches poker in a much more big-picture way that explains how the game can have very real implications in leading a better and happier life. As we see more and more players realize that strong mental clarity through things like clean eating, regular exercise, and even meditation and yoga can all create a significant edge at the table, topics like these are redefining what your "average" poker player looks like.
PokerStars Caribbean Adventure (PCA) is the annual, much-anticipated start to the year at Atlantis Paradise Island in the Bahamas every January. This year, it provided plenty of stories for us as Canadians had great success at the series. Mike McDonald started what would become a huge heater to begin the new year, all three Greenwood brothers from Ontario cashed the Main Event, and a Toronto Poker League player freerolled his way from pub-league poker to a $47,000 second-place finish in a side event.
Americans are under the spotlight when it comes to poker, and most people are aware of the many different tours and huge events that are played in the lesser part of North America. But, as hard as we're trying to change it, Canadian poker events don't get the attention they deserve. We decided we needed to explain why Americans should be travelling north to play in our series, and there are some compelling reasons.
The first Canadian World Poker Tour event of the year was at Fallsview Casino in Niagara Falls this year, an event that finally returned to the location after a five-year hiatus. However, the series did not get started without plenty of controversy. It is hard to say whether the blame lies with the casino, the organizers, the staff, or (most likely) the provincial regulators: Ontario Lottery and Gaming Corporation (OLG). One thing is certain, the players were not the priority at this event.
Lyle Bateman is our tech-savvy guy on the team. When a topic comes up about technology, he's the one that can research it and explain it in laymen terms to the rest of us who don't quite understand the jargon. Radio-frequency identification (RFID) is a technology that has been used for a few years now in the poker industry to identify cards and chips on the table so that the game can be broadcast with otherwise-unknown information, like hole cards. Bateman explains how the technology works and the level of security involved to maintain the integrity of the game.
This is one of those articles that gets a lot of attention but we don't really know what makes it so special. Last fall, Full Tilt Poker hosted a series at Playground Poker Club that definitely was special. There was a wide range of great tournaments, plenty of big-name pros in attendance, and lots of giveaways for players. Our recap article outlining the event and its success is one of our most popular. Can you figure out why so we can do it again?
Hockey occupies the highest of pedestals in this country; I don't know of any thing that is more broadly revered in Canada than "the fastest game on Earth." So when I set out to give it a little nudge to make room for poker in the spotlight, it was sure to get some attention. The intention was to align our favourite card game more closely to our favourite sport — to show that they're both just a game played for fun and a hobby shared by many. If this perspective was shared by more Canadians, maybe there would be more mainstream appeal and acceptance of poker.
Our most popular article of our first year is another tech-focused piece. Lots of people are talking about Google Glass and how it could change the way we see and experience the world around us, but very little has been written about how it could impact poker. It is absolutely inevitable that casinos will soon have to deal with how this technology could be used to play poker, but nobody seems to be pro-actively discussing how the industry should respond when the time comes. This may be the article that will be looked back on as the place the discussion began.
A few months ago, Ken Lo began posting a weekly strategy article outlining the rules and some basic tips for playing all of the games available in this year's inaugural Dealer's Choice event at the 2014 World Series of Poker. Lo is a mixed-game specialist with a book scheduled for release later this spring, and his weekly articles have introduced many readers to new poker variants and helped them become more competent, well-rounded poker players.
We have to thank you, our reader, for continuing to read and share all of our content. Keep coming back; we promise to have lots of exciting new things to reveal in our second year. Poker is thriving in Canada, and we're excited to be a part of it!
Get all the latest PokerNews Canada updates on your social media outlets. Follow us on Twitter and like us on Facebook!