The 10 Most Important Poker Books and Why They're Essential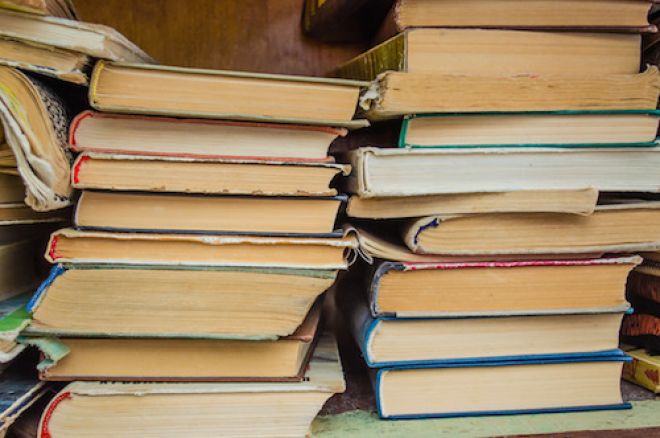 I'm frequently asked which poker books are my favourites.
Surprisingly, I get this question more often from non-players than players. I think that's because there's still a fair amount of curiosity, even intrigue, when it comes to poker — especially among those who don't play regularly and know little about the game or the people in it.
That said, there's a difference between the "best" poker books and those that have had the greatest impact on the game and how it's perceived. Certainly, there's some crossover too, but the most meaningful poker books are those rare few texts that are able to broaden poker's mass appeal and give us a greater understanding of things we didn't know before. A meaningful poker book challenges old assumptions and reshapes our vision. The best authors are those who take risks, discover the new in the old and find their way to unexpected and surprising conclusions.
Indeed, to make my list, a book needs to represent a historical breakthrough. Considering poker's long and rich history, which traces way back to the foundation of the republic, including all the colorful characters who have partaken in its enticement, it's puzzling as to why an abundance of great non-fiction narratives about poker don't exist. By "narrative," I mean a book that chronicles events that actually happened.
After reviewing the many books I've read over the years (and I think I've covered all the major titles), here's my list of the most important non-fiction books ever written about poker. I'll proceed in reverse order, starting with the "Honourable Mention" category, ultimately leading up to my top choice.
Honourable Mention
All In: The (Almost) Entirely True Story of the World Series of Poker by Storms Reback and Jonathan Grotenstein (2002) — This is the first book to chronicle the expansive history of the World Series of Poker, which first spawned from a small clique of gamblers who assembled in Reno during the late 1960s. The two authors, relying on extensive interviews and painstaking research, provide lots of groundbreaking new material about how and why certain traditions began. The book concludes with Chris Moneymaker's championship victory in 2003, which provides the perfect stopping point for what would become an entirely different era.
Check out All In: The (Almost) Entirely True Story of the World Series of Poker in the PokerNews Book Section by clicking here.
Famous Gamblers, Poker History, and Texas Stories by Johnny Hughes (2012) — Texas-based writer Johnny Hughes has given us two excellent narratives. His other book was the 2007 release, Texas Poker Wisdom. As expected, there's plenty of homespun intrigue and humour contained in the pages of both. Fortunately, Hughes was able to travel around the state where so much of poker's history remains burrowed in the roots and was able to dig up many treasured tales. Were it not for Hughes and others like him, all these stories would be lost forever. We all owe him a debt of gratitude.
Check out Famous Gamblers, Poker History, and Texas Stories in the PokerNews Book Section by clicking here.
Poker Face by Ulvis Alberts (1981) — Undoubtedly the best poker photography book ever created, this is actually a two-volume master set of photographs taken during two different periods in poker history. The first edition of Poker Face released in 1981 includes photos (mostly black and white) from an era when the players seemed larger than life. It remains the only comprehensive archive of poker which exists of that period. Twenty-five years later, Latvian-based photographer Alberts (who made his name photographing several rock n' roll icons years earlier) returned to Las Vegas again and shot the modern poker scene, this time in color. That collection became known as Poker Face 2, released in 2006.
Check out Poker Face in the PokerNews Book Section by clicking here.
Ace on the River, by Barry Greenstein (2005) — When just about every big name in the game was releasing a new poker book, Greenstein decided to take a completely different route. He bankrolled the creation of a book that captured not just the essential strategic components of the game, but controversial lifestyle issues, as well. Ace on the River is almost too grand a project for one book or a single writer (even someone of Greenstein's stature). But while it comes up short in some aspects, it soars in others. Brave, bold, original.
Check out Ace on the River in the PokerNews Book Section by clicking here.
The Top 10
10. Cowboys Full: The Story of Poker by James McManus (2010)
James McManus is arguably poker's most knowledgeable historian and perhaps even most gifted writer. Accordingly, he merits a mandatory inclusion on any "best of" rankings. This is one of two books by the Chicago-based author that make my top 10 list. Frankly, it's not his best work. Cowboy's Full doesn't quite grip readers in the same manner as his previous work, which ranks higher on the list. Nevertheless, Cowboy's Full is a book that desperately needed to be written. McManus was able to canonize the game's early history in a manner that brings a voice of authority to a period that's mostly been a scattershot of myths and misunderstandings. Finally, thanks to McManus' work, we now know more about the earliest foundations of the game.
Check out Cowboys Full in the PokerNews Book Section by clicking here.
9. Lost Vegas: The Redneck Riviera, Existentialist Conversations with Strippers, and the World Series of Poker, by Paul McGuire (2010)
This is a quirky, behind-the-scenes look at what happened at the World Series of Poker and the surrounding Las Vegas scene at the height of the poker boom. As expected, the debauchery is wonderful. New York-based author Paul McGuire's (a.k.a. "Dr. Pauly") trashy narrative — that's meant as a compliment — reads as if the late Hunter S. Thompson's was reincarnated and channeled into the contemporary poker scene. It's every bit as mesmerizing as HST's rambling exposes on boring political conventions and lopsided Super Bowls, where the author is actually more interesting than the subject matter he's covering. Indeed, what everyone really wants to know is what went on in the hallways, at the bars, and inside hotel rooms. Naturally, the supporting cast includes dope and strippers. Those who know "Dr. Pauly" realize there's probably stories (best) left out of his narrative. Still, the stuff that made it into the final draft is pretty damn compelling and one of the few looks at poker without all the usual filters.
Check out Lost Vegas in the PokerNews Book Section by clicking here.
8. Shut Up and Deal by Jesse May (1998)
This is advertised as fiction. But everyone who was around the Atlantic City poker scene (including yours truly) when poker was first legalized in New Jersey in 1993 knows exactly who all the bizarre characters are in this riveting and often wickedly funny narrative of what those ballbusting games were like when the poker room was a printing press for those who know how to push the right buttons.
Check out Shut Up and Deal in the PokerNews Book Section by clicking here.
7. According to Doyle by Doyle Brunson (Original Edition 1987 — Reprinted 2008)
Poker legend Doyle Brunson has written and released four books, each worthy of reading. Two are narratives of his life as a poker player and gambler, and two are primarily on strategy (Super/System I and Super/System II). While his long-awaited biography (The Godfather of Poker: The Doyle Brunson Story) is far more detailed and polished, this paperback rough cut of short stories from his early days as a professional gambler is a joy to read. What makes this worthy of a top 10 pick is how it serves as an essential part of history that we'd be without were it not for Brunson's willingness to share. Just as important, Brunson interweaves lessons about what he's learned about poker and life through his unrivaled experiences.
Check out According to Doyle in the PokerNews Book Section by clicking here.
6. The Professor, the Banker, and the Suicide King: Inside the Richest Poker Game of All Time by Michael Craig (2006)
Michael Craig was the first (and only writer, to date) to scale the granite wall separating the small fraternity of elites from the rest of the world, peering into the high-limit section of "nosebleed" stakes poker games when millions of dollars were being won and lost in a single poker session. This narrative chronicles the story of multi-millionaire Dallas-based banker Andy Beal's leap into the lions' den at the Bellagio, where he nearly bankrupted "the corporation." Amazing breakthrough book by a fine writer who spares no detail in uncovering what happened behind the wall.
Check out The Professor, the Banker, and the Suicide King in the PokerNews Book Section by clicking here.
5. Positively Fifth Street by James McManus (2004)
The stars lined up perfectly for a college professor from Chicago who came to Las Vegas to play in the World Series of Poker for the first time, on paid assignment for Harpers magazine. Just about everything had to go just right, from winning his seat into the Main Event to the eventual outcome. No one could have foreseen this roll of a lifetime — not just by finishing fifth in the world championship, but the rich legacy of poker literature this book ignited in the years to come. On top of McManus' incredible tale, we also enjoy the details of the Ted Binion murder trial, interspersed into the narrative. This all makes for a compelling page turner and certainly one of the best poker narratives ever written.
Check out Positively Fifth Street in the PokerNews Book Section by clicking here.
4. The Biggest Game in Town, by Al Alvarez (1982)
Long before everyone else even thought about writing about what high-stakes poker was really like, British writer Al Alvarez was the first to break through the invisible barrier and bring the fascinating cast of characters in poker to life. Here, fortunate readers were introduced for the first time to the big names we mostly take for granted now. We meet Doyle, Puggy Pearson, Amarillo "Slim" Preston, Jack "Treetop" Strauss, Stuey Ungar, and the "Grand Old Man" Johnny Moss in a masterful prose style that elevates them into icons to be remembered (and to some extent) revered forever.
Check out The Biggest Game in Town in the PokerNews Book Section by clicking here.
3. Ghosts at the Table, by Des Wilson (2009)
If writing were gambling, this would be number one, especially for its wonderful attention to detail and narrative courage, which sets a number of myths about poker straight for the first time. English writer (and former social activist) Des Wilson spent several months traveling across America and elsewhere during 2005 and 2006, hoping to discover what became of the many legends we've accepted purely on faith and rarely question. Surprise! Come to find out, there's a lot more to the stories than what we've been told. Some of these tales believed for decades are actually exposed as falsehoods. Not only was immense research required to write this book, the author also needed to be utterly confident in his findings in order to challenge conventional wisdom. Then, there's the bonus payoff which finally solves one of poker's most intriguing mysteries — the disappearance of 1979 world poker champion Hal Fowler.
Check out Ghosts at the Table in the PokerNews Book Section by clicking here.
2. Poker Faces, by David Hayano (1983)
Long forgotten and, sadly, out-of-print, this book released more than 30 years ago began as a doctoral thesis and became something far greater. During the early 1980s, writer and graduate student David M. Hayano spent more than a year mulling in and around the low-rent district of Gardena (California), even playing in the self-dealt draw poker games. He was eager to learn about the kinds of people who spent countless hours doing little more than playing cards and wanted to know more what motivated them to spend much of their lives doing this. A book that could have simply remained an academic exercise became a well-focused (some might say shocking) snapshot of the poker subculture at that time. What's really special is that this is the anti-Alvarez book (released at about the same time). There are no poker legends or gold bracelets in the pages of this book. It's about the broken dreams of nickel and dimers. The game is probably way too diverse to write something like Hayano did, nowadays. Thankfully, he did complete the project, published a book, and ended up giving us the first real portrait of what we know today as a modern cardroom, which is accompanied by some remarkably interesting details about the lives of the people Hayano met. A forgotten and underappreciated classic.
Check out Poker Faces in the PokerNews Book Section by clicking here.
1. Big Deal: One Year as a Professional Poker Player, by Anthony Holden (1992)
This is my top pick among a towering pyramid of other excellent poker books for a number of reasons. First, it was groundbreaking for its time. Highly-respected British author Anthony Holden, who was best-known as the royals' biographer, arrived quite unexpectedly on the poker scene having already published a number of best-selling books, mostly on famous people and history. To have someone of Holden's immense talent, not just coming to Las Vegas to cover an event, but willing to drop everything and play poker professionally while traveling around the world for an entire year was a stunning project that easily could have backfired. Instead, Holden's amazing experiences on the road with the poker players we've all come to know produced the best account of poker and its players ever written. As for its timing, this was an in-between period for the game (one could even say a recession), when poker was still in its formative stages, 10 years before the boom. This makes Holden's revelations as fresh and relevant today as the time it was published. Add in Holden's natural mastery for creating mood and scene and this book stands at the top of a very strong mountain of poker literature. A timeless classic.
Check out Big Deal in the PokerNews Book Section by clicking here.
Note 1: One of a Kind: The Rise and Fall of Stuey "the Kid" Ungar (released in 2005) may deserve a mention, too. Let's add it to the "Honourable Mention" category.
Note 2: Also worthy of mention — The Education of a Poker Player, by Herbert O. Yardley (1957) and Check-Raising the Devil, by Mike Matusow, Amy Calistri, and Tim Lavalli (2009).
This article was originally published on NolanDalla.com.
About the Author: Nolan Dalla has been involved in poker as a full-time and part-time player, writer/reporter, author, consultant, and casino executive for more than 20 years. He's best known as the longtime Media Director of the World Series of Poker. Dalla is also actively involved in a new television show coming soon called "Poker Night in America." He writes a popular daily blog on a variety of current events. It can be read at his website: www.NolanDalla.com.