Tony G On TonyBet Poker Opener Series: "Interest Has Exceeded My Highest Expectations"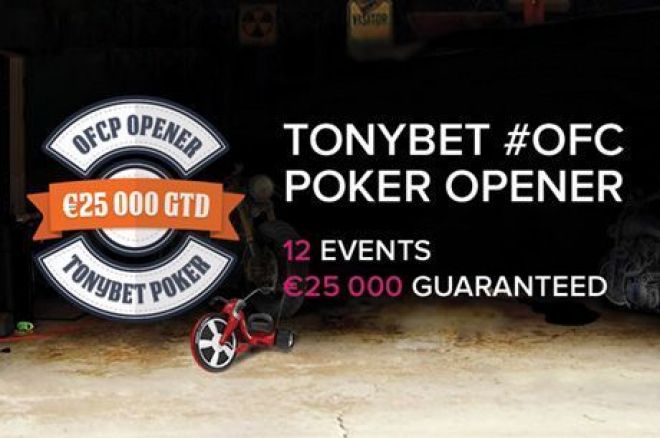 As players keep flocking to TonyBet Poker to participate in the first-ever Open-face Chinese (OFC) poker series launched on April 29, we reached the room's founder, Lithuanian pro and businessman Tony G, to discover what he thinks about the action seen at the tables thus far.
"The series is just amazing. We had just three tournaments so far, but the interest from the players has exceeded even my highest expectations," Tony G told PokerNews. "The first event gathered 179 players, which I believe is the biggest number in any online OFC tournament ever. The second event was also a huge success — topping the guaranteed pool twice!"
"I would like to thank all players, who sent us feedback and suggestions on how to make the tournaments even better. We have actually improved the tournament structure by adding more levels in the later stages," he went on, anticipating some of the changes that players will be able to discover in the €1,500 guaranteed "€50 Fancy Scooter" and the €1,000 guaranteed "€30 Turbo Quad" running tonight respectively from 22:00 and 23:00 UTC+3.
"The thing I'm really excited about is that we are getting a lot of attention not only from the players, but from the media as well, which is very good for the game," continued Tony G. "This is our primary goal — to get Open-face Chinese out in the open and let every poker player know how fun the game is. I, with all my big heart, believe that OFC is the future of poker and I'm thrilled that Tonybet Poker is taking part in making this happen."
So far, the series already offered TonyBet Poker players four different tournaments, with eight more events to go including the conclusive monster MAYjor Event with a €25 buy-in and a €5,000 guarantee to which PokerNews players can qualify for free as described here.
"This is just the start. The series has only begun and we still have a lot of action coming up," said Tony G. "The biggest tournaments are yet to be played and I'm expecting loads of action. Especially in the €25 MAYjor event which has €5K guaranteed, I mean that's just crazy cheap!"
Among the most interesting events to come, there is also the €100 Main Event running on May 4 with a €4,000 guarantee. Here's a look at the full schedule of the events running through to May 8, 2014.
| Name | Date | Buy-in | Type | Game | Guaranteed |
| --- | --- | --- | --- | --- | --- |
| Fancy Scooter | 2014-05-02 22:00 | €50 | Freezout | Pineapple | €1,500 |
| Turbo Quad | 2014-05-02 23:00 | € 30 | Freezout | Turbo | €1,000 |
| Dirty Enduro | 2014-05-03 21:00 | €50 | Freezout | Pineapple | €2,000 |
| Hardcore Chopper | 2014-05-03 23:00 | €75 | Freezout | Pineapple | €2,000 |
| Бritva | 2014-05-04 21:00 | €50 | Turbo | Pineapple | €2,000 |
| Main Event | 2014-05-04 23:00 | €100 | Freezout | Pineapple | €4,000 |
| High Roller Special | 2014-05-05 00:00 | €300 | Freezout | Pineapple | €3,000 |
| MAYjor Event | 2014-05-08 22:00 | €25 | Freezout | Pineapple | €5,000 |
*All tournament starting times are UTC+3
If you would like to join any of the events part of the OFC Opener series on TonyBet Poker, but you don't want to risk the buy-in, make sure you read this article to discover how to qualify online by taking part in one of the many sit-and-go's running daily in the room or simply by getting a free ticket to the MAYjor Event with a €25 deposit.
To keep updated on the latest news on TonyBet Poker, we recommend you follow them on Twitter, and on Facebook.
Get all the latest PokerNews Canada updates on your social media outlets. Follow us on Twitter and like us on Facebook!