Vancouver Ladies Poker League Brings Women to the Table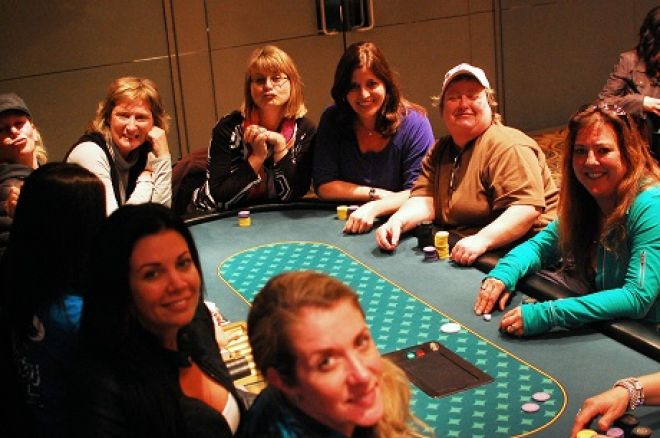 There was no difficulty finding the Vancouver Ladies Poker League in one corner of the poker room at Edgewater Casino in Vancouver, BC. Howls of laughter came from the three poker tables along the far wall, a stark contrast to the mostly male-dominated tables in the rest of the room where players sat virtually silent and stern.
"Come hang out with us on Tuesday night," Jenn Assu had told me. "We'll all be at Edgewater."
I knew that there were quite a few talented female poker players in Vancouver, and was vaguely aware that there was a women's league that brought them all together. But it wasn't until Team Ivey Pro and Vancouverite Gillian Epp put me in contact with Jenn Assu and April Facey that I got to know the dozens of women who make up the Vancouver Ladies Poker League (VLPL).
There have been several articles circulating in the past few months about women in poker. I don't think there is hardly anyone who would disagree that it'd be great to see more women playing poker.
Vanessa Selbst, arguably the best tournament poker player in the world, will be the first woman to put up a million dollar buy-in when she enters the Big One for One Drop tournament in Las Vegas this summer. Victoria Coren Mitchell recently made history when she became the first person to ever win a European Poker Tour (EPT) event twice. She was also the first woman to ever win an EPT back in 2006.
There is no doubt that there are some great female poker players who have found tremendous success in the game. However, they are still greatly outnumbered. Walk into a tournament hall at any major event and you would be doing well if women made up 10% of the field.
So, an invitation to spend an evening with a group of women playing poker was one I couldn't pass up, despite being, very self-consciously, the only male in the group. This is the grassroots level — where ladies in Vancouver can play and learn poker, have a lot of fun, make some friends, and go on to play in larger arenas.
The league was formed in response to the popular Women's Poker Classic (WPC) being cancelled for 2014. The annual women's series in support of Canadian Breast Cancer Foundation was a must-play event for Vancouver women and a good reason for a yearly poker vacation for women from out of town. But Cascades Casino, the hosting venue, decided not to run it this year.
Jenn Assu and April Facey worked together to form the league that is now VLPL. Friendships had been made over the years and, with the loss of WPC, the players didn't want to lose the chance to get together and play.
With seven different poker rooms in the Vancouver area, women were playing in different locations at different times all across the city. There was also a decline in the number of women playing poker without an event to foster their involvement. So, Assu and Facey extended an invitation and brought all the local ladies into Edgewater one night a week to compete in the VLPL.
The emphasis is definitely on fun. They keep the staff busy bringing them drinks and liven up the poker room with plenty of laughter and shouting. Assu explained that it is important to have a place for women to play together where they are more comfortable and not so intimidated — a welcoming environment.
But don't let the smiles and jokes and bursts of laughter mislead you into thinking this isn't about poker; the competition is fierce. Shouts of "how can you call that?" and "you're such a luckbox!" are heard often. These ladies take the game seriously and are real contenders in events outside of the league.
Besides the success the two founders, Facey and Assu, have had in poker tournaments, league members include the likes of Joanne Lewis who cashed three times at last year's WSOP, and Khatoon Parpia, or "Mrs. P" as she's best known, who has won a side event in each of the last two poker series that have run in Vancouver this year. There is some talent in this group.
The league meets once a week and plays a $60 tournament hosted at Edgewater Casino. It's a bit of a turbo with 15-minute blinds and 6,000 starting chips. Out of the $60 buy-in, $10 goes to the casino, $25 goes to the league, and the remainder goes into the prize pool for the night.
The money paid to the league has been stacking up and will serve as prizes for a season-ending tournament. At least one lucky member will win a package to WSOP to play the Main Event. To keep the league interested and to create a bit of a sweat, the remainder of the members hold a 10% stake in their Main Event entrant.
There are over 40 ladies in the league and about 30 of them make it out on any given Tuesday. This is what poker is about: some friendly competition, improving your game together, and lots of laughs. I hope some of these women go on to achieve great things in poker. But mostly, I hope they all just continue to have a ton of fun playing the game. Maybe the rest of us could take some pointers.
Get all the latest PokerNews Canada updates on your social media outlets. Follow us on Twitter and like us on Facebook!