WSOP Champ Pascal Lefrancois: The Ingredients That Create a Successful Poker Player
Philippe Baret
Giovanni Angioni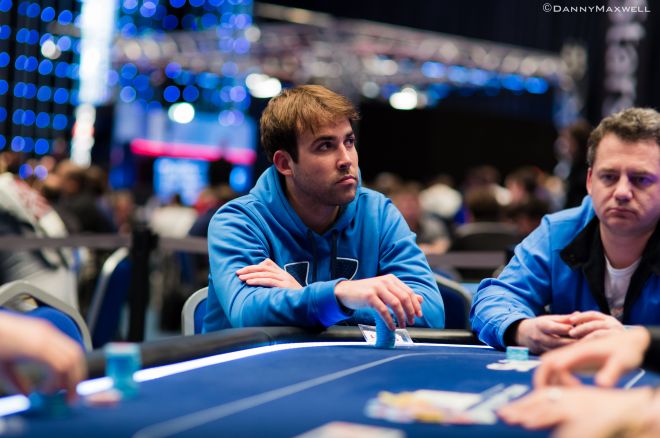 After a remarkable run at the 2010 World Series of Poker, Canada's Pascal Lefrancois found himself with a gold bracelet on his wrist and winnings of more than $1,000,000.
Since then, Lefrancois has managed to put together several more impressive results, such as a second-place finish at the WPT Kahnawake Main Event in 2012, a seventh-place finish at the PokerStars Caribbean Adventure in 2014, and a ninth-place result at the EPT Grand Final €25,000 High Roller 8-Max event.
Overall, the 26-year-old Canadian has accrued live tournament winnings of $2,307,009, according to the HendonMob.
A regular on the international live poker circuit, the Montréal-based poker pro is also often busy playing high stakes games online. PokerNews' Philippe Baret reached out to Lefrancois to discover more about his evolution as a poker player and the skills he believes a successful pro can't do without.
Your second cash listed on the HendonMob is a WSOP bracelet. How can that be?
Back then I used to play almost exclusively tournaments, and I have to say that from 2006 onwards, things went well for me. Before I won my first WSOP bracelet, I had played only four or five big live events. At that time I played mostly online; I did not have much experience playing live.
What levels were you playing online?
I used to play tournaments with a buy in a range moving anywhere from $50 to $5,000. At the time fields were bigger and we had more fish at the tables.
How did you start with online poker?
I started playing for fun with my hockey teammates; one of them used to play online and I remember he was also making some money. It was him the one who introduced me to the game and explained the basics to me.
How long did it take for you to turn your online poker experience in a success? How did that happen?
My evolution as a player has been slow, especially because during my first year I played at extremely low stakes and I didn't dedicate much time to the game. Yet, by summer 2006, I had already started to put together some money from poker and I decided to spend more and more time on the game. That's when I decided that poker was going to be my job.
After that, everything went faster. Within a few months I was already playing the biggest tournaments on PokerStars and Full Tilt Poker.
How's the poker scene in Montréal?
The poker offering in Montréal is very good. Both the Casino de Montréal and the Playground Poker Club offer a good number of tables with very different limits. Yet, I have to say that I have almost never played in any of these places. Most of my development as a player happened online.
What about the poker community there? Are many of your friends into the game like you?
I have many friends from the poker world with whom I often discuss poker strategy. I think that sharing opinions and views with other players is extremely important to make progress.
If you want some names, I could say Marc-André Ladouceur, Philippe D'Auteuil, Marc-Étienne Mclaughlin, Jason "the highroller specialist" Lavallée, Francois Billard, and Martin Jacobson.
On your blog on PokerStars, you said – I quote: "I have a specific plan based on what happens at the table." Does it refer to a general attitude or do you really have specific plans to use in specific situations?
About my plan, I would say that it is usually a pretty detailed one. In a live tournament, I always adapt my game according to the action. Nothing is ever left to chance.
Which one do you think is the most important lesson you have learned since you stared with poker?
I think the most important one that I can relate to my work is the importance of having the right people around.
This world moves a lot of money around, and there can be people with bad intentions. We can't trust a lot of people, and that's why we need to be selective about the people we keep around ourselves.
How different is today's version of you compared to the player you were in 2006?
Besides the passion I have for poker, I would say that there is very little in common between the player I was in 2006 and the one I am now. The game evolved so much that it became much harder to make a living out of playing poker.
Back then the competition was so weak that it felt almost like a joke, and putting some small efforts in the game you could earn really a lot of money. Today the competition is much higher, and those who don't put a lot of effort in the game risk not surviving it.
I know you had some courses at the Montréal Business School (HEC). How did that go?
I still have one course to complete before my graduation. I don't have much motivation for studies anymore, but one of my qualities (which has also helped me a lot in poker) is that I am persistent. That's why I am confident I will be done with that pretty soon.
Would you advise a poker player to study business?
I don't think my studies had any positive influence in my poker results. In my situation, the hours I have spent on finance would have paid much more if used to either play or improve different aspects of my game.
That said, I don't want to say that I don't advise recreational or world-class players to study during their poker career. Even if poker is a very important part of my life, I think one has to have a balanced live that does not move exclusively around poker.
I have learned a lot of non-poker-related things that will probably be very useful in my life and I believe that going to the HEC in Montréal has been very good for my knowledge and my culture.
What if you had the chance to create a poker university? Which subjects would you include?
I would never create a poker university. First, knowledge is already moving too quickly – and this would make the potential gains very marginal ones. Then, and I believe this is the most important reason, because I think that the life of a player is something that suits only a very small amount of people.
Over the years, I have seen a lot of people trying to earn their living from the game. Some of them were even very intelligent ones, but very few of them managed to turn this into a positive experience.
This 'career' seems very accessible to many. I don't even remember how many times I have heard someone saying "if he can win so much money, why can't I do that." But it's not like that. Being successful in poker needs a cocktail of very different competences. To be good at learning is not enough.
Which is the ingredient of this cocktail you still have to get better at?
Math. It's crucial in poker and to be a top player you have to be very good at it. I made good progresses, but I still have a lot to learn. It is impressive to see how one can go far working on math.
Most of the poker players, including myself, are lazy by nature. But in 2014 one really need to do a lot of work, even when not at the table.
Get all the latest PokerNews Canada updates on your social media outlets. Follow us on Twitter and like us on Facebook!