Calen "BigWheel" McNeil Looking to Defend Title in WSOP $1,500 Omaha Hi/Lo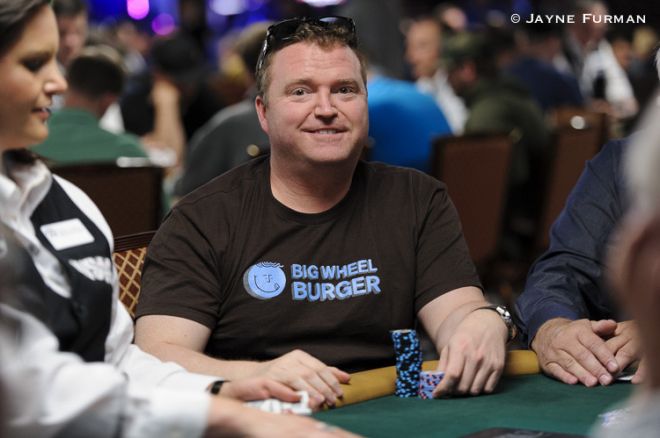 One year ago, Calen "BigWheel" McNeil proudly hoisted the World Series of Poker gold bracelet, grinning widely with friends all around, as he was crowned champion of the $1,500 Omaha Hi/Lo event. He took a not-to-be-scoffed-at $277,274 back to Victoria, BC with him as well.
This Friday, the final day of the 2014 WSOP $1,500 Limit Omaha Hi/Lo reconvenes, and McNeil is back at it again. With just 26 players remaining of the original 1,036 who entered the event on Wednesday, McNeil is sitting in about the middle of the pack with 164,000 chips, and looking to defend his title in this event.
It is extremely rare to win the same event in consecutive years. Thang Luu won the $1,500 Omaha Hi/Lo in 2008 and then repeated his success in the same event in 2009. Susie Isaacs won the $1,000 Women's 7-Card Stud event in both 1996 and 1997. Bill Boyd won the $10,000 Limit 5-Card Stud event in 1972 and 1973. Gary Berland won the $500 7-Card Stud in 1978 and 1979. Phil Hellmuth won the $5,000 Limit Hold'em event in 1992 and 1993. And then there have been the few that won the Main Event back to back, including Stu Ungar in 1980 and 1981, Johhny Moss in 1970 and 1971, Johnny Chan in 1987 and 1988, and Doyle Brunson in 1976 and 1977. In other words, if McNeil can finish on top on Day 3 in this year's $1,500 Omaha Hi/Lo, he'd be joining some elite company.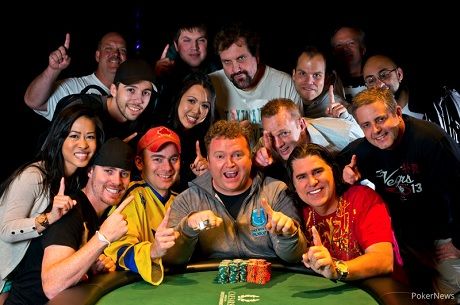 McNeil almost didn't make it through Day 2 when he was all in and needing to catch up late in the day on Thursday. He had raised the button and got calls from Frankie O'Dell in the small blind and the big blind. O'Dell led out on the



flop, and the big blind folded. McNeil considered for a minute before raising, and he and O'Dell got it all in for McNeil's short stack.
McNeil:





O'Dell:




"I'm drawing dead!" the defending champ exclaimed.
Not quite, as the dealer burned and turned the

.
"Case ace," the big blind said, pointing at the card. But the

river gave McNeil a bigger boat.
This bumped McNeil up to 125,000 chips, and he added a few more to his stack before the day ended.
This year, there is $283,275 up top, and McNeil has to get through 25 other players to claim it. Players will return to play the final day at 1 p.m.
The always-smiling McNeil calls Vancouver Island his home, where he manages to keep poker a part-time interest while he owns a few restaurants. He is the man behind the legendary Big Wheel Burger (hence his nickname of BigWheel McNeil). They pride themselves on making high-quality, "real" fast food in Victoria, BC. Make sure you stop in and grab a burger and a shake if you're in the neighbourhood.
You can follow all of the action on our live blog, as always. Stay up to date on McNeil's progress on Day 3 here. We'll also be tweeting all of our updates throughout the day.
Get all the latest PokerNews Canada updates on your social media outlets. Follow us on Twitter and like us on Facebook!