Davidi Kitai Wins 3rd WSOP Bracelet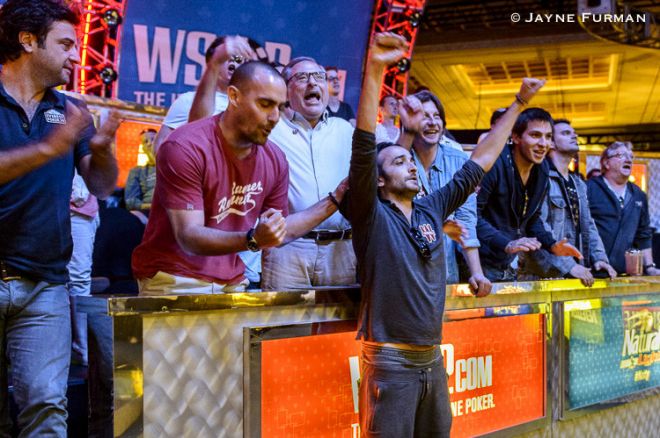 They needed an extra day at the Rio to finish World Series of Poker Event #15: No-Limit Hold'em Six-Handed, as the final table at the end of Day 3 dragged on past the hard stop at the end of the night. 15 players returned at the start of Day 3, including Davidi Kitai, Vladimir Geshkenbein, and Phil Hellmuth looking for his 14th bracelet.
Hellmuth was in fine verbal form throughout Day 3, getting into verbal jousting matches with both Vladimir Geshkenbein, and Davidi Kitai. In one exchange, several hands after Geshkenbein slow-rolled Hellmuth with


, Phil seemed unaware of who Geshkenbein was. "I tell you what, I'll gamble with you, Russian. I'll call in the dark," Hellmuth said, showing


to the Russian's


. When the board showed





Hellmuth jumped from the table. "How the f**k does the six play?" he asked incredulously, before finally conceding, "nice hand, Russian."
About 20 minutes later, Hellmuth again seemed not to recognize his opponents. "Crazy Frenchman is going to cost me my 14th bracelet," he said after getting three-bet by Davidi Kitai and folding (Kitai is Belgian). Another player at the table then knowingly asked Kitai, a triple crown winner, if he'd won a tournament before, and Hellmuth shot back "of course he's never won a tournament before."
Hellmuth would indeed outlast Geshkenbein, who ended up finishing in 10th place for $33,213, but was unable to outlast Kitai as Hellmuth busted in 8th place for $45,022 when he got his small stack in with


against Gordon Vayo's


. In perhaps his best comment of the night, when the board ran out





, Hellmuth said "eight flips in a row I've lost" as he left the tournament.
It would take six hours of play to get the final table for the event, with Davidi Kitai reaching the final table with the chip lead. Joining him there, in order of chips, were Gordon Vayo, Tony Ruberto, John Andress, Zachary Korik, and Mark Darner. There would be more than an hour of six-handed play before the first bustout. When it was folded around to Zachary Korik in the small blind, he shoved his small stack, only for Gordon Vayo in the big blind to call with


. When Korik flipped over his cards to show


it was clear he'd need help to survive. With the flop of



Korik flopped a gutshot, but was unable to improve on the turn or river. Vayo won the hand with king high, eliminating Korik in 6th for $62,690.
Next to the exits was John Andress, who got his small stack in ahead with


to Gordon Vayo's


, but when all the cards were dealt, Vayo had two pairs while Andress was left with $89,734 for 5th place. Mark Darner busted next in 4th place, losing a race against Tony Ruberto and collecting $132,169 for his trouble. Ruberto would be the next player out when he got it in with


against Kitai's


. The board was no help for Ruberto and he collected $200,476 for his 3rd place finish.
Heads-up play began with Kitai in the massive chip lead — 5,840,000 to Vayo's 1,450,000 — a position he'd held for most of the final table. Vayo slowly chipped up over the next two hours, finally taking a slight chip lead as the tournament was halted at 2:15 a.m. When players came back the next day to finish it off, chips were nearly even with Vayo at 3,750,000 and Kitai at 3,545,000, but Kitai worked his way back into the lead again, with more than twice as many chips as Vayo an hour into the final day.
Kitai would never look back. While Vayo was able to chip up somewhat, he was never able to catch Kitai. In the final hand, Kitai moved all in, and Vayo called with a dominated ace. When the board ran out





Kitai's


was well ahead of Vayo's


. Vayo finished in 2nd for $314,535, while Davidi Kitai claimed his 3rd WSOP bracelet along with the $508,640 1st prize, and also became the first non-American player to win a bracelet this year.
Get all the latest PokerNews Canada updates on your social media outlets. Follow us on Twitter and like us on Facebook!