Dealer's Choice at the WSOP; Dan Idema Makes Final Table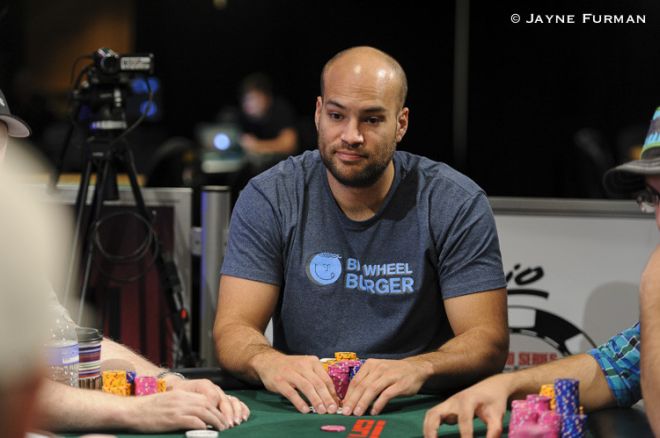 It has been a slow summer for Canadian poker players at the Rio in 2014. By the time World Series of Poker Event #41 finished in 2013, Canadians had already bagged a staggering nine bracelets, with a 10th waiting for us just a few events away in the Ladies Event. And yet, as players sat down for the final table of the $1,500 Dealer's Choice Six-Handed event, Canadians in 2014 have come up empty in the bracelet hunt.
It hasn't been for lack of trying. Calen "Big Wheel" McNeil nearly repeated his 2013 bracelet win with a fourth place in the same event this year, the $1,500 Omaha Eight or Better, and Canada finished second and third in Event #29: $2,500 No-Limit Hold'em, with Matt Salsberg coming third, and Justin Oliver finishing second. So far in 2014, however, no Canadian has been left holding the bracelet at the end of night.
On Saturday, Vancouverite Dan Idema was looking to keep the momentum from his CPT High Roller win this past April in Calgary, going for the third bracelet of his career in the unique Dealer's Choice event. A first at WSOP, the dealer's choice format harkens back to the old days of the home game and the travelling gambler, when whoever held the deck of cards chose the game to play.
With a staggering 16 different games to choose from, ranging from traditional no-limit hold'em through stud hi-lo and badugi, there's a game in the dealer's choice mix to suit everyone's play. For the first time at the WSOP, where in the past all mixed games followed a predictable pattern of games (ie, H.O.R.S.E and 8-game), this format of player-chosen games should prove to be exciting for players.
And, potentially, a nightmare for dealer's.PokerNews reporter Jonathan Zaun interviewed a number of high-profile players during the first break in play, and the reviews for the dealers and for the general play were uniformly good.
Allen "Chainsaw" Kessler, the most critical of players, praised the dealers. "Yeah, I mean, I thought it was going to be this crazy thing, and the dealers are actually pretty good. We've had a few mistakes by one dealer, but that's understandable."
David "Bakes" Baker was matter-of-fact about dealer performance. "The dealers are fine, we've had good dealers so far, very good actually. A lot better than some other ones I've had, so they seem to know what they're about."
Fellow pro Brian Rast generally agreed with that sentiment at the start of the day, but suggested fatigue may have played a part in a degradation of the level of dealing as the day went on.
"At the beginning of the day, almost all the dealers were crushing it and doing a good job, but I think in the last two levels or something there was a dealer who really was struggling — with like badacey, those kinds of games. So it's a little bit hit or miss, but I'd say most of them do a good job, but there's always a couple where it's pretty clear they're that they don't know all the games." - Brian Rast
In general, most players seemed to have truly loved the format. Most pros interviewed had nothing but praise for the format, hoping it returns again next year. Justin Young seemed to sum up the sentiment best. "It's been pretty flawless up until now, I'm very impressed, and I really hope this event comes back next year."
419 people sat down to Day 1 of the tournament, building a prize pool of well over half a million dollars that would be split between 42 cashing spots. Several Canadians battled their way through the field to secure cash in the event, including Gavin Smith who finished 25th for $3,880 and Shawn "Buck21" Buchanan in 19th for $4,728. Also cashing was PokerNews Canada contributor Ken Lo, who was the recent author of our exhaustive preview of the games which made up this event. Lo proved his mixed-game chops by scoring 24th in this event for $4,728. Check out the first article in his great series here.
Ten players came back for the final day, including some familiar faces and names. Canadian Dan Idema started Day 3 in fine form, sitting third in chips behind Aaron Schaff and the incomparable Robert Mizrachi, sitting in a customary position for a Mizrachi: atop the chip pile. Bill Chen also made Day 3, and the lineup was rounded out by Jen Harman and Melissa Burr, who were ninth and 10th in chips respectively.
The tournament was six-handed, so four people had to bust before they found their official final table. It was no surprise that the two shortest stacks starting Day 3 were the first two players to go. Jen Harman exited first, winning $9,944 for 10th spot, followed just a few minutes later by Melissa Burr in ninth for the same money. Both ladies were eliminated in stud hi-lo hands.
Play continued for nearly an hour with Bill Chen getting a big double and Frank Kassela quartering Shane Abbott in Omaha-8 before eighth-place finisher Arthur Morris busted for $13,411 in an Omaha hi-lo hand that played more like straight Omaha. When the stacks of Morris and Aaron Schaff went in the middle on the flop of



, both players showed big high draws, with no low draws. Schaff was ahead with top pair, plus "a massive wrap with a flush draw" against Morris' lower pair and nut flush draw. A gutshot draw rounded out Morris' outs, but the turn and river of


bricked for Morris while giving Schaff a second pair.
The unofficial final table was a short-lived affair, as short stack Marco Johnson exited the tournament about 20 minutes after it convened. In a 2-7 triple draw hand, Johnson couldn't draw out against Robert "R-Miz" Mizrachi, who drew one card on the first round, then patted out the final two drawing rounds.
The official final table was led by Aaron Schaff with almost twice as many chips as his closest rival, Mizrachi with 351,000. Idema sat down fourth in chips with 214,000, and players battled for over an hour before the first elimination. Frank Kassela was the first to bust, going out during a pot-limit Omaha round against Schaff in a hand that went four-way to the flop after Dan Idema potted preflop from the big blind and got three callers. Idema was forced to give up his hand, however, when Kassela, in the small blind, acted first by shoving the rest of his 240,000. Schaff, who had opened the pot preflop, reraised all-in, forcing Mizrachi to muck his hand as well. The turn card gave Kassela some outs with a flush draw, but ultimately he bricked out in sixth place for $18,575.
It was The Aaron Schaff Show five-handed, as Schaff controlled more than half the chips in play. The other players, whose stacks ranged from 190,000 to 250,000 (compared to Schaff's 1,050,000), battled for over an hour until a hand just before break left Idema crippled. Despite picking the game, badacey was not good to Idema, as Chen scooped him with a 76 and a six-high badugi, leaving Idema with just 35,000 chips going into the break.
The double through Idema didn't help Chen much however, as both he and Idema busted immediately after the break. With Aaron Schaff making his usual game choice of pot-limit Omaha, he busted both Chen and Idema in the same hand. Schaff added to his massive chip lead when Idema shoved the remainder of his miniscule stack on a



flop, only to see Schaff pot behind him, and Chen to go all in behind Schaff. Chen was ahead, having flopped top two pairs, to Idema's straight draw, and Schaff's lower two pairs. The turn

hit Schaff hard, giving him the bigger two pairs. The river was a brick for everyone, despite giving Chen three pairs, sending Idema out in fifth for $26,444 and Chen in fourth for $38,735.
With 1,250,000 chips, Schaff looked to be unstoppable, though Robert Mizrachi clawed some back with the elimination of Shane Abbott in third place. Playing Abbott's choice of no-limit hold'em, Mizrachi raised on the button to 21,000 and Abbott shoved 165,000 in the small blind. Schaff got out of the way but R-Miz quickly called, tabling


. Abbott was drawing pretty thin holding


, looking for kings, fives, or exactly three diamonds. The board of





left Mizrachi holding quad aces while Abbott collected $58,414 from the cage.
If there is a list of phrases that every poker player should learn, perhaps "never count out a Mizrachi" is one of the most important if you ever find yourself up against one as Aaron Schaff did. Schaff went into heads-up play with nearly a two-to-one chip advantage, but it took Mizrachi less than 20 minutes to chip away at that lead, with Mizrachi taking the chip lead in a pot-limit Omaha hand. When Schaff selected the game, an entertaining exchange ensued.
"You know, I won a bracelet in PLO," Robert Mizrachi said.

"Yeah," Schaff responded. "I wasn't playing that event."

"You were probably still in high school."
Mizrachi hammered away at Schaff for the next hour, relentlessly building his stack. While Schaff managed to claw his way back to almost even once during the heads-up battle, Mizrachi's experience clearly held the day as he grabbed the chip lead early in heads-up play, and never relinquished it. Aaron Schaff finished in second place for $90,854, while Robert Mizrachi collected his second career bracelet for the win, as well as $147,092.
Get all the latest PokerNews Canada updates on your social media outlets. Follow us on Twitter and like us on Facebook!