Paul Volpe Defeats Daniel Negreanu for First WSOP Bracelet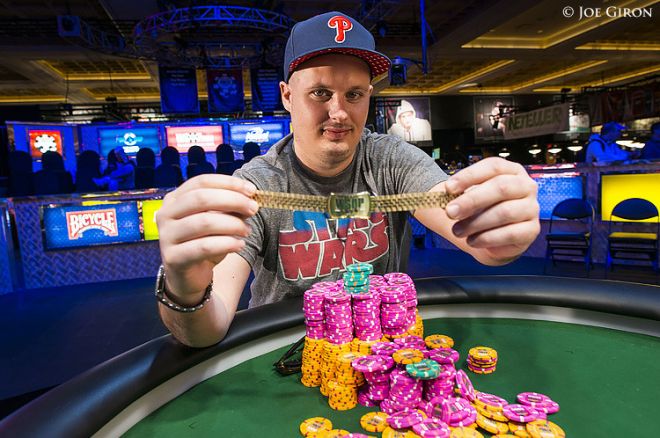 Chips are power at the poker table, but it is by no means a given that the chip leader at the start of a final table will be the person holding all the chips at the end. While having a big stack increases your chances to win by giving you more flexibility in how you play, anything can happen in this game, and just having a big stack is no guarantee of a win. In yesterday's World Series of Poker $10,000 No-limit Deuce-to-7 Single Draw final table however, the big stack was enough to secure a win for Paul Volpe.
With a stack of 783,000 chips, Volpe entered the final table with almost twice as many chips as his next closest rival, Jason Mercier at 469,000. Rounding out the rest of the final table were Daniel Negreanu with 426,000, Brian Rast with 390,000, Larry Wright (203,000), John Monnette (169,000), and Abe Mosseri at 152,000 in chips. With a collective 15 bracelets and 202 WSOP cashes on the final table, all seven of the final-table players had been in this spot before.
Players had to navigate through a field that read like a who's-who of the poker world. Not managing to cash were such names as John Juanda, Phil Hellmuth, David "Bakes" Baker, and Jen Harman, among other notables, while players who cashed but didn't quite manage to make the final table included Canadians Greg Mueller and Mike Watson.
The final table went pretty quickly, with Abe Mosseri's short stack being the first to go on only the 11th hand of the day. Mosseri won $27,633 when his pat


couldn't hold up against Larry Wright's pat


. It was another battle of the pats when John Monnette busted in 6th place for $35,549 after his pat


couldn't beat Mercier's pat


. The pot shored up the chip lead Mercier acquired in the previous hand.
Larry Wright was the next to go, as he got into a pot with Paul Volpe. Volpe min-raised to 32,000 before Wright over-shoved on him for 245,000. Volpe called, and both players threw away a single card. When Volpe caught a

low hand, Wright was still alive, but only managed to draw a

high, and finished in 5th place for $47,792.
With Mercier still chipleading with a delicately stacked tower in front of him, Brian Rast moved all in with his short stack of 114,000, or just over 7 big blinds. Daniel Negreanu called from the big blind and drew one card, while Rast stood pat. Unfortunately for Rast, his pat

was too high, and Negreanu was able to draw into a

high and scoop the pot. Rast finished in 4th for $67,264.
Three handed play between Negreanu, Volpe, and Mercier continued for almost as long as it took to get to three-handed play. The lead shifted between all three players as nearly 70 hands went by before Mercier was finally eliminated in 3rd place. In a pot raised by Paul Volpe, Jason Mercier shoved over the top and Volpe called. Both players drew one card to an


with Volpe having the slight better of it predraw completing with a


to Volpe's


. However, when the two players squeezed their draws, both players flipped up a

, which paired for Mercier, but gave Volpe an





low hand for the win. Mercier collected $99,313 from the cage on his way out.
Heads-up play between Negreanu and Volpe was as long as three-handed play, as it took another 80-odd hands to finally award the bracelet. With Negreanu nursing a short stack as hand number 200 rolled by, Volpe moved all in for an effective shove of 245,000. Daniel called after a moment's thought, announcing "I have four good ones." Both players made a draw of one card and flipped up their four hold cards. Both players were

high, but Negreanu showed the better hand with



to Volpe's



. Deuce-to-7 is an unforgiving game, however, and while Volpe drew a

to make his


hand, Negreanu could only helplessly toss his

into the middle. "It's paint," he announced as Volpe raked in the final pot. Negreanu was left with the 2nd-place prize money of $156,674 while Volpe collected top money of $253,524 plus the gold bracelet.
Get all the latest PokerNews Canada updates on your social media outlets. Follow us on Twitter and like us on Facebook!