Jonathan Dimmig is WSOP's Newest Millionaire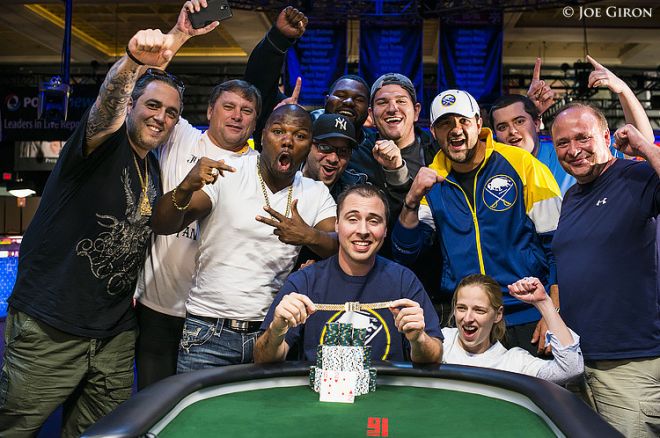 After a massive 7977 runners hit the floor of the Rio for the 2014 World Series of Poker Millionaire Maker, WSOP tournament staff had to scramble to add an extra day to the schedule. Originally scheduled as a three-day event, the massive turnout forced the Rio to move the final table to a fourth day. While the nearly 8,000 runners didn't quite rival the biggest Main Event fields in WSOP history, it certainly stands as one of the biggest "regular" WSOP events in history.
When the dust cleared, the final nine from that record field came back to the Rio Tuesday to settle the matter once and for all. More than $1.3 million was up top for the winner, and well over $4 million total was on the table for all nine places. 9th place was guaranteed to walk away with $128,150, so even the "worst-case scenario" for these nine guys was still a pretty sweet payday.
When they sat down to the final table, the script looked pretty clear. The chip leader was Stephen Graner, a young, aggressive player who had three times as many chips as his nearest rival, an older player by the name of James Duke. With nearly a third of the chips in play, the $1,319,587 for 1st place looked to be a lock for Graner.
But this is poker, not scripted TV, and things don't always play out according to script. Only three hands into play on the final table and Graner's aggressiveness got the better of him in a hand with James Duke. With Blinds at 40,000/80,000, Graner made a pretty standard open to 160,000 from early position with


and James Duke three-bet to 425,000 from the hijack with


. Action folded back to Graner, who thought for a moment before calling. Graner then led out on the flop of



for just over 1/3rd of the pot, and Duke reraised to 2,000,000, more than five times the original raise, in what live stream commentator Jason Somerville called a "get out of here!!!!" raise.
Everyone assumed the hand was over when Graner, to the surprise of everyone, announced "all-in." Somerveille couldn't mask his shock. "All-in? What?" It took Duke just a few seconds to call with his kings and, when the board ran out


, Duke scooped in a massive pot to take over the chip lead, dropping Graner to second place.
The first player to exit the final table was also the loudest, the boisterous Maurice Hawkins, when he was dealt, in the words of Somerville, a "game over." At 50,000/100,000 Hawkins limped with


and Graner raised to 250,000 with


. Bradley Anderson and Jonathan Dimmig both called before action got back to Hawkins. Thinking his trap had worked perfectly, Hawkins shoved for just under 2,000,000 chips. Graner, of course, quickly moved all in over top of Hawkins, and Anderson and Dimmig quickly mucked their cards. Hawkins was nearly dead on the flop of



, and officially dead with the

turn. The

river, a card he'd specifically called for before the flop, was like the poker Gods' final smirk.
Level 30 also saw the exit of 8th-place finisher Andrew Dick, who collected $164,118 for his trouble. Jason Johnson also saw his stack disappear in Llevel 30, picking up $211,394 for his 7th-place finish. Start of day chip leader, Stephen Graner, was the next to go in 6th place, winning $273,854 as he exited in Level 31.
Play went five-handed for a long time, with chips moving around the table quite freely. Eventually, after a full three hours of five-handed play, Bradley Anderson got it in bad with top pair against Duke's set of queens to collect $355,913 for 5th place.
It was nearly another three hours before the next player, Andrew Teng, went out in 4th. Teng had been tenacious through the final table, grinding his way up the pay jumps, but couldn't win his final race against Jonathan Dimmig. Teng picked up $465.972 for 4th place.
Another two full hours of furious back and forth action saw all three players in the lead at one time or another, before James Duke finally busted out in 3rd place, collecting $614,368. From that first moment in the third hand of the night, Duke showed you should never judge a book by its cover.
Unlike the rest of the final table, heads-up play was short and sweet. On the first hand, Coburn, the chip leader going into heads-up play, got it in with top pair second kicker on a flop where Dimmig hit two pair, and when the board bricked out, there was a new chip leader. It was only five hands later when Coburn called Dimmig for his tournament life with


on a



board, only to see Dimmig flip over


. When the board ran out


Coburn was left to collect the 2nd-place prize of $815,963, while Jonathan Dimmig took home the $1,319,587, plus the coveted WSOP Gold Bracelet.
Get all the latest PokerNews Canada updates on your social media outlets. Follow us on Twitter and like us on Facebook!