BlogNews Weekly: Is Poker Easier Than Life?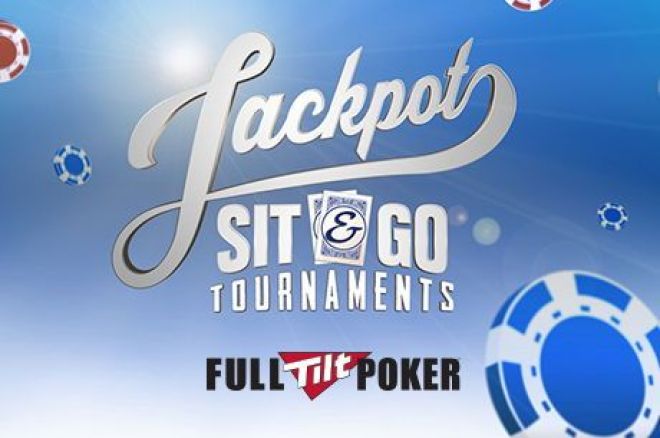 Each week, PokerNews brings you insight into the happenings at some of the major poker sites. Featuring the most popular blog posts, BlogNews Weekly is your one-stop shop for all your poker blog highlights.
In this week's BlogNews report, we bring you the highlights from Full Tilt Poker, PokerStars, and 888poker blogs from last week.
Win Big in Jackpot Sit-and-Go's on the Full Tilt Poker Mobile App
A few weeks ago, Full Tilt Poker launched Jackpot Sit-and-Gos. If you are unfamiliar with these tournaments, they are $1-$10 buy-in, three-player, winner-takes-all, hyper-turbo sit-and-gos with a twist of not knowing how much the prize pool is until the game starts. The prizes at the tables are randomly selected from anywhere from two- to 2,000-times the amount of the tournament's buy-in.
Full Tilt Poker realized that this type of fast, action-packed game is very well suited for their mobile app and added this to their mobile offering last week.
According to the Full Tilt Poker blog, A Perfect Pairing, Jackpot Sit & Gos come to the Full Tilt Poker App!, on the very first day of the mobile app launch, a huge jackpot of $15,000 was won by Russian player "VSA24" in a $10 Jackpot sit-and-go!
At the time the blog was written, 17 players had already won the maximum jackpot at various buy-in levels, including four players winning $15,000 at the $10 tables. Will you be next?
Head to the Full Tilt Poker blog to read more about Jackpot sit-and-gos.
Download Full Tilt Poker through PokerNews Canada.
Is Poker Easier than Life?
Most of us play poker for fun and some of us play for a living. Those of you that play for a living might argue that poker is not easier than life, while a few of you are grateful for the lifestyle and flexibility poker is able to bring you.
PokerStars Team Pro Max Lykov describes how great poker has been for him in a PokerStars blog titled, Poker: often easier than real life.
Lykov talks about how he was able to play the SCOOP from a villa on a tropical island. Sounds nice, doesn't it?
What is even better is that he took sixth place in one of the $2K events and a 10th in another event!
He goes on to describe his experiences in live events, including winning a WSOP bracelet three years ago in a $1,000 event.
Eventually, I made it to the WSOP. I won a bracelet once, so I know how to play at the WSOP. When I won that event three years ago it was one of the last tournaments of the summer. I remember thinking "okay, another $1,000 tournament... sure, why not?" Then the first day went well. And then the second and third days went real nice. And the fourth day... that was the nicest of all!
Read more on the PokerStars blog about Max Lykov's opinion that poker is often easier than life.
Download PokerStars through PokerNews Canada.
F-Bombs at the World Series of Poker
As many of your know, Mike "The Mouth" Matusow was served a penalty during the World Series of Poker (WSOP) when he unleashed a series of F-bombs. Padraig Parkinson describes the different behaviour of various players during the WSOP in the 888poker blog, MATUSOW, F WORDS AND NEGREANU, A HARD MAN TO PUT DOWN!
He goes on to describe the controversy surrounding Daniel Colman's decision not to give interviews following his $15.3 million win in the The Big One for One Drop.
While the behavior of both Matusow and Colman might be questionable to some poker enthusiasts, Parkinson describes the behavior of poker ambassador Daniel Negreanu was what many expect from players representing the game they know and love. Instead of being upset he didn't win the bracelet in this huge event, he was jovial and enthusiastic about his opportunity to win money that most of us dream about.
Check out the 888poker blog to read more about various poker players' behavior during the WSOP.
Download 888poker through PokerNews Canada.