Klondike Poker Classic Offers 4 Events for K-Days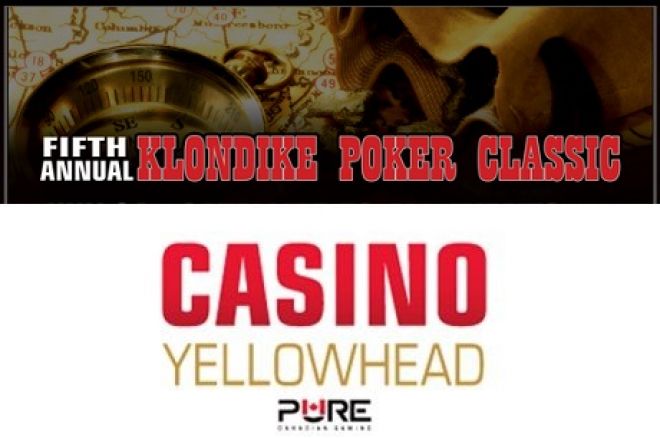 Casino Yellowhead in Edmonton, Alberta offered a four-event poker series this week, including a two-day $1,110 Main Event that was won by Uri Miro for $33,650.
It was the fifth annual Klondike Poker Classic, a series that runs during Edmonton's Klondike Days, or K-Days — the northern echo of the Calgary Stampede. The Stampede may be the Greatest Outdoor Show on Earth, but Edmonton responds each year by putting together their own outdoor show just a week after Calgary's.
The action at the Pure Canadian Gaming property got started with a bounty tournament for Event 1. For $560, players received 15,000 chips and a bounty chip worth $100. The 117 players who came out to play created a total prize pool of $45,337, and Richard Comely was the only player who kept his own bounty by being the last player standing. He took the top prize of $13,150 plus the bounties he collected along the way.
This marks an incredible achievement for Comely. He won the last major event at Casino Yellowhead, the Western Canadian Poker Classic Main Event for $56,600. A back-to-back final table is remarkable, let alone two wins in a row.
Event 2 was a $450 no-limit hold'em tournament and 109 entries created a prize pool of $42,510. The top spot was promised to receive $12,540, and Mark Strap was the gentleman to take the prize home, beating out Brett Worton.
Friday afternoon marked the start of Event 3, a mixed no-limit hold'em and pot-limit Omaha event with a $300 buy-in. The lower price of admission plus the continually-growing demand for different game variants made this event a decent success. There were 154 people who passed through registration to get a seat in the mixed event. With $39,039 in the purse to contend for, 16 players managed to get a piece of the money. Leon James earned the top prize of $10,990.
The final event — the $1,110 Main Event — began on Saturday and didn't finish until late in the day on Sunday. The 119 players who came out to play the biggest event on the schedule ensured that there would be over $116,000 to get a piece of. First place was due to earn $33,650, and it was Uri Miro who got the job done.
When play ended on Day 1, 26 players remained and Randy Ashe was running away with it with 216,800 chips. He held an advantage of more than 40,000 chips over the second-largest stack — Greg Maddex with 173,900. But the two chip leaders were halted in their tracks and finished in the two lowest money spots, while it was Uri Miro who went all the way to claim the top finish.
Here are all of the money finishers:
| Finish | Player | Prize |
| --- | --- | --- |
| 1 | Uri Miro | $33,650 |
| 2 | Alex Richmond | $18,850 |
| 3 | Andrew Nelson | $14,210 |
| 4 | Devin Verstraelen | $11,020 |
| 5 | Harold Boutilier | $9,280 |
| 6 | Steve Dush | $6,960 |
| 7 | Sheraz Nasir | $5,510 |
| 8 | Valerie Ross | $4,640 |
| 9 | Manjinder Sagoo | $3,770 |
| 10 | Gerald Russel | $3,190 |
| 11 | Randy Ashe | $2,625 |
| 12 | Greg Maddex | $2,320 |
Get all the latest PokerNews Canada updates on your social media outlets. Follow us on Twitter and like us on Facebook!