Five Thoughts: Saving T-Shirts, EPT Barcelona, Negreanu vs. High Stakes, and More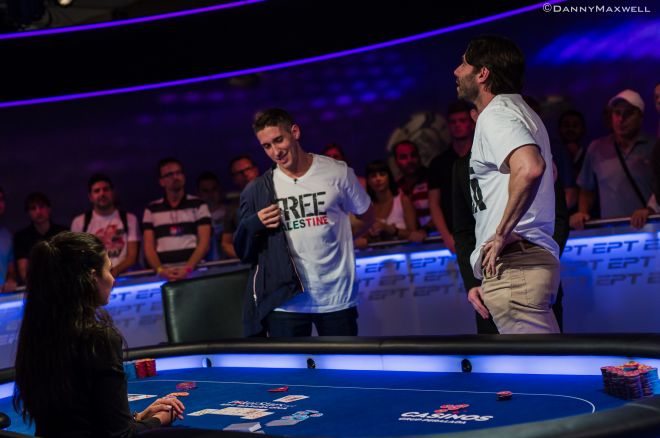 The following paragraphs about the t-shirt drama at European Poker Tour Barcelona have nothing to do with the actual conflict raging between Israel and Palestine. I am not an expert on the topic, and moreover this is an improper forum for me, a poker writer, to discuss geopolitics. My focus is on the act of wearing a politically-charged piece of clothing, not the message that it sends.
If you want to debate the former, I advise you to look elsewhere.
Politics and sports are rarely separate. We may turn to sporting events in an attempt to ignore what is going on in the world around us, looking to escape from the negativity that fills the newspapers and is projected on the evening news, but we still sing the national anthem before kickoff. We still rise from our seats when a member of the military is presented with a new house, or is honored for protecting our country. We still debate social and economic issues with our friends within the context of sports.
Those first two examples are obvious, but the third is sometimes subtle. Paying collegiate athletes in the United States isn't just an issue of money — the NCAA and the power conferences rake in billions of dollars each year — there are socio-economical and racial undertones embedded in the debate. Sixty percent of the players on the top 25 BCS football teams to close out the 2013-2014 campaign were black, while, coincidentally, 88.8 percent of university presidents, 84.8 percent of athletic directors, and 100 percent of conference commissioners are white.
Michael Sam's quest as an openly-gay man in the NFL is more than just a football story. It's a reflection of our own tolerance to homosexuality as a society. Sam, like his teammates, should be judged by his on-field performance and his work ethic in the weight room and the film room, not by his harmless off-field activities. Some think he will receive a pass in this new "overly-liberal" world, while others are still keen to see how his teammates will react to his presence. The game of football is simply an engine for the narrative to unfold.
Both sporting events and the athletes themselves have assumed roles in politically-charged movements. Tommie Smith and John Carlos donned black gloves after finishing first and second, respectively, in the men's 200m in the 1968 Summer Olympics, raising their arms into the sky as a human rights salute. Muhammad Ali dodged the draft for the Vietnam War, giving a strong voice to the anti-war movement. South Africa hosted the 1995 Rugby World Cup, providing a powerful moral boost in the post-apartheid landscape. President George W. Bush's first pitch at Yankee Stadium after 9/11 was about more than putting a ball over the plate — it was a symbol of strength for the country.
We turn our attention to sports to forget about the issues that matter, but our societal differences are subtly sprinkled all over the place. Likewise, when athletes realize they have a platform and an increased reach because they play a sport on national television, they sometimes use it. We don't bat an eye when they are promoting charity – as they should – but we as viewers can become very offended when the message turns political.
This puzzles me. If someone has been fortunate enough to gain the spotlight in our culture, then they should take full advantage of it – especially if it's for a cause they really believe in.
Which is why I was delighted to see Olivier Busquet and Daniel Colman (FINALLY!) use the stage they were given in Barcelona to do what they did.
1. Save T-Shirts
Again, just to reiterate for the people that weren't paying attention at the start of class, this has nothing to do with the actual conflict between Israel and Palestine. I am not applauding Busquet and Colman for their views, rather I am applauding them because they have views and they expressed them.
Likewise, I am not upset with the people filling up Busquet's at mentions on Twitter with pro-Israeli messages. They are entitled to their opinion, and I encourage them to try and cultivate a fruitful discussion. The people who upset me are the individuals that bashed Colman for remaining silent after winning the $1 Million BIG ONE for ONE DROP and are now affronted because he chose to say something.
If you're going to have your cake and eat it too at least keep it in your mouth so we don't have to listen to your incessant whining.
I was one of the people that targeted Colman after his ONE DROP win, and while his view that "poker is evil" was one of my motivating factors, so too was his missed opportunity to say something profound on a huge stage.
Colman also had a fantastic opportunity to broadcast his views for the entire world to see and hear when Kara Scott stuck an ESPN microphone in his grill. All he had to say is "poker is evil, and if you play you are likely to lose." That would've made several headlines even if ESPN left the interview on the cutting room floor.

Just imagine what would've happened on Twitter if he spoke those profound words. The reach of his message is immeasurable.
In Barcelona, at the final table of the €50,000 buy-in Super High Roller, Colman pulled a 180. Right before the start of play he tossed Busquet a t-shirt that said Save Gaza in big, bold, black letters. He then donned his own, which said Free Palestine.
On the most recent episode of the Thinking Poker Podcast, Busquet says that Colman was very adamant about wearing the shirts. In an effort to support his good friend — not mentee, as some are putting it — he obliged. Thanks to a very crazy hand where Busquet cracked pocket kings with ace-deuce, the two ended up reaching heads-up play and chopping.
Save Gaza and Free Palestine, splitting up roughly $2 million between them in the bright lights for everyone to see. Agree or disagree with the statement made — and Busquet even admits to Nate Meyvis and Andrew Brokos that he isn't fully versed on the issue — but you can't discredit those two gentleman for feeling the need to take a stand.
Thank you, Mr. Colman. Thank you for checking your dispassion for media at the door and using your platform to say whatever you feel needs to be said. This is a much more effective and respectable line of action than silence. Colman new has three seven-figure scores in 2014, and in the aftermath of this episode the spotlight that follows him will be even brighter. I suggest that he continue to use it to his advantage — whether it's political or economical.
PokerStars' decision to ban politically-charged paraphernalia is also the correct move — and yes, these two concepts can and do exist.
Rational Group is now owned by a publically-traded, multi-national corporation, Amaya Gaming, and should do everything in their power to control whatever message is being broadcast over the live stream and depicted in the live reporting blog. James Hartigan, to no surprise, did a wonderful job of reminding the viewers during the broadcast that the views expressed by both Busquet and Colman don't represent those of PokerStars.
Busquet tweeted that he understands and respects PokerStars' ruling:
@PokerStars has informed me that making political statements on clothing is no longer allowed at their events, which I understand & respect

— Olivier Busquet (@olivierbusquet)
I was also told that they didn't want to make an emotional issue yesterday during play out of respect and I really appreciate that

— Olivier Busquet (@olivierbusquet)
Where will PokerStars draw the line? I don't know, but with Amaya representatives watching them closely, there is little margin for error.
2. Vamos Poker
In the background of T-Shirt Gate 2014 is quite a large poker festival at EPT Barcelona. The Super High Roller that Busquet won attracted 58 entries — a record for the event — the Main Event was the third largest in history with 1,496 runners, and the High Roller demolished all previous records with 393 entries.
The Spanish people have fallen in love with poker over the past few years, and the Estrellas Poker Tour is a perfect feeder system for the EPT. The ESPT Main Event attracted well over the 2,000 players.
With his win in the 2013 World Series of Poker Europe Main Event, young Adrian Mateos has helped spark the movement in Spain. Before he took down the bracelet and a cool €1 million, he was an ESPT winner, taking down the Madrid event in 2013 for €103,053.
There's also Andoni Larrabe, a member of the 2014 November Nine. Prior to making the WSOP Main Event final table, Larrabe won a $5,000 buy-in event at the 2013 PokerStars Caribbean Adventure for $218,710, and finished 11th in the Season 9 EPT Grand Final Main Event for €70,000.
Still, no Spaniard has ever won an EPT Main Event, and that won't change at EPT Barcelona either. No Spaniards made the final table, in fact no Spaniards even finished in the top 50.
If there is still room for growth in the country, Spain needs one more flag-bearer to break through and win a major event. Larrabe is fourth in chips at the Main Event final table, and if he finds a way to run it up and take down the bracelet, then we could see a really sizeable poker boom in Spain.
3. Can Negreanu Beat $25/$50 Online?
I thought the days of debating live pros vs. online pros were over, but Doug Polk and Daniel Negreanu found a way to reignite the antiquated argument.
"I believe it would take two weeks of work and I would be a winner," Negreanu responded when asked if he could profit playing six-max $25/$50 no-limit hold'em online.
Polk, an online crusher known by the handle "WCGRider," respectfully disagreed with Kid Poker.
"I respect what you have done in your career, [Daniel Negreanu]," Polk said on Twitter, "but it's naïve to think that you can just log into PokerStars and beat $25/$50."
Remko Rinkema caught up with both parties in Barcelona:
Polk presents the "it's harder than it looks" narrative, which is the drum that most online players bang upon when this debate surfaces, but it might be truer now than ever. There are more people that understand high-level poker strategy now than there have ever been, and it is becoming increasingly more difficult to be a profitable poker player, let alone beat the biggest games online. It seems like Polk and his cohorts were less upset with the idea that Negreanu thinks he can succeed at this task and more perturbed at the perception that they didn't put in a ton of hard work to perfect their craft.
Remember, Negreanu just finished runner-up in the BIG ONE for ONE DROP, taking the lead in all-time live tournament earnings. He also won the 2013 WSOP Player of the Year, becoming the first player to earn the honors twice. Kid Poker has all of the confidence in the world — and deservedly so. Even if you subscribe to the concept of variance, you have to understand that someone with as much success as Negreanu is going to believe in their abilities no matter how difficult their obstacles may appear.
Negreanu also wanted to clarify that he has a ton of respect for Polk and others who have worked very hard.
"I just want to make one thing clear," Negreanu said. "You know, the fact that I said I could be competitive within two weeks, that's not a slant to all the guys who put in a lot of work."
There is no official bet as of yet, and Negreanu plans to stay in the United States for several months after EPT Barcelona. He claims that he would rather wait until online poker becomes fully legal in the United States for him to fully dive back into the action.
4. Indian Supreme Court to Rule on Legality of Rummy and Poker
This is one of the stories that you may have missed, scrolling past it on the PokerNews home page to click on something more appealing, but India's Supreme Court plans to make a ruling on the legality of rummy and poker that will affect 1.2 billion people on this Earth.
In 2012, Public Interest Litigation filed a case against a myriad of gaming organizations, questioning the legality of both rummy and poker. The Madras High Court ruled that rummy clubs cannot profit from real-money gaming, effectively banning the game in the country. The decision has been appealed — the Supreme Court classified rummy as a game of skill in 1968.
In 1996, the Supreme Court also affirmed that skill games are not included as "gambling" in India.
"Gaming is the act or practice of gambling on a game of chance," the document says. "It is staking on chance where chance is the controlling factor."
Poker has also been affirmed as a skill game by the High Court: "In respect of the game of poker, if played as a game of skill, license is not contemplated. The petitioner was entitled to conduct such games, provided, the same is in accordance with law."
While the focus of this Supreme Court case is solely on rummy, the decision will certainly have either a positive or negative affect on poker. Right now, online poker is a bit of a grey area in India and both PokerStars and 888poker offer real-money gaming in the country. This ruling could either reaffirm their presence or lead to their departure.
PokerNews will certainly keep tabs on the situation in India, and update you when more details become available.
5. Hup Holland Hup?
After winning a house in South Africa through an Austrian lottery — stay with me here — an elderly Dutch citizen and his Belgian wife are faced with a €80,000 fine from Dutch regulator Kansspelautoriteit. Evidently, their sale of the house violated laws that regulate gambling in the Netherlands, even if the competition took place in Austria and the award was a house in South Africa.
Because the lottery was advertised in Dutch media, the government feels the right to be overly authoritative.
"People should not be intimidated by their own government to refrain from having a dialogue with the media," Bas Jongmans, a gaming lawyer told PokerNews. "This is not George Orwell's 1984."
Jongmans also explains that Dutch regulators keep a close eye on blogs and other content on the internet.
Online poker in the Netherlands has always been a bit of a grey area, like India, and a case like this is very worrisome. With Michiel Brummelhuis making the 2013 November Nine and Jorryt van Hoof leading this year's final table, one would think that there would be some positive momentum for gaming in the country.
Maybe a van Hoof victory would be as big for Holland as a Larrabe win would be for Spain.
Get all the latest PokerNews Canada updates on your social media outlets. Follow us on Twitter and like us on Facebook!