Francis Rivard Takes Home First Trophy at Deerfoot Inn & Casino Summer Super Stack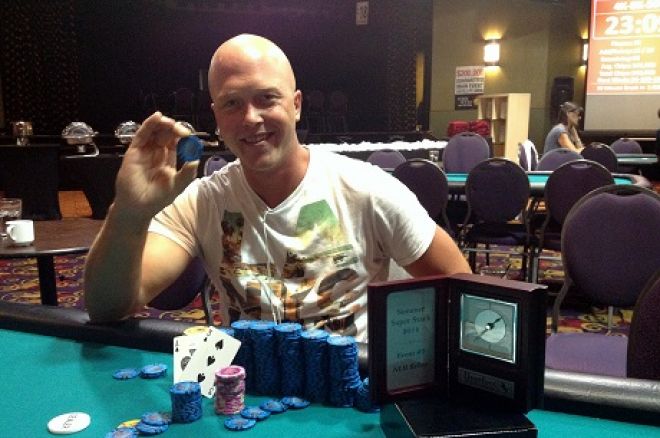 The first title of the 2014 Deerfoot Inn & Casino Summer Super Stack in Calgary, Alberta has now been awarded since play kicked off with a super satellite on Wednesday, August 6, followed by a three-starting-day $330 no-limit hold'em event that drew 290 entries to slightly surpass the $80,000 prize-pool guarantee.
Francis Rivard was the joyful winner of Event 2 on Friday night, defeating local tournament regular Shane Brotherwood in the $220 rebuy to claim the $4,800 top prize and trophy.
Rivard held a commanding lead going into heads-up play — roughly a four-to-one favourite — and, about 10 hands in, an even shorter stacked Brotherwood pushed with


to a snap call from Rivard with


. Brotherwood found no help on the flop, turn, or river; a simple pair of threes sealed the deal for Rivard. This appears to be Rivard's first mid-major event victory, and it was clearly a satisfying one judging by the smile in his winner's picture. Runner-up Brotherwood took home $3,115, a nice addition to recent first- and second-place finishes in Calgary events last week and nearly $200,000 worth of medium-limit cashes here in Canada.
A total of 16 players chose to rebuy for $100 a combined 26 times over the event, while only 12 ponied up the $200 add-on, building a very nice return on investment for the two in-the-money finishers who spent $500 each in the event.
In the $330 Event 1, Thursday's Day 1a play lasted a total of 18 levels, with 64 tough contenders battling it out for one of seven spots advancing. The chip leader of the night, Marvin Borlaza, was responsible for a few big knockouts late in play; once he had his stack over 300K he kept the pressure on to help the end of day bubble along. It wasn't meant to be over quite so quickly, as the short stacks kept finding the double-ups they needed to survive. It looked to be over when Ravi found himself all in with


against


, but an ace in the window kept him alive. It wasn't long, however, before Ravi found himself making an all-in preflop decision for his tournament life once again. This time his


found no help against pocket queens.
Looking over the names of the other qualifiers and their history in both deep cash games and live tournaments, and despite them qualifying on the day with the least amount of chips in play, it's safe to assume that the Day 1a contenders will be ones to watch during Sunday's finals.
Day 1b was filled with with heart, starting with Edmonton's Scot Munro who, after having his pocket kings cracked by Karim Chatur's set of queens for heaps with only two short-handed tables left on Day 1a, wasn't going to let his late elimination get him down. He put his head down again on Day 1b, making it through on his second attempt. Munro was joined by chip leader Kevin Kammavong, a poker industry veteran who has shown he can work both sides of the felt, who was the only player to cross the 400K mark after Days 1a and 1b, almost breaking a half million. Calgary's Jeff Babante, a staple name on Calgary tournament result reports, was also amongst those of the 84 that whittled down to eight.
Finally, Day 1c of Event 1 drew 139 entries as players took a weekend shot or one last kick at the proverbial poker cat. For players like Calgary's Sinan Tawfik, it was the day that found them getting through. To date, Tawfik's three event wins in Alberta and the same number of runner-up finishes have earned him around $120,000 in tournament winnings, and we are sure he'll be gunning hard to bump that to $140,000 after Sunday's play as first place will be worth a cool $20,000, while everyone left is now guaranteed a min-cash of at least $660.
The largest stack also emerged from Day 1c in the hands of Ryan McDowell who's looking to take his 515K and improve on the $5,150 he won in the same event last year with his sixth-place finish.
Event 3 is also under way, a unique format that allows some of the best of both cash game and tournament play. Those interested had the option of buying into the 5 Barrel for $220 to $1,100, receiving 10,000 chips for each bullet. So far, just seven shots have been fired, and Edmonton's Allen Butkovic holds all the chips in play awaiting challengers on Day 2 with play beginning at 2 p.m. Players can register until 4:10 p.m. (after four 30-minute levels), with both Events 1 and 3 planned for completion on Sunday.
Get all the latest PokerNews Canada updates on your social media outlets. Follow us on Twitter and like us on Facebook!