PokerStars Social Media Ratings: Who Are The Most Influencial Poker Players?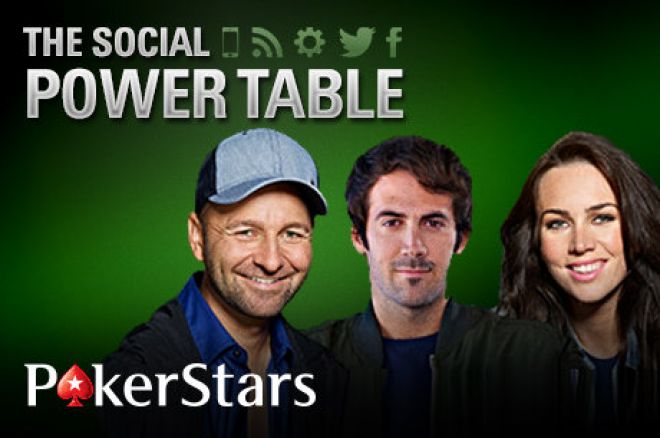 PokerStars recently engaged with social monitoring tool FollowerWonk to find out who are the top poker players in the social media world.
Not surprisingly, Team PokerStars Pro Daniel Negreanu took the top spot in the rankings.
The rankings were conducted in June 2014 and were released on Thursday via a new post published on the PokerStars Blog where the room presented the "PokerStars Social Score" — a combination of FollowerWonk's Social Authority Twitter ranking, Likealyzer Facebook score, and other variables such as the number of social networks each player was active on.
Besides Facebook and Twitter, also social networks YouTube and Instagram were considered in the research.
Negreanu Tops On Social Media
The top spot in the PokerStars social rankings went to Negreanu with a social score of 78 out of 100. Negreanu is active on all four social networks considered for the ranking, and can count on something as impressive as 306,000 Twitter followers and 122,000 Facebook fans.
Second place was awarded to Phil Ivey, who actually had the most Twitter followers with 957,000 as well as the most Facebook fans with 194,000. The reason Ivey was ranked lower than Negreanu was mostly due to other factors considered, including the amount of retweets in the last few hundred Tweets and Facebook comments. Ivey is just one of two players in the top five that is not a member of Team PokerStars Pro.
Liv Boeree is the proud owner of the third-place spot with 86,000 Twitter followers and 55,000 Facebook fans. Boeree lost some points for not being active on YouTube — although this does not mean she doesn't use video social networking, as her fans know that she prefers to use the up-and-coming social media platform Vine to express her creativity. Even though her Twitter and Facebook followings are lower than many on the rest of the list, her FollowerWonk and Likealyzer scores were high enough to carry her into third place even without Vine being considered.
Lebanese Australian poker pro and 2005 World Series of Poker Main Event champion Joe Hachem was ranked in fourth place in the PokerStars social rankings. His ranking was high enough despite his approximately 30,000 Twitter followers and 18,000 Facebook fans. Hachem is active on all four social networks considered for the ranking, and his popularity amongst his followers was big enough to carry him into the top five.
The top five was rounded out by poker superstar Jason Mercier, led by 89,000 Twitter followers and 41,000 Facebook fans. Mercier perhaps could have been ranked higher if he was active on YouTube.
Also of note is that former professional poker player Joe Sebok earned the 14th-place ranking.
Although Sebok had the second biggest amount of Twitter followers with 945,000, his retweets and Facebook likes were not strong enough to carry him high enough in the rankings. This is mostly due to two things: his exit from the poker world in order to become more involved with a commitment to the wine business and his image taking a hit due to the Ultimate Bet scandal where he was a spokesperson at the time the Cereus network crashed on Black Friday with no refunds to customers taking place.
Phil Hellmuth, who was the face of Ultimate Bet, did not seem to receive as much of the rage from the poker community. Hellmuth was ranked 10th on the list, primarily lead by his 194,000 Twitter followers and 73,000 Facebook fans.
For more information about the PokerStars Social Score and all the top poker players in the world of social network, have a look at the infografic below:
Get all the latest PokerNews Canada updates on your social media outlets. Follow us on Twitter and like us on Facebook!