Getting to Know Team PokerStars Online Pro Adrienne 'talonchick' Rowsome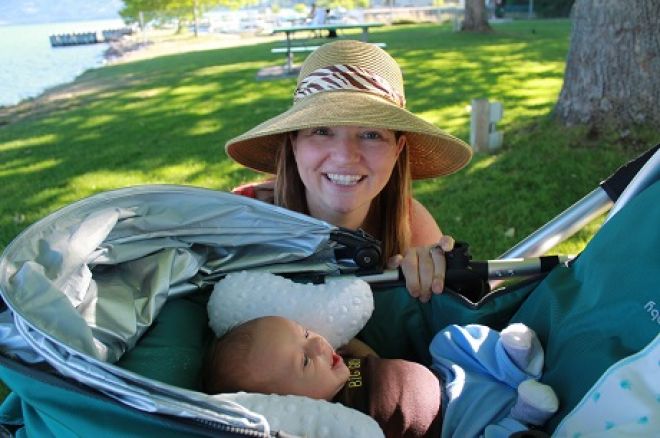 At one time, Adrienne Rowsome was a girl with a 1992 Eagle Talon who was known in car forums as 'talonchick' as she posted messages about performance and cosmetic modifications. Still using the same username, talonchick is now well known as the Team PokerStars Online Pro who has a killer Omaha hi-lo game.
We had a chat with Rowsome recently, and she explained, "I still do love the Eagle Talon, but kind of in the way you remember your first love. That being said, someone in the neighbourhood has a 1991 Eagle Talon [...] and every time I see it a smile does come across my face and I think about buying one — just for a laugh!"
You are more likely to see Rowsome behind the wheel of a BMW these days. "With a few more years under my belt and driving experience, I have a tendency to be drawn towards more of a 'driver's car'. That, for me, is a BMW. I bought my first BMW in 2007, paying a big chunk of it off with poker winnings; [it's] such a great car with both the handling and style that I desired. I love driving!"
Rowsome's success at the poker table has allowed her some extra luxuries in life. She plays poker part-time and with a strong emphasis on fun, which led to her being picked up by PokerStars to join their team while maintaining Supernova VIP status. Her BMW, for instance, was one purchase made possible by her success on PokerStars, as is mentioned in this video bio:
While Edmonton, Alberta was once home to Rowsome, she now lives in Kelowna, BC with her husband and newborn baby boy — Carrick. She has taken maternity leave from her job as a casual Occupational Therapist at the hospital in Kelowna, and the arrival of her little boy has meant that there is not as much time to focus on poker in the past few months either.
She explained, "We are still finding our way and working to establish routine that will make dedicating time to poker a bit easier. Without conventional work demands, it can be difficult to take time away from him, especially when he sits playing and smiling at you! I do feel like we are beginning to hit our stride and that we will successfully be able to blend parenthood and profitable online poker!"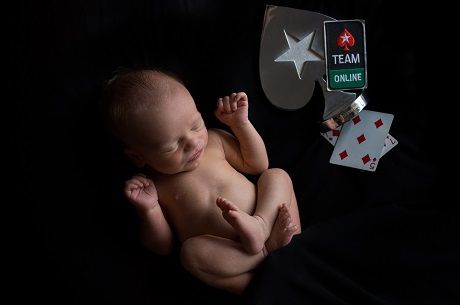 Though she rarely plays live poker anymore, aside from a friend's home game, Rowsome is excited about some of the upcoming PokerStars events. After being unable to attend last year, she's looking forward to going to the Isle of Man for the UK & Ireland Poker Tour (UKIPT) in October. As she explained, "The convenience and time-saving factors of playing online are just too much for live poker to overcome! That being said, I do still enjoy live poker. Sometimes it is nice to slow the game down and enjoy the characters at the table and engage with other poker players." She also looks forward to PokerStars Caribbean Adventure (PCA) in January, which has been a fun, annual, post-holiday-season, poker-community reunion for a number of years.
Anyone who has met Rowsome is familiar with her personable and cheery personality. As a Team PokerStars Online Pro, she is an approachable representative for the company, giving players a great connection to PokerStars whenever they interact with her. But, at the same time, Rowsome is a mediator in the other direction too; her close connection with casual and recreational poker players helps her represent the public to PokerStars whenever she is given the chance, helping the poker site better understand what its players want.
One thing PokerStars knows its players want are mixed games. Most poker sites don't offer many game variants outside of no-limit hold'em and pot-limit Omaha, but PokerStars spreads a wide range of game types — a pretty important feature for a girl who specializes in Omaha hi-lo.
Mixed games have been experiencing a significant amount of growth lately, and Rowsome wholly encourages players to take up a new game. She pointed out, "Mixed games are a great place for players to come to if they are looking for a different challenge or even just a break from the daily grind." Though, she added, "My hope for the growth of mixed games is that it progresses slow and steady. I don't expect to ever see a massive influx of players the way hold'em games did."
Another game format not found on many poker sites is gender-specific tournaments. Ladies-only tournaments are available on PokerStars — something Rowsome often participates in — and live ladies events can be found at many different series. This is an idea Rowsome fully supports: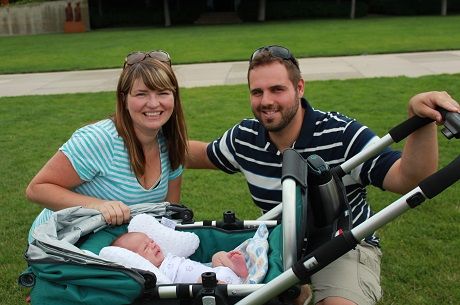 "For the poker community to thrive and survive we require the introduction of new players. There are many barriers to successfully bringing in new recreational players to the game, even more so for women. Ladies events allow women to compete in what they may perceive as a less threatening environment. In each women's event I have played, there has been a woman playing her first tournament and she has expressed being thankful at being able to blend in more at the table and not instantly be singled out. A percentage of these rookie poker players will then feel comfortable enough to engage in a standard poker tournament, which in turn will help grow the game.

The growth of the women's poker community at PokerStars over the last few years has been significant, both in numbers and skill, as shown in the Women's Sunday tournament. A couple years ago, if I got three-bet in a pot, she nearly always had aces or kings. These days, the combinations of hands that I get three-bet with are much, much wider."
It was almost exactly a year ago that Rowsome won the Women's Sunday. The $55 tournament had 223 ladies that week, and Rowsome earned $2,280.28 for coming out on top. And she did it all from a boat. She late-registered the event from home, switched to her iPad when some friends decided to go to the lake, and jumped overboard for quick swims during the hourly five-minute break, all while having to chase a data signal on the water as it dropped off sporadically while on the final table.
Rowsome understands the importance of keeping poker fun, which has made her a great advocate for the game. This Canadian girl has been a big proponent for the continued growth of poker. If you ever run into her at a live event or online, make sure you say hi. She'll invariably respond with her infectious grin and a friendly greeting.
If you do not already have an account at PokerStars, use our download links to take advantage of a 100% first-deposit bonus up to $600 and lifetime qualification to our exclusive PokerStars promotions. If you're a lady looking to get started in the game, check out the ladies-only tournaments at PokerStars for a friendly environment to start playing.
Get all the latest PokerNews Canada updates on your social media outlets. Follow us on Twitter and like us on Facebook!