2014 WSOP November Nine: PokerNews Canada Staff Predictions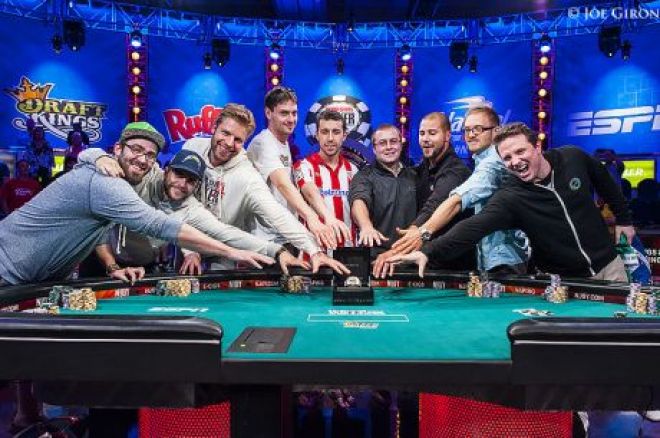 It's been over three months since the World Series of Poker (WSOP) Main Event established its final table out of the 6,683 entries, giving us our November Nine roster. Now we're less than a week away from those nine players taking their seats once again while the world watches them battle for the highly-coveted title of World Champion and the $10,000,000 prize that comes with it.
All of us at PokerNews Canada have been closely following this event and these final nine players, and we have some predictions for how it will all play out on November 10 and 11 when play resumes.
What is the best storyline of this year's November Nine?
Mark Newhouse defying the odds and making back-to-back final tables has to be the best. But there are many awesome stories including Jorryt van Hoof having 131K (just 11 big blinds) to start Day 5 and ending with 3.9M (almost 100 big blinds), to a World Foosball Champion in Billy Pappas, to a pro's pro in Martin Jacobson who held the chip lead after Day 1a.
It's gotta be Mark Newhouse making back-to-back November Nines. Especially in the modern era; that's an impressive feat.
Newhouse's feat of back-to-back final tables in the biggest tournament in the world is huge, but another amateur making the final table is bigger for poker. Billy Pappas should and will have a huge spotlight.
I think everyone is unanimous that Newhouse's return to the November Nine after making the roster last year is an accomplishment that cannot be understated. The WSOP Main Event is a minefield. But that is really a story from July and none of that changes no matter where he finishes next week. I think Billy Pappas' story from Foosball Champion to amateur poker player at the biggest game in the world is the one that will be focused on the most.
Who would make the best poker ambassador if he were to win?
Martin Jacobson is both a great player and outgoing. He'd be a great ambassador.
Billy Pappas might be the World Champion poker needs. He has been in that position before with his continued foosball success and that experience would prove useful if he were to earn the title in poker. Plus, an amateur player taking a shot and coming out on top could inspire an influx of new players to the game.
Politano winning would help re-inject the fun in poker for sure and bring a new Latin American following to the scene.
Politano could be the best thing to happen to poker since the automatic card shuffler was invented. Latin America is building a huge following in poker and it will explode if Politano puts on a show. His rail sure will regardless!
Who will bust out out first?
I'm going to go with William Tonking busting first. Jacobson will get an early double and ride to the top. Politano will be riding the adrenaline and support of his country to early success as well.
I'll just go with Anthony's pick, since he's in the top 10 in the world on Fantasy Poker Manager and seems to have a crystal ball when predicting the outcome of major poker events. But Tonking does seem the most likely to go first. As a cash-game player with less than 40 big blinds, this isn't a position he's all that familiar with and I think he'll be overplaying his stack to his detriment.
I'm looking at Jacobson here. He seems the most likely small stack to come out aggressive, so he could bust early. If he doubles early though, look for him in final three.
This is a tough one. My brain and heart say Tonking will be the first to bust, even though I feel Pappas will bring an aggressive style that may cost him in the early going ... but it could also help him chip up and run deep. So Tonking is my pick.
Who is going to be World Champion?
Jorryt van Hoof is going to win this. He starts with the advantage of the largest stack, but that's not enough to secure anything in this game. It's his maturity and experience that will count at the final table.
Jorryt van Hoof will be the new World Champion.
I like Billy Pappas. It seems like a lot of skills transfer from world-class foosball to world-class poker.
I feel that, with Jorryt van Hoof's experience, he will get his way to the final two and it will be a Billy Pappas vs. Jorryt van Hoof heads-up battle with Pappas' aggressive style. Van Hoof will come out the victor with his experience.
What will be the finishing order?
| Finish | Anthony | Lyle | Matt | Lane |
| --- | --- | --- | --- | --- |
| 1 | van Hoof | Pappas | van Hoof | van Hoof |
| 2 | Larrabe | Newhouse | Pappas | Jacobson |
| 3 | Jacobson | van Hoof | Newhouse | Newhouse |
| 4 | Newhouse | Sindelar | Sindelar | Larrabe |
| 5 | Stephensen | Politano | Stephensen | Sindelar |
| 6 | Politano | Stephensen | Larrabe | Stephensen |
| 7 | Sindelar | Larrabe | Politano | Pappas |
| 8 | Pappas | Tonking | Jacobson | Politano |
| 9 | Tonking | Jacobson | Tonking | Tonking |
Who will have the best rail?
Pappas. He will have foosball people there.
Politano, obviously!
Yeah, I don't think there's any question that the Brazilians will win this contest.
With that Brazilian rail, Politano for sure!
How many hands will it take to play down to a winner?
377. Just a random number I drew up.
420.
357.
You guys are way too high. This will be done well before 300 hands. I'll say 211.
How many hands of heads-up play will there be?
43.
63.
68.
With that $4.8M pay jump, heads-up play will be gruelling. A cooler on the 57th hand sounds about right.
What is one bold prediction of something that will happen during the final table?
At least one member of the Brazilian supporters on the rail will be escorted out by security.
Jacobson will make a huge play early in the final table, putting his tournament on the line.
Someone is going to get coolered so hard they cry.
Pappas is going to overshove with a weakish hand (J-10 suited maybe) from the big blind and get someone to fold pocket jacks or queens.
When the final nine players take their seats next week, make sure you are on Twitter as the action is broadcast live. We'll be tweeting throughout the final table.
Get all the latest PokerNews Canada updates on your social media outlets. Follow us on Twitter and like us on Facebook!