2014 WSOP November Nine Pros Picks: Frost, Rowsome, and Ladouceur Make Their Predictions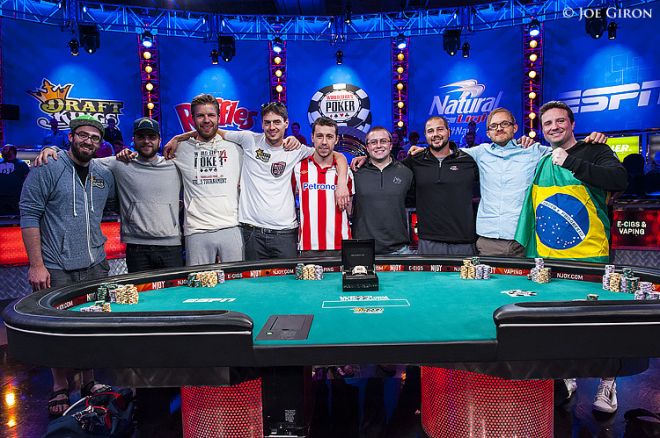 With the November Nine getting ready to return to the table on Monday, November 10 to play for the title of World Champion and $10 million, we reached out for some professional predictions of these final two days of the World Series of Poker Main Event.
We spoke with the three Canadian members of Team PokerStars Online: Tyler 'frosty 012' Frost from Vancouver, B.C., Adrienne 'talonchick' Rowsome from Kelowna, B.C., and Marc-Andre 'FrenchDawg' Ladouceur from Montreal, Quebec. We asked these poker pros nine questions about the November Nine, and here is what they had to say:
Who would make the best poker ambassador if he were to win?
Frost: Without knowing much about him, I think that Mark Newhouse would probably be a good ambassador if he wanted to be. He seems to be humble from some of the interviews that I've seen and I think the fact that he made back-to-back final tables is an awesome display of what a skill game poker truly is. Or it just shows that some people are really lucky.
Rowsome: Without a doubt, the best poker ambassador and representative will be Mark Newhouse. His accomplishment over the past two years is truly exceptional and highly unlikely to be repeated. He is a true testament to the fact that poker is a skill game and that the cream can rise to the top. To finish in the top nine of the WSOP Main Event in back-to-back years requires impeccable play over 14 days; not an easy challenge! Alongside this feat, I believe that Mark also has the most pressure on him to succeed and surpass his finish in 2013.
Ladouceur: I love to see amateurs or people connected to other industries win, so maybe a Billy Pappas win would sell the dream to all the foosball players around the world. Otherwise, Martin Jacobson would be a great ambassador worldwide.
If you were on this final table, who would you be most intimidated by?
Frost: Probably also Newhouse. I would assume that he might be more relaxed and willing to play back at me more given his previous experience at the Main Event final table last year. Also, just by having the large financial score from 2013 may have him less concerned about the big pay jumps and more focused on winning the tournament.
Rowsome: With so much time to prepare myself heading in to the final table, I don't feel like intimidation would be an issue coming up to the final table. A few years ago, I final tabled the Canada Cup on PokerStars and it followed a similar format in that the tournament played out online until the final table, which was then played out in the Bahamas. During the time I had to prepare for the final table I was able to research my opponents, study the stack sizes, and get some coaching to ensure I played my best once the table played out.
When the event played out, I found comfort when my research proved accurate. Had anyone played differently than I expected, I would likely have been a bit intimidated or concerned!
Ladouceur: I can just see the Brazilian crowd going completely nuts every time Bruno is in a pot. Could be intimidating, or at least very distracting.
Likewise, who would you like to get in a lot of pots with?
Frost: Without knowing anything about anyone's game it's hard to say. I read that Pappaconstantinou is the only amateur at the final table, so for that reason alone I would probably start there. It would also depend on my stack size too. I'd be much happier battling a shorter stack than my own so that I could put a lot of pressure on them and use the big pay jumps to my advantage.
Rowsome: I have a tendency to get involved with the players that tend to be a little more aggressive or even splashy with their chips. Myself, I would start out on testing the waters with some raises and reraises, hoping to establish which of the players are looking to hang on and ladder up and who may be looking to get involved in some pots and chip up.
Ladouceur: This November Nine seems pretty solid. I guess with whoever will fall short early on. The pay jumps are huge and will mean a lot to most guys.
What do you think is more meaningful, the money or the title?
Frost: At this point in my career, the money would be much more meaningful than the title. It's not that I wouldn't like to be crowned the World Champ, but I feel that chasing bracelets and titles is just naturally going to be a secondary motivating source until you're more than well off financially, especially when we're talking about 10 million dollars! I have a lot of pride in my game and in doing well at poker, but I think I'll take the cheque.
Rowsome: That's a challenging question, as the money is significantly more if you finish in first place! So the title is very meaningful and not to be forgotten in that it comes with the most money. I expect the players to play for the win this year, as the pay jumps from ninth to second are not as significant as they have been in years past.
Ladouceur: There is a lot of value in moving up the money ladder, but when it comes down to it, you only get one shot at being the World Champ, except for Newhouse, sick life ...
What difference will there be in the way a pro vs. an amateur will approach this final table?
Frost: I would assume that a pro would be able to do a much better job of focusing on their game and playing the final table as though it was just any other tournament. For example, I wouldn't expect a pro to make a +EV fold just to try and move up the money ladder. On the other hand, an amateur may be more intimidated by the setting and default into a straight-forward, overly-cautious approach.
Rowsome: I don't think there will be much of a difference in the pro vs. amateur mindset. As soon as you make the November Nine, you gain a "pro mindset" and search for coaching options to take advantage of the opportunity. I expect to see the biggest difference in the play of the amateur players as any coaching they received will have a large impact on their game. That is on top of the fact that they have already lasted seven days in the WSOP Main Event; that might make a pro out of most players!
Ladouceur: I think the biggest difference will be the quality of preparation both strategically and physically.
Who is going to bust out first?
Frost: I'm going to say Jacobson, only because of his stack size, and I read that Politano (the shortest stack) expects a massive rail and I think he'll try to last longer for his fans.
Rowsome: Despite having more experience than some of the shorter stacks, I believe it will be Martin Jacobson that is our ninth-place finisher. He is in a tough seat with the big stacks just behind him. While Bruno (the shortest stack) is in similar position, I expect him to play tighter due to nerves, inexperience, and in hopes of moving up in the standings.
Ladouceur: For everybody's sake in the Penn & Teller Theater, I hope its Bruno Politano. Just kidding; it'll be fun to see the passionate fans cause riots.
Who will be the two players who make it heads up?
Frost: I'm going to say van Hoof and Newhouse, while admitting that I don't know much about their poker abilities. Van Hoof because of his stack size and Newhouse based on his prior final table experience.
Rowsome: Daniel Sindelar and Andoni Larrabe
Ladouceur: Van Hoof and Jacobson
Who will be the new World Champion?
Frost: Newhouse. Who doesn't want to see that story (besides the other eight players at the final table)?
Rowsome: My choice is Daniel Sindelar, currently sitting fifth in chips. Based on the PokerNews stats, he was the most active on Day 7 in terms of hands played, raises, and preflop reraises. I think that if he can keep the pressure on, he should be able to take advantage of the big stacks not wanting to lose more chips than they have to and the small stacks wanting to hang on.
Ladouceur: The pride of Sweden, chef extraordinaire, and good friend, Martin Jacobson
What's a specific prediction of something that will happen during this final table?
Frost: The winning hand of the tournament will be the


.
Rowsome: I predict that there will be an all in situation where both players have small pocket pairs (under 7s). The board will run out and double pair with the kicker being higher than any of their cards, thus resulting in a chopped pot.
Ladouceur: It's going to be the longest final table of all time, and no panda will stumble across the stage and get ejected.
Enjoy watching the final table cover over the next two days! If you're not sure how to watch it in Canada, you can read our suggestions of where to find a stream, as it will not be broadcast on your televisions.
Wherever you watch from, make sure you keep in touch over Twitter, as we'll be live tweeting throughout the event. If you don't already, follow us @PokerNewsCanada, and also give Tyler Frost @frosty012, Adrienne Rowsome @talonchick, and Marc-Andre Ladouceur @MarcAndre_FDawg a follow.
Get all the latest PokerNews Canada updates on your social media outlets. Follow us on Twitter and like us on Facebook!