Chris Moorman Reflects on Book, PokerStars' Upcoming Tournament One Billion & More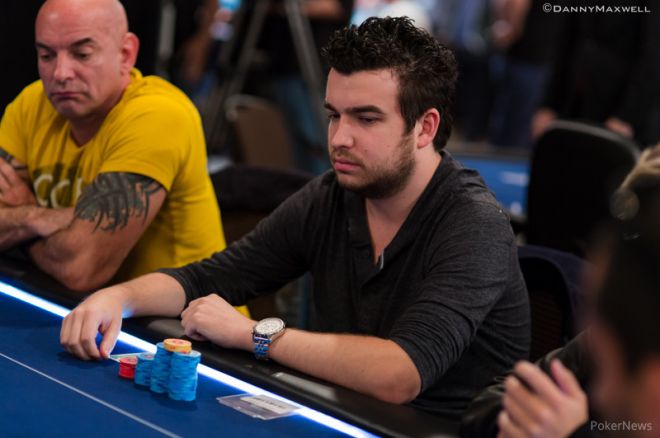 Tomorrow will host "Tournament One Billion", a $109 buy-in tournament that features a $2 million guarantee and offer an extra $200,000 in cash and prizes. The historic event will take place on Sunday, Nov. 30 at 13:00 ET and conclude PokerStars' Billionth Tournament Carnival.
Recently, we sat down with online poker's all-time tournament winner Chris Moorman to talk Tournament One Billion, his new poker book, and more.
PokerNews: Your highly anticipated poker book is about to hit the shelves. How do you feel about it?
Moorman: I'm very excited to see the response to the book. I received my first Amazon review the other day and it was great to get a five-star rating.
How big a challenge was it to write a poker book?
It was quite a challenge. I had never done anything like that before. I've written some articles for magazines and blog posts before but nothing of this magnitude. It definitely was daunting at first but once I got into it, it wasn't so bad.
You recently had your book launch at The Vic on Edgware Road. How did that go?
It was great. I got to meet and chat with a lot of poker fans that came out to support me. The Vic is obviously a historic venue in UK poker so it was cool that they supported the event and did a fantastic job hosting the party.
In late November PokerStars wills celebrate tournament one billion, which is a crazy number. Can we expect you to play?
It's an impressive milestone. I think it shows how long pokerstars has been a player in the industry and hopefully will continue to be just that. Like any big tournament online you will probably see me in it.
You're the biggest winner in online poker tournament history. What does that mean to you?
It's a great accomplishment and I'm incredibly proud. I never thought when I first started playing I would have as much success as I have. No matter how much success you have had in the game though, it's important to constantly keep working and trying to improve.
This may be tough, but can you remember the first tournament you played on PokerStars? If not, what's the earliest memory you have in that regard?
My earliest memory was probably getting second in the Second Chance in September of 2007. It was the first big score I had after moving to PokerStars from the Tribeca Network.
If you had to guess, how many online tournaments would you guess you've played on PokerStars?
My guess without looking that info up is 35,000…. and I just checked it's 30,121. I guess I have been slacking.
What's your proudest online accomplishment on PokerStars?
Probably winning the $5,000 winner take all. Although there were only 20 players in the tournament, it was an extremely tough field. I played it at a time when my confidence was low and to win such a prestigious tournament was a great feeling.
Can you take us through a normal day in your life? What's it like to Chris Moorman and play online?
A normal day is so dependent on where I am. Sometimes I will be grinding soon after I wake up and play until late in the night. Other days I enjoy exploring the cities I am visiting. For example today I am responding to this from my phone before I get on a boat to go great white shark cage diving in South Africa.
You've accomplished so much playing online. How do you keep yourself motivated?
Thankfully I never see poker as work and I love the game so it's easy for me to stay motivated. I enjoy that winning feeling no matter what first place is.
Do you still have a passion for poker? What are your upcoming plans as far as poker is concerned?
I see myself playing poker for a while, as of now. Long term my volume might decrease as I concentrate on other things but currently my focus is on poker.
Get all the latest PokerNews Canada updates on your social media outlets. Follow us on Twitter and like us on Facebook!