TSN Leaves Poker in the Dark: Streams are the Future of Tournament Coverage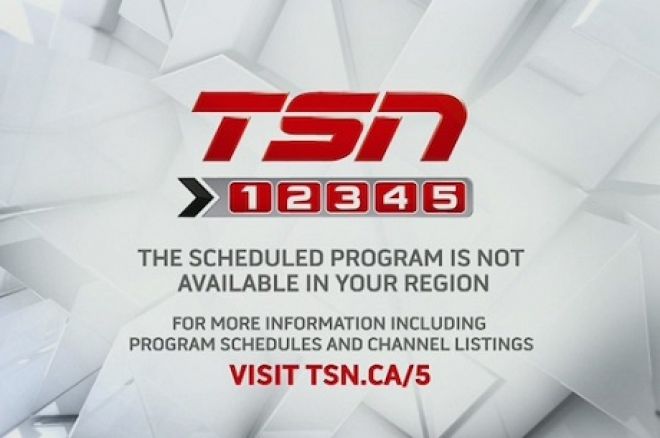 With the 2014 World Series of Poker (WSOP) Main Event finished and Martin Jacobson ably wearing the crown of World Champion, the 2014 WSOP is done for another year. With time to look back at the final table, I've come to realize that tournament poker and television make for very strained bedfellows.
To be able to watch a "player's player" like Jacobson take down the Championship live on TV can only be a good thing for poker. As the usually critical Dan Colman said of Jacobson in a recent Two Plus Two posting, "Look to the new Main Event champ, Martin Jacobson, unlike the last champ, he doesn't have to go around saying he's the best in the world after winning. He plays phenomenal poker and carries himself exceptionally well, so his peers are happy to do the talking for him."
As has been the case for many years, the rights to broadcast the Main Event were owned by ESPN, and, as usual, ESPN produced a series of one-hour broadcasts to air long after July's play was over. They then come back to the Rio in Las Vegas to cover the final table in November, broadcasting live to televisions around the world.
In Canada, the task of broadcasting the final table of poker's biggest moment fell to TSN, our national sports broadcaster. The final table runs for two nights, with Monday night's action playing down to two or three players, who then return the following evening to finish the job of deciding a World Champion.
Because of contractual obligations with Monday Night Football, and with the Canadian teams in Major League Soccer (MLS), TSN was unable to show the Monday night action on any of their five TV channels.
A hastily arranged internet stream of the action was put in place that required viewers to log in with their cable account. Canadians without a cable package that includes TSN had no access to WSOP final-table coverage. But even for cable subscribers who had easy access to TSN channels on their TV, logging in to the stream and getting access was a chore. Many people missed much of Monday's action simply because they couldn't log on.
While Tuesday night's final-three action was broadcast on a TSN TV channel (TSN4), that broadcast highlighted the fact that all of the final table should have been on TV. When TSN honoured contractual obligations by showing MLS on Monday night instead of the first part of the final table, an anonymous source at TSN claimed viewership peaked at 18,000 viewers. The final three on Tuesday, on the other hand, drew a peak of 41,000 viewers over the four-hour broadcast, with a low point of 31,000. Whatever contractual obligations may have been in place, they clearly didn't translate into more eyeballs on the product than airing poker would have. With Monday Night Football in the mix, which TSN is obligated to run on four of its five channels, TSN chose to run with an MLS playoff game that drew half the viewers on its fifth channel instead of the final table, which, by Tuesday's ratings, would have significantly increased viewership.
Aside from broadcasters not giving poker the attention it deserves, television poker faces other challenges. The basic structure of a poker tournament is a huge part of the conflict between tournament poker and television, and it's a conflict that can't be resolved without a massive rewrite of the rules of either tournament poker, or TV formatting and broadcast. Before going on, it should be noted that cash game poker can translate far better to the television format. With each hand being it's own self-contained mini-game, cash game poker can be squeezed into the format of commercial TV relatively easily, and the success of programs like High Stakes Poker and Poker After Dark prove the point.
Tournaments, however, are a different beast altogether. Each hand is part of a far larger narrative that spans as many as seven or eight days covering 12 to 14 hours a day. The pace and flow of a tournament is a key part of what makes tournament poker interesting, and without the full effect of both the highs and the lows of the tournament dynamic, any broadcast of the tournament ends up being a distorted version of tournament poker.
At the final table, this problem is rectified somewhat, as ESPN covers the final table from start to finish, showing every hand in real time. Coverage of the final table of the Main Event is far closer to what tournament poker TV should and needs to be than the one-hour episodes covering the rest of the Main Event can ever hope to be, and that really shows the fundamental problem of tournament poker on TV — the format of commercial TV is, quite simply, incompatible with the ebb and flow of a large poker tournament.
Sports networks like ESPN and TSN would seem to be a natural fit, at first glance, for poker, which is increasingly being seen as akin to endurance sports in many ways. Unfortunately, there are fundamental differences between poker and more traditional sports shown by networks like ESPN and TSN in Canada. The biggest is that few other sporting events outside poker ever take place over such a long period of time, and the ones that do, such as a hockey tournament or curling bonspiel, are made up of distinct games with discrete beginnings and endings to fit into TV's time blocks.
There's really no other sporting situation that is anything like a poker tournament. Unlike, for example, a hockey tournament, there are no individual games to cover, and no winners and losers to declare until the final hand is dealt. Any given hand can be pivotal to the eventual outcome, but, by far, the vast majority of hands will be mostly TV unfriendly "raise and take it" situations.
Poker tournaments are short on the kind of drama that TV producers usually want. As a result, we tend to see TV episodes that focus on "dramatic hands" and tend to ignore the less dramatic, but far more common, hands. That naturally skews the view of tournament poker, making it appear on TV as something very different from what it is at the table.
If there is an answer to this fundamental dilemma with broadcasting live poker, it almost certainly lies in the solution TSN fell back on for Monday night's coverage: internet streaming. As we see with the exceptional streams by the European Poker Tour (EPT), internet streaming has none of the inherent conflicts with the structure of tournament poker that TV has. There are no predetermined time blocks, or any expectation of them by viewers of the format.
Streams also allow for more flexible and fluid advertising and monetization models over those of traditional TV, and streams happen in real time to the event in question, allowing viewers to both see the action as it unfolds, but also interact through social media with both the broadcast team as well as the players themselves. One of the paradoxes of TV's one-hour episode format is that the true poker fan knows the results of an event long before its episodes ever air, because of the constraints of the TV format and production requirements.
It seems impossible, to me, for television alone to get tournament poker right. The restrictions of the format, the time to production, and the conflict with other contractual duties all combine to make tournament poker a very bad fit for TV. To make the pairing work, one or the other has to be changed radically. Since TV is "the mountain" so to speak, it's generally poker that gets forced into the box of episodic TV — a box it is very ill-suited to fit. I think it's time the poker world admitted that, at least as far as tournament poker is concerned, it will never be a TV-friendly game, because the formats and structures of TV and tournament poker are fundamentally opposed.
Streams are the future. In the far-less constrained environment of internet streaming, tours like the EPT are able to provide tremendous real-time coverage of major tournaments. Without the preordained structures of broadcast TV, the webcasts are able to truly capture the look and feel of a tournament that spans several days and runs for many hours each day. It's not hard to see how much more accurately (though no less entertainingly) tournament poker is represented by any EPT stream picked at random compared to the ESPN WSOP Main Event episodes from 2014.
By integrating live internet streams of major tournaments with slickly produced one hour episodes for the TV market coming later, the EPT shows its also possible to make compelling episodic tournament poker TV without compromising the live coverage. They show that it doesn't have to be an either/or proposition; when episodic TV takes the proper place behind a first-rate live streaming team, the result is clearly the best all-round media product in the poker world right now.
And the possibilities are endless. As devices like GoPro cameras become integrated with high-speed networks at events like these, an even deeper level of coverage from all tables will be possible. Combined with an interactive user interface, viewers may be able to select specific players and watch the action from their perspective via tournament-provided mobile cameras, just as one possible innovation.
I think it's time the poker world stopped worrying about catering to the old model of broadcast TV and embraced the concept of internet streaming with abandon. It's already happening in a large way, as made evident by the EPT, as well as the explosion of online poker streaming on Twitch.tv. In the wake of a policy reversal by Twitch management to rescind its ban on poker streams, a move largely instigated by streamer extraordinaire Jason Somerville, poker streams have exploded on the platform. Both professionals and recreational players have flocked to Twitch both to watch and stream themselves playing online poker. Somerville's streams alone regularly top 10,000 viewers.
It seems obvious that the future of live tournament poker broadcasting is in internet streaming and not on TV. If episodic TV has a place in tournament poker broadcasting, the EPT shows the way putting a world-class live stream product out as the flagship of their operation. At least in my case, the existence of a live stream doesn't decrease my desire to watch the episodes produced later from the same footage. On the contrary, having watched the live stream puts those episodes into a better context since I have some knowledge of what's been edited out.
I think it's high time other tours like the World Series of Poker and the World Poker Tour recognized the future, and moved away from a format that so distorts the sport they are trying to showcase.
Get all the latest PokerNews Canada updates on your social media outlets. Follow us on Twitter and like us on Facebook!